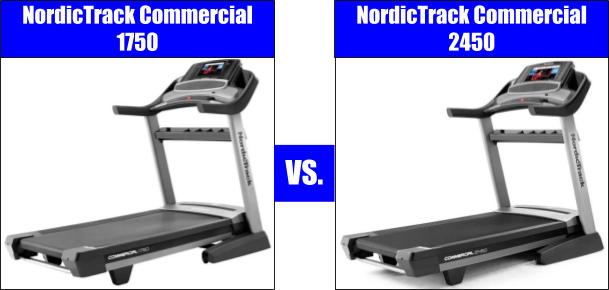 NordicTrack is one of the most popular and well-known providers of treadmills and other home fitness equipment. Among the available treadmills, the NordicTrack Commercial 1750 and the NordicTrack Commercial 2450 are some of the most popular machines. This popularity often means that people compare these two treadmills to decide which one to bring home.
To help you determine if the NordicTrack 1750 or the NordicTrack 2450 is the right treadmill for you, we here at NordicTrack Coupon have compared these two machines side-by-side.
Why Compare NordicTrack 1750 vs. NordicTrack 2450
Generally, it is fairer to compare home fitness equipment that is similarly priced. That way, there isn't such a clear disparity of features that makes the comparison pointless. For instance, the Commercial 1750 is usually priced at $1,899, while the Commercial 2450 is priced at $2,499. That difference of $500 can make a significant difference in some cases, and it can also be beyond the price point for many people.
However, if your main goal is to decide which of these two treadmills will best suit your workout needs, regardless of the price difference, then hopefully, this comparison will be useful to you.
Touchscreen Size On Commercial 2450 vs. Commercial 1750
The overall frame and construction of these two treadmills are very similar, as they are part of the same series of NordicTrack treadmills. However, one obvious visual difference between these two treadmills is their touchscreens.
On the NordicTrack 1750, you will have a 14″ HD touchscreen installed into the overall console of the machine. This touchscreen is able to be tilted up or down a bit to help reduce glare. Also, at ten inches, the 1750 touchscreen is comfortably large enough to enjoy iFit workout videos.
A 22″ HD touchscreen is included with the NordicTrack 2450. This larger screen can make using iFit workout videos easier and more comfortable, as you don't need to be as close to the console to clearly see the videos. Also, the wider screen allows for easier navigation of your exercise data and program selection.
Both of these touchscreens are water- and dust-resistant, though efforts to keep them clean and dry should be taken. However, you won't need to worry about a dead touchscreen if you get some sweat on your console.
Motor On The NordicTrack 1750 vs. NordicTrack 2450
Under the hood of the NordicTrack 1750, there is a 3.5 CHP motor. While the motor does output a moderate amount of noise, it is a steady hum that can easily fade into the background. It also is easy to change between inclines and speed, as the motor of the 1750 responds quickly and smoothly.
A larger motor is found in the NordicTrack 2450, specifically, a 3.6 CHP motor. This motor is a bit louder than the motor in the 1750, but not by much, and the noise is still able to be ignored as background sound. We haven't noticed a difference in how these two treadmills respond, as both operate smoothly.
It is important to note, that while these treadmills have different sizes and capacities, these capacities were reached in a commercial lab. In a commercial lab setting, there is greater electrical power available than you can find in your standard residential home, so you aren't necessarily going to see the peak output of either treadmill motor.
Similarities Between The Commercial 2450 vs. Commercial 1750
There are far more similarities between the Commercial 1750 and Commercial 2450 than there are differences. Some of the similarities are:
Speed range of 0.5 to 12 MPH
Incline range of -3% to 15%
Commercial treadmill belt measuring 22″ wide by 60″ long
Easy folding and unfolding
Free 30-day trial iFit membership
300-pound user weight capacity
Runners Flex cushioning
Is The NordicTrack 1750 Or NordicTrack 2450 Right For You
With many base features in common, it may make it easier for you to choose the less pricey option of the NordicTrack Commercial 1750 over the NordicTrack Commercial 2450. However, if you do prefer a larger screen and bigger treadmill motor for your future workouts, then you may want to commit the extra $500 in bringing the NordicTrack 2450 home.
No matter whether you chose to bring the Commercial 2450 home or the Commercial 1750, you can always use one of our NordicTrack treadmill coupons to help you save on your new equipment!