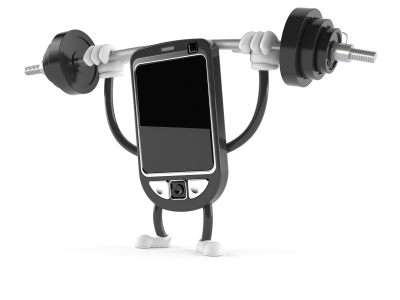 In our day and age technology is becoming more and more powerful, especially when it comes to our smart phones. You can find apps ranging from anywhere to playing Angry Birds to checking your Facebook even apps that tell you when the best time to head to the bathroom during your movie would be; seems like there is an app for just about anything these days. Yet what about when it comes to our Health and Fitness?! While it seems there may be many pointless, unnecessary apps out there these days; there are many awesome apps out there to improve our health and fitness.
Greatist.com shared their current 7 favorite health and fitness apps that they are using as of now that you can check out here. We thought we'd let our NordicTrackCoupon.com readers in on these favorites to ensure you're benefiting from your smart phone as well.

Night Clock – this app turns your phone into a bed-stand clock, takes out the pushing of any buttons to find the time. It takes the back-light of your phone that is often too bright for our 4am eyes that often disrupts our sleep if it's not quite that time to wake. Instead this app replaces your phone with a black background with simple easy to read, red numbers. Another bonus of this app that Greatist ambassador Sarah Stahlman enjoyed is that "it blocks notifications from coming through." Another helpful sleep aid ensuring you catch all of those necessary hours you intend to.
My Fitness Pal – this app is one of Greatist ambassador Laura Summers favorites stating it "keeps me in line!" This app allows you to enter everything you eat, while adding and keeping track of the daily calories consumed for you. It also allows you to enter in any daily activity to see how that impacts your calorie count. It's all about balance, and My Fitness Pal ensures you receive just that! If your goal is weight loss, My Fitness Pal will help you accomplish your goal!
Nike+ – as their site states, the app allows you to "map your runs, track your progress, and get the motivation you need to keep going. The Nike+ Running app tracks distance, pace, time and calories burned." Greatist ambassador Tara Fuller stated "the app helped me learn how to train successfully…I've learned the art of pacing, negative splits, and most importantly, how long a mile really is." Training for any upcoming Spring races?! The Nike+ app may just become your new best friend.
Runtastic Pro – another great running app to add to the list. Larissa Stephanoff, Greatist ambassador, stated she "liked that it gave me details to each mile/kilometer." This app allows you to go online after your workout to analyze it. Another cool feature is the "applause" or a "Go, go, go!" you'll receive over the headphones during your run for a little extra motivation boost.
Fit Radio – We all love to run to a good tune, and we've explained before the many benefits that come from working out with music; yet sometimes we can't find the inspiration to come up with our own playlists or we simply need to switch it up a bit from our usual. This app gives you the ability to choose from different genres and as Greatist ambassador Maureen Faherty explains it, "its always a mix of music that keeps me motivated."
Strava – We all love a good challenge among our friends, and Strava allows you to do just that. You can not only track your own runs but also compare them against your online Strava community friends. It also gives you the ability to set personal records for yourself and share your achievements with your friends. Greatist ambassador Christopher Malenab states this app is one of his favorites because it "allows me to upload my runs and give 'kudos' to my fellow runners."
ShopShop – Parita Kittapan, Greatist ambassador, states that ShopShop has become her favorite app because it makes "creating a grocery list easy and fun!" The app stores a list of the foods you buy, so when it comes time to grocery shop all you do is run through your list comparing what you have in your fridge and pantry selecting what you need to stock up on!