Lower the price on the best commercial exercise bike that NordicTrack has made when you use a coupon or promo code from NordicTrack Coupon.

Access NordicTrack Promo Codes With One Click
Getting $60 off your S22i purchase from NordicTrack by clicking on the coupon banner. You'll be redirected to NordicTrack.com where you can select the items you wish to purchase and add them to your shopping cart. Our discount is automatically applied to your final purchase amount.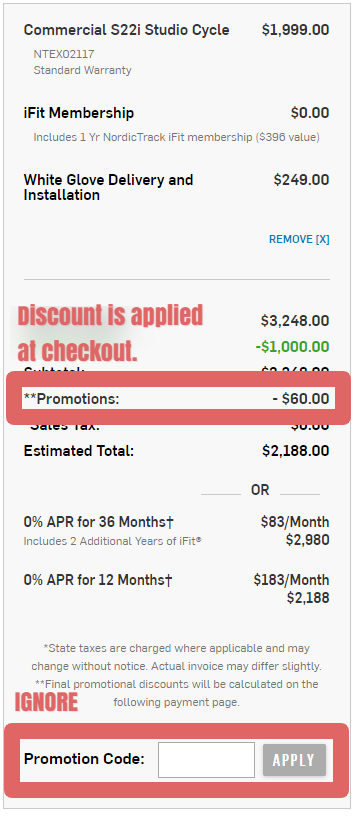 Get To Know The NordicTrack Commercial S22i Studio Cycle
As the elite exercise bike from NordicTrack, the S22i Commercial Studio Cycle is packed with features. Below is an overview of the features which come with the purchase of this bike.
Display: 22" HD Touchscreen Display. Shows iFit library of workout videos, watts, distance, time elapsed, cadence, heart rate, and calorie burn.
Digital resistance: 24 levels
Incline: -10% to 20% incline, auto-adjusts as you ride
Flywheel: Enhanced Corrosion Resistance, Silent Magnetic Resistance SMR™
Footprint area: 61″ L x 22″ W x 58″ H
Extras: Built-in speakers, audio port, water bottle holders, two 3-lb dumbbells, powerful cooling fan
Warranty: 10-year frame, 2-year parts, 1-year labor
Workout Program Subscription: Required membership to iFit to access onboard workout programs. 1 month iFit subscription included with S22i purchase.
Max User Weight: 350 lbs
Adjustable: Seat depth and height, toe cages, console angle and height
Top Features On The S22i Studio Cycle
As the very best and latest of the NordicTrack exercise bike line, it can be hard to pinpoint which features are the best among the many on the NordicTrack Commercial S22i Studio Cycle bike. Yet, as people have been able to test and use this excellent bike, there are three top features that have really stood out.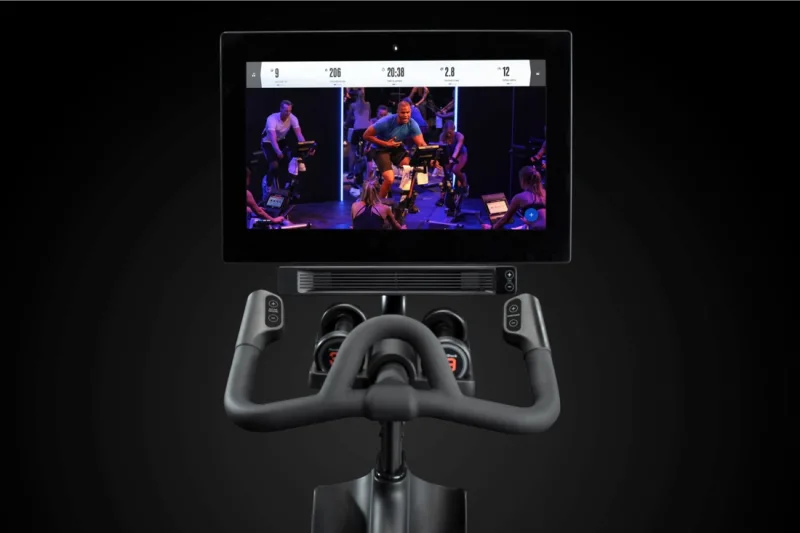 Powerful technology – From the high-definition, huge 22" console touchscreen on the S22i to the smooth incline range, this exercise bike has all the best, most powerful NordicTrack technology available. You will need to have an iFit membership to utilize the S22i, which will give you access to the best personal trainers and an ever-evolving rotation of workout programs.
Durable investment in health – When you go to buy a new stationary exercise bike, you are making an investment in your overall health as well as your fitness. So, when you make such an investment, you want to choose an exercise bike which will last for years. The S22i is a commercial-quality, highly durable exercise bike which can accommodate a user who weighs up to 350 lbs.
Limited space needed – As the most powerful exercise bike, it may be inferred that the S22i would be also a large bike. But, this exercise bike actually will only take up a small area in your home, as it measures 22" wide, 61" long, 58" high. This is an impressively small footprint for a cardio machine and you can easily find room for the S22i in any room in your home.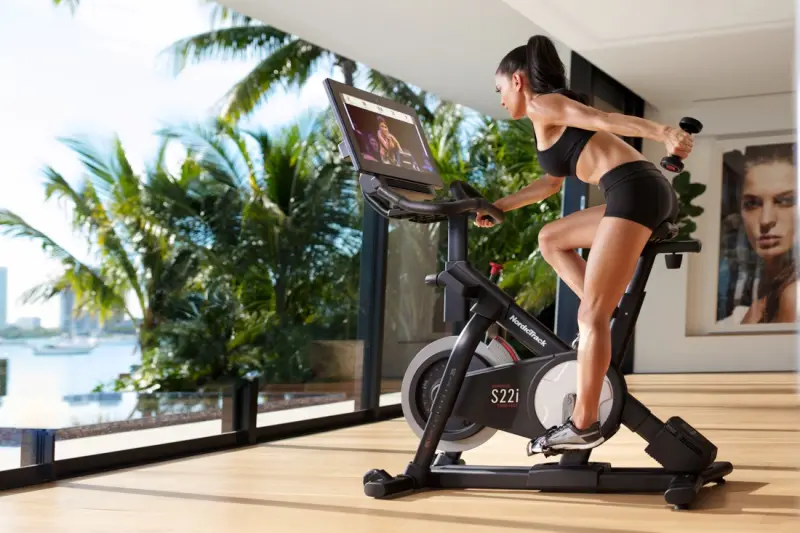 Purchase The NordicTrack S22i Online With Our Coupon
To use our exclusive coupons, you will need to buy the NordicTrack S22i from NordicTrack's website. Our coupons and promo codes will not work in any other circumstances.

Combine Coupon With Existing NordicTrack Sales and Promotions
As the best upright exercise bike NordicTrack has to offer, it is also their most expensive exercise bike. With an MSRP of $2,999, the S22i is regularly marked down to $1,899.
Our promo code can be combined with existing discounts and sales at NordicTrack.com. So even when they've reduced the sale price to $1000 below MSRP, you can still take another $60 with a NordicTrack Promo Codes coupon.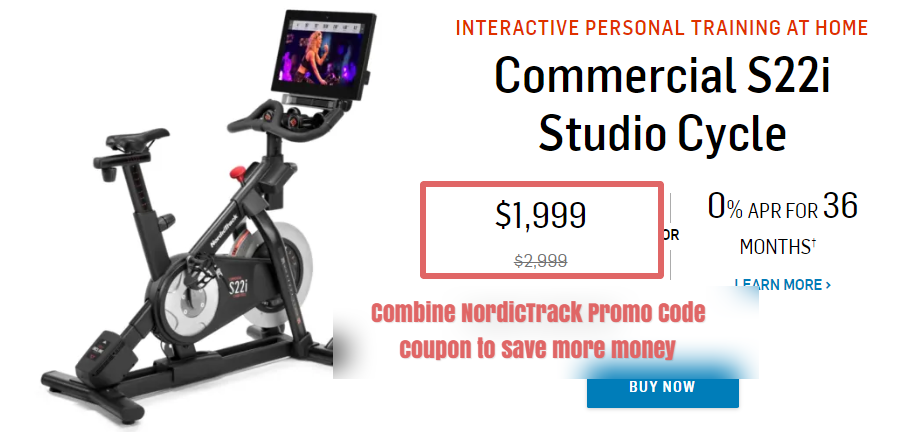 Our Promo Codes Don't Expire
NordicTrackPromoCodes.com operates by having next to no restrictions, beyond the price requirements on the five NordicTrack coupons and promo codes. Because these discount codes are genuine, they will always work on NordicTrack.com to give you a discount on your NordicTrack purchases. Feel free to try it when NordicTrack has retail pricing, sale pricing, or anything else and see how much you can be saving.