Treadmills are one of the most widespread used pieces of fitness equipment in the nation, and according to an article on Health Discovery they are also the number one seller in the nation. The Health Discovery article What You Need To Know Before You Purchase a Treadmill stated that "data from the National Sporting Goods Association indicates that treadmills have been the number-one-ranked home aerobic equipment for the past three years."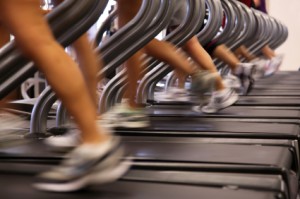 They are also one of our number one sellers here as well, which is why we know many of you come to NordicTrackCoupon.com in search of finding a great deal on NordicTrack exercise equipment, specifically NordicTrack treadmills.
Treadmills are a big investment as they can range anywhere from a few hundred dollars to almost $4,000. You will likely find that a treadmill's cost usually reflects its quality, yet those $4,000 treadmills are not right for everyone and could end up being just a waste of money. It's better to know what you are looking for and what is going to fit your needs before you jump into purchasing a treadmill.
Because there is so much that goes into buying a treadmill we had to spread this into a two part series. So here is part one with a few tips on what to do before you even get online and start your search:
Measure Your Floor Space
First things first, before you start shopping around you are going to want to measure the space you plan on keeping your treadmill. Although you will find many newer treadmills have the Space Saver Folding feature, you want to make sure you give yourself ample room to lay the treadmill deck down and not leave yourself feeling cramped during your run.
For example, the NordicTrack C1250 comes equipped with this Space Saver Folding feature and folds up easily when not in use; yet it still measures at 80 inches long and 38 inches wide which is a pretty good sized treadmill. You need to make sure you have the 80 inches plus some for getting on and off.
TreadmillSensei puts it best in The "Pre-Treadmill-Purchase" Checklist stating "this doesn't mean having a space where the treadmill fits. It means having space that provides adequate room for you to operate said treadmill safely." Be sure to check out his article for a hilarious "fail" video of some people who failed to measure before hand and found themselves stuck between a running treadbelt and a wall.
Know Your Price Limit
You'll then want to think about how much you are willing to spend and what your price range is going to be beforehand. Going into treadmill shopping without a good idea of what you wanting to spend can result in either a low priced, low quality treadmill or a high priced impulsive purchase. Although you need to keep in mind that it is worth the money and not cut yourself short, as you are making an investment in your health, it should be an important one.
You also want to think about how often you will be using your treadmill and what exactly you intend to use your treadmill for. If you are one who is going to run on it every day for an hour or one who is wanting to train for marathon using a treadmill opposed to someone who many only use the treadmill for a brisk walk a few times a week, than you are going to need completely different treadmills.
It's also a good idea to invest more if you know that more than one person is going to be using the treadmill, as multiple users create more wear and tear on the parts and motor. You should also keep in mind the amount of features and how much you will be using your treadmill when deciding your price range, which we'll go over more tomorrow.
Question Yourself
Before You Buy a Treadmill from about.com shares a few questions you need to ask yourself before you go shopping:
Do you want running or walking programs included?
Do you want a heart rate monitor?
Do you want the ability to hook your treadmill up to a website such as iFit.com for new workouts?
Do you need a treadmill that folds (often more expensive) or do you have enough space for a regular treadmill?
Can you maintain a treadmill?
What's the most important feature you want in a treadmill?
So measure your space, figure out your price limit and ask yourself these questions before you even start your adventure of treadmill shopping. Then be sure to come back tomorrow for even more helpful treadmill buying tips once you get started and how to save money on your treadmill hunt.