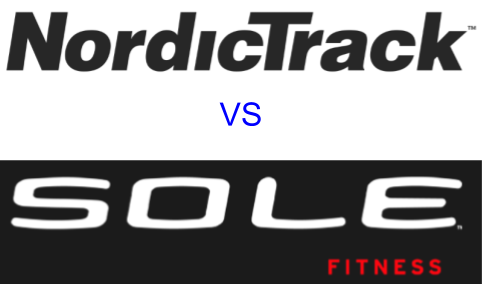 Two treadmill brands that are often compared when people are searching for a new treadmill are NordicTrack and Sole. These two fitness equipment manufacturers have excellent reputations for developing high-quality treadmills at affordable prices.
Since the pricing of many of their treadmills is similar, it can be difficult to determine which of these treadmills will best suit your personal fitness needs. To lend you a hand, we wanted to make a comparison of these two brands to make your decision easier.
Cost Of Sole vs. NordicTrack Treadmills
As we mentioned, the pricing on Sole treadmills is fairly similar to NordicTrack treadmills, at least to a point. Sole only produces treadmills up to a certain point where NordicTrack offers a wider variety of treadmills of increasing quality. This increase in quality and features causes a natural price increase.
As you look into Sole treadmills, you will find they start in price at $999.99 and range up to $3,499.99. Many of the less expensive Sole treadmills have minimal variations until you reach the upper end of the F-series treadmills and go into the S- and T-series machines.
Contrast that price with NordicTrack, which start in price at $899 and can reach $4,299. NordicTrack treadmills can vary significantly as they move up in price, and each of the different NordicTrack series of treadmills is distinctly different, providing features unique to its series.
Even better, with our NordicTrack promotion codes, you can reduce the price on the NordicTrack treadmill of your choice, as all NordicTrack treadmills meet the minimum requirements.
Types Of Treadmills Offered By NordicTrack & Sole
Depending on what kind of treadmill you are looking for, you likely can find it through either NordicTrack or Sole. However, NordicTrack often offers more variety when it comes to their treadmill offerings, so you have more choices in the treadmills you can choose from. Below are the main categories of treadmills offered by Sole vs. NordicTrack's offerings.
Treadmill Desks
Both of these treadmill giants offer treadmill desks. The Sole treadmill desk is a more recent offering, and only has one for you to consider. Unfortunately, when compared to the two NordicTrack treadmills, the Sole treadmill desk is a little lacking.
Regular Treadmills
When it comes to the "regular" treadmill offering, what we mean by that is these treadmills are of the more standard residential treadmill. Both NordicTrack and Sole offer high-quality residential treadmills, but these treadmills are often the first ones considered, thanks to their pricing. These treadmills are often good for walking, jogging, and running, though if you are marathon training or there will be multiple users, they may not be the best choices.
Commercial-Grade Treadmills
If you are looking for a highly durable, commercial-quality treadmill price without paying for a commercial gym treadmill, then these treadmills are for you. The NordicTrack treadmills, in particular, provide extra cushioning, high-end fitness tech, and excellent pricing, while the Sole treadmills in the commercial-grade range don't offer much more than their regular treadmills.
Also, as you can see below, the price gap between these treadmills widens as you move into the higher quality treadmills.
Incline Treadmills
Unique to NordicTrack is the incline trainer treadmills. These treadmills come equipped with an incline range of -6% to 40%, which is unmatched even by commercial gym treadmills! Also of commercial quality, you can use these treadmills to help elevate your fitness (pun totally intended).
We put the current pricing as it appeared during the writing of this article. The prices on both NordicTrack and Sole are subject to change, so be sure to double-check that the treadmill you are interested in are priced as you hoped.
Features Offered By NordicTrack vs. Sole Treadmills
As the treadmills from NordicTrack vs. Sole vary in price, they don't have that many qualities in common. However, there are enough basic features that we wanted to give you an overview of how Sole treadmill features vs. NordicTrack treadmill features stack up.
For the purpose of clarity, the treadmill desks from both of these brands will be excluded from the general features comparison, as they are not traditional treadmills.
Touchscreen
All NordicTrack treadmills come with a touchscreen. The size will vary depending on the treadmill in question, but with a touchscreen, you can much more easily navigate the various exercise programs and workout data.
Only the TT9—the most pricey Sole treadmill—comes with a touchscreen. While the LCD screens on the other treadmills are bright and easy to read, they come off a little lackluster compared to the HD touchscreens on the NordicTrack treadmills.
Cushioning
Both Sole and NordicTrack treadmills come with cushioning. Sole treadmills all have Cushion Flex Whisper Deck as their cushioning. This cushioning is adequate, but if you have a sensitivity to hard surfaces, it may not be enough to your needs.
With NordicTrack treadmills, most of these treadmills come with the ability to choose how much cushioning you want. Different levels of cushioning can be found, with the incline trainer treadmills coming with the arguably most cushioned decks.
Workout Programs
On NordicTrack treadmills, you can get anywhere from 20-50 pre-programmed workout programs when you buy a treadmill. Naturally, the more affordable the treadmill, the more modest amount of programs are onboard.
But even 20 workout programs trumps Sole's program offerings. All Sole treadmills come with only 10 exercise programs, with 6 pre-programmed, 2 heart rate programs, and two custom program slots you can design your own workout and save it for later use.
App Connectivity
Sole treadmills are able to connect to the Sole Fitness app. This app can allow you to control your Sole treadmill from your smart device. You can design workouts, change your speed and incline, as well as save your workout data to your set up user's profile.
On NordicTrack treadmills, you will receive a free 30-day trial iFit membership. With this membership, you can access thousands of personal trainer-designed and led programs, with video workouts that can take you around the world. Or you can use the Google Maps feature and design your own workout along your ideal workout path.
Even better, with the personal trainer-led workouts, the trainer will automatically change the speed and incline on your machine to help keep pushing your fitness further.
Weight Limit
The weight limit may be one of the areas where Sole treadmills outperform NordicTrack treadmills. Sole treadmills offer a range of weight limits, starting at 325 lbs to 450 lbs max. All of the NordicTrack treadmills are rated to accommodate 300 lbs.
Naturally, there is more to these treadmills. But rather than go into exhaustive detail, we hoped that highlighting some of the key features will help you determine what direction to take your further treadmill research.
By using one of our NordicTrack treadmill promotion codes, you can easily save on your preferred treadmill as well as enjoy greater health and fitness.