The most affordable option when it comes to NordicTrack's top elliptical series is the NordicTrack FreeStride Trainer FS5i. Instead of being restricted to the traditional elliptical motion, you can swap between the elliptical gliding motion, running treadmill stride, and dynamic stair stepping movements when you use the FreeStride FS5i.
Another excellent quality of the FS5i is its weight capacity. A user who weighs up to 350 lbs can use this elliptical. So, with this machine's help, heavier individuals can safely engage in intense cardiovascular exercise and burn plenty of calories, all while enjoying low-impact, which will protect their joints.
On the tech side of things, the FreeStride Trainer FS5i elliptical also has several exciting features it comes with. It has a bright, 7" backlit display built into the console, allowing you to easily track your workouts. There is also an integrated tablet holder mounted above the console so that you can enjoy entertainment or sync your FreeStride Trainer FS5i with iFit.
If you don't feel like using iFit, there are also 32 workout programs built into the FS5i that you can easily access. These programs will help keep you challenged during your workouts and help you reach your health and fitness goals faster.
Space is often another consideration for people looking for new exercise equipment. The FS5i is a relatively light machine you can move once you tilt it onto its rear transport wheels. You will need quite a bit of space to operate this elliptical as it allows you to stride out much farther than other ellipticals, so be careful where you position it.
If you decide to pick up this excellent elliptical, be sure to use one of our NordicTrack promo codes or coupons to make your purchase more affordable.
Add coupon here
Customer Reviews Of The NordicTrack FreeStride Trainer FS5i
Plenty of satisfied customers have bought the NordicTrack FS5i elliptical over the years. The current model of the FS5i has also been received with enthusiasm by customers everywhere. We have highlighted some of the comments below to help you see if the FS5i is right for you:
"I was a competitive runner in college and still prefer running, but I get a good workout in with the FreeStride Trainer without the stress on my knees and lower back. Plus, I am able to work out my entire body… I like being able to switch between three different strides even within the same workout."
"I love it! I use it every day. I am up to 14 min non-stop now @5.3 mph and resistance 9."
"I love this machine. It's a great way to stay in shape without having to leave home. I have recommended it to all my friends and family. Having fun while burning calories without straining my body! Can't get any better than this!"
"Very smooth and excellent way to change workout in mid-stream!"
If you aren't quite sure the FS5i is the right elliptical for you, our NordicTrack promo codes and coupons also apply to all NordicTrack ellipticals, so you can be sure to find a machine you love.
The NordicTrack FreeStride Trainer FS5i
As you can see, when not in use, the FS5i requires limited room. With a basic footprint of 28.5" wide and 60.2" long, you can tuck this elliptical in a corner of your home gym until you're ready to use it.
Some new users of the FreeStride Trainer ellipticals may be surprised by the lack of stride restriction that comes with other ellipticals. Due to the center drive and innovative belt system, the FS5i allows you more natural-feeling control over your movements. So, if you do find it unusual, stick with it, and in a few workouts, you will be a FreeStride Trainer pro.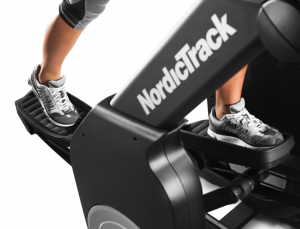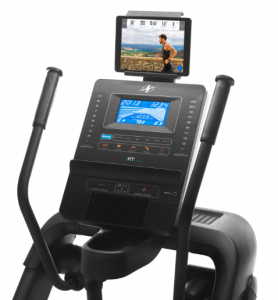 As you workout on the FS5i, you can enjoy the cushioned, oversized pedals, which will grip your shoes no matter the speed or stride. Also, for individuals who are worried that their workouts will disturb others, the FS5i elliptical runs completely silently, so the only sound people are likely to hear is you breathing hard from packing in a great workout.
The buttons on the FS5i console are quick to respond to input, allowing you to change resistance levels smoothly and rapidly access exercise programs. You can also use the dual amplified speakers built into the console and go headphones-free. Also, be sure to use the multi-speed fan to keep you cool during your intense exercise sessions.
Features Of The NordicTrack FreeStride Trainer FS5i
Many people are surprised by the features available on NordicTrack ellipticals, and the FS5i is no exception. You can review these features below:
Price – $1,299
Display – 7" Backlit Screen
Flywheel – 16-lb Inertia-enhanced
Exercise program – 33 Onboard Workouts
Resistance – 22 Digital Resistance Levels
Stride – 32" Auto Adjustable
Max weight user – 350 pounds
iFit capable – Yes
Fans – Multiple speeds, AutoBreeze™
Pedals – Oversized, Cushioned
Machine dimensions – 28.5" Wide X 60.2" Long X 67.5" Tall
Drive type – Center
There are four different series of ellipticals available through NordicTrack, and the FreeStride Trainer series come with the best features. If the FS5i doesn't have all the features you were looking for, be sure to check out the FS7i and FS9i to see if those ellipticals have the options you were hoping for in your next machine.
iFit On The FreeStride Trainer FS5i
While the other two FreeStride Trainers come with a free 30-day trial membership to iFit, the FS5i does not. However, the FS5i is built to easily sync with iFit.
To access iFit on the FS5i, you will need to purchase a membership and sync your tablet with the elliptical. Once it is synchronized, you have access to:
Personal trainer-led studio classes that you can access any time of the day. Instead of having to abide by a gym class schedule, you are free to burn calories whenever you have the time and inclination. These classes are also being continuously added to by iFit, allowing you to keep your workouts fresh.
There are over 12,000 other workouts available through the iFit library. This library can be easily accessed on your tablet, and you can scroll through options leading you through Paris, Capetown, Goblin Valley, and other stunning destinations. Never have a boring workout again.
When you do iFit workouts on your FS5i, they will immediately be transferred to the iFit tracking dashboard. Add health and fitness goals so you can see how you are progressing, manage iFit community friends, and include your nutrition and sleep to see the big picture surrounding your health.
NordicTrack FreeStride Trainer FS5i Warranty & Return Policy
All NordicTrack machines are backed by excellent warranties. For the FS5i, this elliptical carries a warranty that specifies:
10-year frame warranty
2-year parts warranty
1-year labor warranty
You will need to register your purchase if you want to access your warranty benefits. Also, the warranty will only apply to the original purchaser of the NordicTrack FS5i. Any repairs that need to be made under warranty must be pre-authorized through ICON, NordicTrack's parent company. For in-home servicing of your elliptical, you will need to pay for the travel of the ICON repair representative. Replacement parts can be shipped to service centers, and you will need to pay for the shipping charges.
You are given 30 days to try out the FreeStride Trainer FS5i. If you determine during this time that you want to return the FS5i, you will need to call 1-866-896-9777 to arrange a return. The return needs to be set up within the 30-day trial period. To complete a return, you will need to receive a Return Authorization Number
If you received a defective or damaged machine, you can receive a replacement elliptical for no charge or get a full refund. Should you choose to return your elliptical, a 10% restocking fee will be taken out of your original payment. The elliptical will need to be in good condition, with all its accessories, paperwork, and parts included. It will need to be packed back into its box and placed outside for pickup. An additional 10% fee may be assessed if anything is missing or damaged.
NordicTrack Coupon Can Help You Save Buying The FS5i
Here on NordicTrack Coupon, we make the process of saving on NordicTrack equipment as easy as possible. Once you click on one of our coupons or promo codes, you will be redirected to the main NordicTrack website. That way, you can easily purchase the FS5i or any other NordicTrack machine you need to complement your home gym.
Add coupon here