One of the top tier ellipticals produced by NordicTrack is the FreeStride Trainer FS7i. This elliptical allows you not only to enjoy a low-impact cardio workout, but you can challenge yourself in multiple ways, all by changing your stride.
The three different workout machine movements you can achieve while using the FS7i are stepper, treadmill, and elliptical. This cardio machine smoothly moves between these different movements as this elliptical was meant to move more naturally than other cardio machines. It can be a bit of an adjustment to those who are used to how traditional ellipticals work, but the payoff is worth the work.
With the ability to keep challenging your body, you can stay more engaged in your FreeStride Trainer FS7i workouts. By staying focused, you can burn more calories and target-tone more of your body. You can also use the built-in incline range of 0%-10% to amp up your calorie burn.
Another attractive feature on this elliptical that makes us love to recommend it to parents is the Silent Magnetic Resistance which comes with the FS7i. Rather than trying to muffle a noisy motor, this elliptical will run silently, so you don't have to worry about disturbing anyone.
When you are ready to pick up the FreeStride Trainer FS7i elliptical, also be sure to use one of our NordicTrack promo codes or coupons to help you save on all your NordicTrack purchases.
Customer Reviews Of The NordicTrack FreeStride Trainer FS7i
It is easy for us to love the FreeStride Trainer FS7i elliptical, partly because we have been able to use it before. But, as a potential buyer, you may be more reassured by other people who took the risk and purchased the FreeStride Trainer FS7i. Below are some customer reviews of the FS7i left on NordicTrack.
"I usually don't do reviews but this time I must. This machine rocks. If I could give it more than 5 stars I would…I can workout everyday with no more hip and knee pain. Plus the workout kick your butt. I would definitely recommend it."
"After owning several NordicTrack equipment over the years; treadmills, ellipticals, I was ready for ultimate workouts. This machine does just that! I enjoy the long strides, ability to switch workouts, increase resistance and incline. Love the IFit sessions…great burn!!"
"We truly enjoy working out on our new FS7i. I have bad knees and the low impact is great. We had a question about delivery and the phone tech was great answered all questions."
"Absolutely love this machine. What can I say? Every other day I do @ 60 minutes on the FS7i and the time flys when using the built-in video series."
If you have been inspired by these customer reviews and are ready to pick up the FreeStride Trainer FS7i, then be sure to grab a NordicTrack promotion code as you go to purchase one.
The NordicTrack FreeStride Trainer FS7i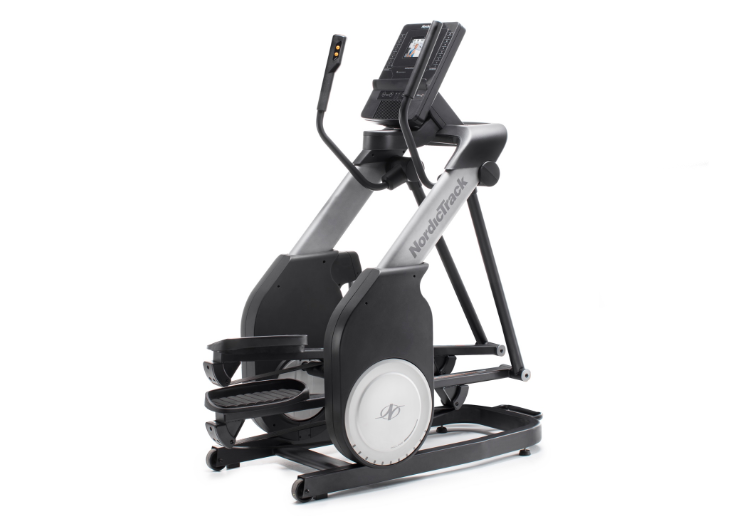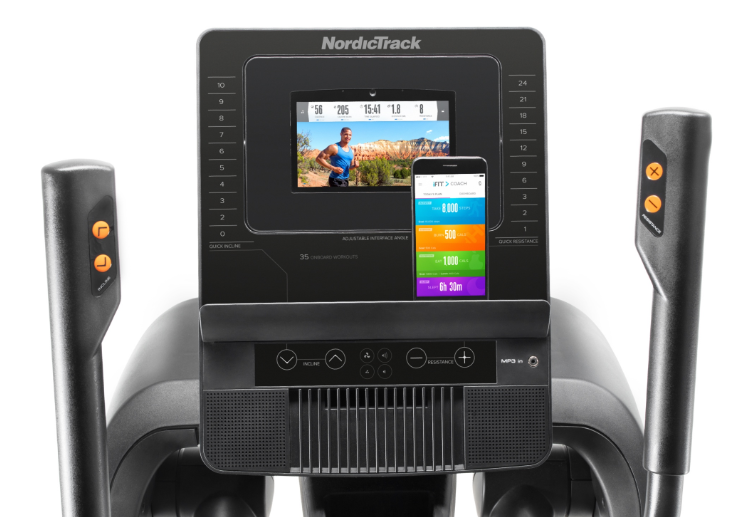 While the NordicTrack FreeStride Trainer FS7i elliptical is a relatively compact cardio machine, it is strong enough to accommodate a user who weighs up to 375 lbs. You should also be aware of the fact that you have the stride ability of 38", which can damage your home if you have not placed the FreeStride Trainer FS7i correctly. Before your first workout on the FS7i, try a gentle test run before engaging fully in the workout to ensure your elliptical is correctly placed.
The FreeStride Trainer FS7i has a high-definition, 7" smart touchscreen embedded into the console to help you become immersed into your workouts. This display screen can be angled to accommodate users of various heights. You can quickly access the resistance levels from the full integer console numbers or the elliptical arm. The right elliptical arm has resistance level adjustment buttons while the left elliptical arm has incline adjustment buttons.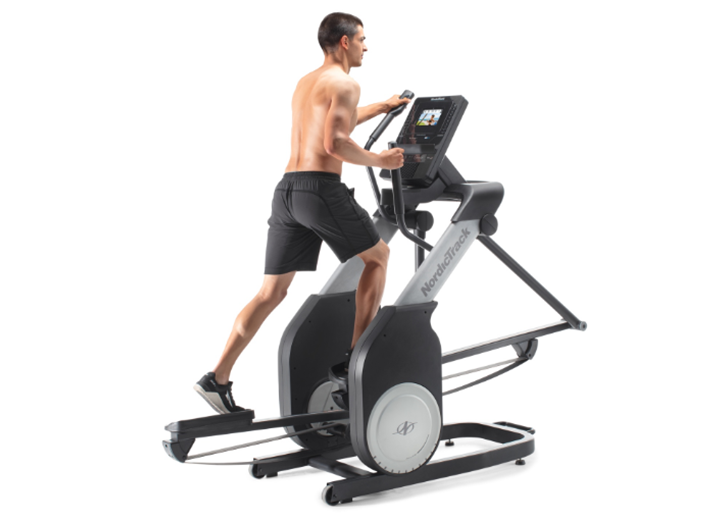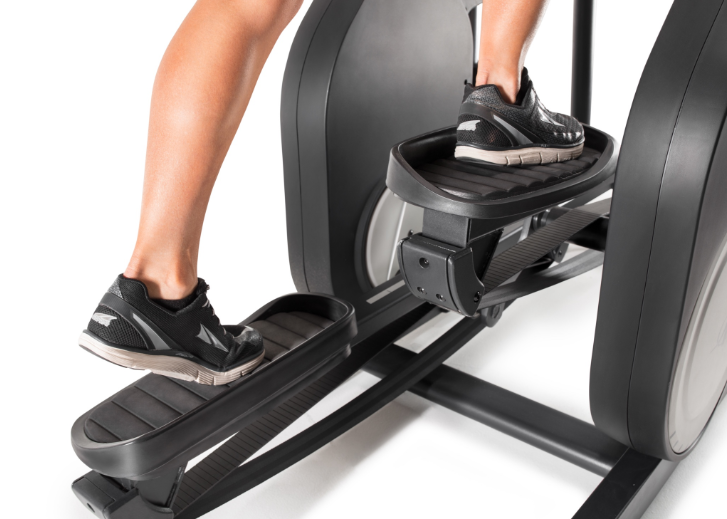 One of the major selling points when it comes to the FreeStride Trainer FS7i is its ability to allow you to engage in the motion of three different machines: stepper, treadmill, and elliptical. Thanks to the unique suspension and center drive, you can change the type of workout you are doing by simply changing your stride.
Along with conforming to your stride, you can also be supported by the oversized, cushioned pedals on the FS7i. You can enjoy plenty of space for your feet and keep your feet from aching after a high-energy, low-impact cardio workout.
Features Of The NordicTrack FreeStride Trainer FS7i
There have been several different models of the FreeStride Trainer FS7i over the years, and the features have changed over the years. For the 2018 FS7i elliptical, the technical features are even more improved, which you can see below:
Price – $1,899
Display – 7" Smart HD Touchscreen
Flywheel – 20 lbs Effective Inertia-enhanced Flywheel
Exercise programs – 35 onboard workouts
Incline range – 0%-10% Power Adjustable Incline
Resistance levels – 24 Digital Resistance Levels
Speed – 0-12 MPH
Max weight user – 375 lbs
iFit capable – Yes, 30-day trial membership included with purchase
Drive type – Center drive
Fans – AutoBreeze™ fan
Stride – 38" Auto Adjustable Stride
Machine dimensions – 28.5" Wide x 57.3" Long x 68.5" Tall
There are four different elliptical series being manufactured by NordicTrack, and the FreeStride Trainer series are the best of these ellipticals. The three ellipticals which are a part of the FreeStride Trainer series all offer:
Over 20+ digital resistance levels
Max weight capacities of 350 lbs and above
Multi-speed workout fans
Over 30+ built-in workouts
iFit access
Lengthy warranties
Even with all these amazing features, you can still use our promo code or coupon to lower the price on the FreeStride Trainer FS7i.
iFit On The FreeStride Trainer FS7i
With the purchase of the FreeStride Trainer FS7i elliptical, you also receive one free 30-day trial membership access to iFit. This membership will save you hundreds of dollars on this excellent program. For those of you who don't know what iFit is, be ready to be impressed.
Designed by ICON to make personal training more accessible, iFit will give you access to top personal trainers who were recruited from around the world. With the help of these trainers, workout programs have been designed for all the different equipment pieces which NordicTrack carries.
How is this implemented? If you noticed the FS7i customer reviews, most mentioned the great workout programs. These programs aren't your standard workouts either! You can follow countless immersive workouts with one of the personal trainers on iFit as they lead you through exercises around the world. There are even crosstraining workouts you can access off of your FS7i elliptical.
You can also track all your nutrition, sleep, and workout data through the iFit program. Any workout done on your iFit-enabled machine, like the FS7i, will have the workout data immediately synced with iFit to make things more hassle-free for you.
NordicTrack FreeStride Trainer FS7i Warranty & Return Policy
NordicTrack ensures that their machines stay in top order by providing top-notch warranties with every piece of equipment. These warranties vary in length, with the FreeStride Trainer FS7i warranty covering:
10-year frame warranty
2-year parts warranty
1-year labor warranty
To access your warranty benefits, you will need to register your FreeStride Trainer FS7i on NordicTrack. This warranty will only cover the elliptical as long as it remains with the original purchaser. Warrantied repairs will need to be pre-authorized by ICON, the parent company of NordicTrack. For replacement parts for your FreeStride Trainer FS7i, these will be shipped to service centers, and you will need to pay for shipping charges. To have your FreeStride Trainer FS7i repaired in your home, you will need to pay for the ICON repair representative's travel.
There are 30 days which you can try the FreeStride Trainer FS7i while deciding whether or not you want to keep it. If you determine during this time that you want to return the FS7i, you will need to call 1-866-896-9777 to arrange a return and receive a Return Authorization Number. The return needs to be set up within the 30-day trial period to be accepted as a return.
If you received a defective or damaged machine, you can receive a replacement elliptical for no charge or a full refund. Should you choose to return your elliptical and it is not damaged, a 10% restocking fee will be taken out of your original payment. The elliptical will need to be in good condition, with all its accessories, paperwork, and parts included. It will need to be packed back into its box and outside for pickup. An additional 10% fee may be assessed if anything is missing or damaged.
NordicTrack Coupon Can Help You Save Buying The FS7i
The FreeStride Trainer FS7i can be an excellent addition to any home gym as it comes fully loaded with fitness tech and the ability to incorporate different workout movements. If you are ready to bring this elliptical home while saving money, click on the coupon below and save big on the FreeStride Trainer FS7i elliptical.