The NordicTrack X22i Incline Trainer is the best and most luxurious incline trainer treadmill NordicTrack has yet to produce. From its dual set of console arms to its heavy-duty base, this treadmill is pure quality, and you won't find a better one anywhere else.
One of the most desirable features of the X22i Incline Trainer is its incredible incline range. The NordicTrack Incline Trainers are the only treadmills which have the incline range of -5% to 40%. With this incline range, not only can you burn calories five times faster, but you can stay more engaged with every workout as you challenge your body. Competitor treadmill manufacturers can at best offer -3% to 30% incline and the treadmills which can reach that range are not available to be purchased by the general public.
The most noticeable feature on the X22i is the stunning 22" touchscreen display. This screen allows you to immerse yourself in your workouts, particularly, the highly engaging iFit workouts. You can leave your home behind when you use the X22i and instead run through beautiful virtual landscapes around the world.
While this incline trainer treadmill is built to be a powerhouse, it does have noise-reducing technology built into the 22" wide and 60" long treadmill belt. The deck comes with Reflex™ cushioning, which both supports your joints and softens the sounds of your footfalls. Even the two, multiple speed fans work quietly and powerfully, so you receive the perfect amount of air while not feeling like you turned on a wind machine.
If you are ready to bring the best personal fitness tool into your home, be sure to click on our coupon code and save big on the NordicTrack X22i Incline Trainer.
Customer Reviews Of The NordicTrack X22i Incline Trainer
Not only is the X22i Incline Trainer popular with treadmill reviewers and fitness professionals, but also with the average consumer. Many praises for this treadmill are posted on NordicTrack, some of which we have shared below:
"This treadmill is worth every penny! The variety of workouts is amazing and they have motivated me to get on the treadmill every day since purchasing it a few months ago. The [incline], decline, fan, TV monitor etc…all great and I highly recommend!"
"My wife and I bought this because we were bored with our traditional cardio and strength workouts. We absolutely love everything about the X22i."
"I've been wanting this wonderful machine since I first laid eyes on it. Although I don't use the incline at its full potential, it's still excellent for simple treadmill running. Great shock absorbance and plenty of room to move around while running/walking."
"The X22i Incline Trainer has been the best endurance and strength trainer I could find after 20+ years in the fitness industry. I am now 55 yrs. old and just starting back on a serious cardio and strength building plan and this incline trainer has helped me get from 223 down to 203 and aiming towards my first 1/2 marathon."
"My kids sit and watch me run and are begging me to use it. Every day they want to know where I am running. They are always checking on me and warn me when it is inclining. So much fun."
If you would like to enjoy the excellent qualities of the X22i Incline Trainer in your own home, be sure to grab one of our 2018 NordicTrack promotion codes to help reduce the price on this top treadmill.
The NordicTrack X22i Incline Trainer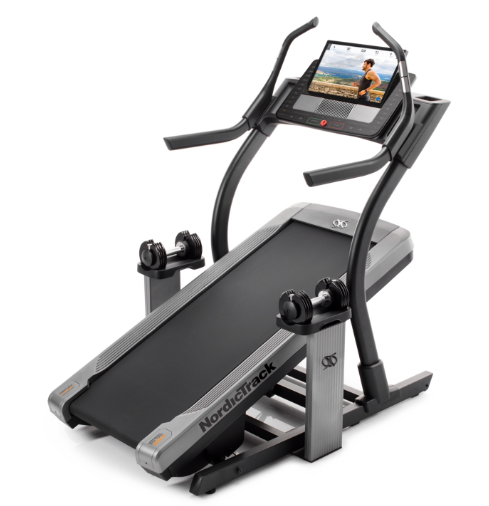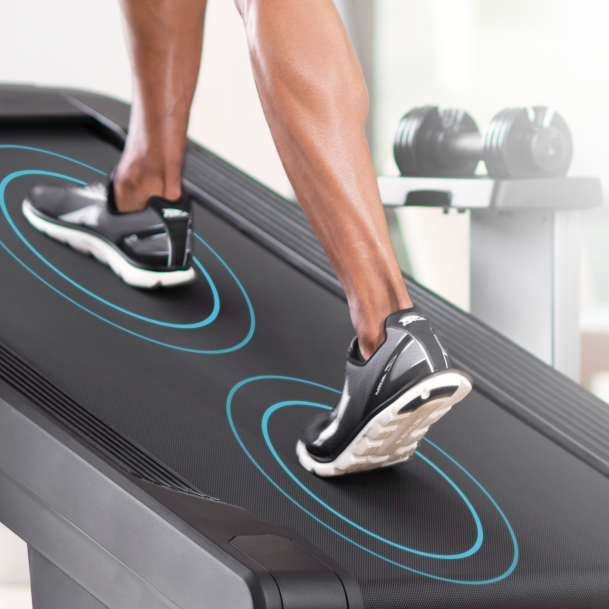 One of the most impressive features on the X22i Incline Trainer is its impressive incline range. On this treadmill, you can reach a 40% incline or decline down to -5%. With this range, you can simulate the toughest running courses and burn calories five times faster than working out without an incline. One thing to note, this treadmill cannot fold up. Be sure you have the required room before purchasing this incline trainer.
As you use this incline trainer, you can also enjoy the well-cushioned deck of the X22i. This deck is engineered with Reflex™ cushioning to allow you to work out as much as you want while protecting your joints.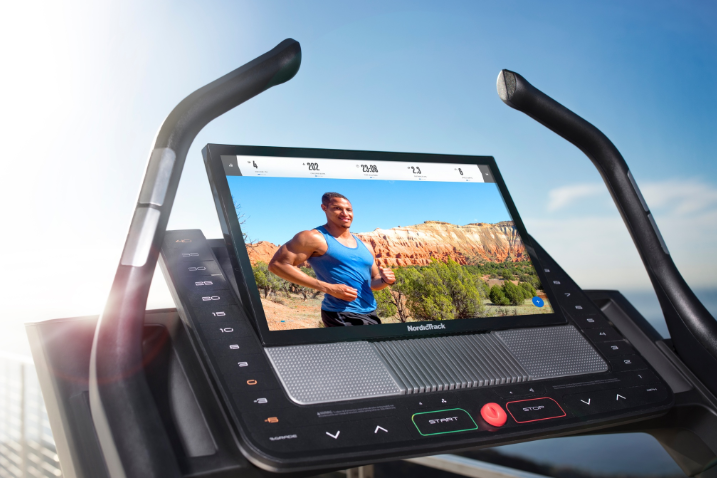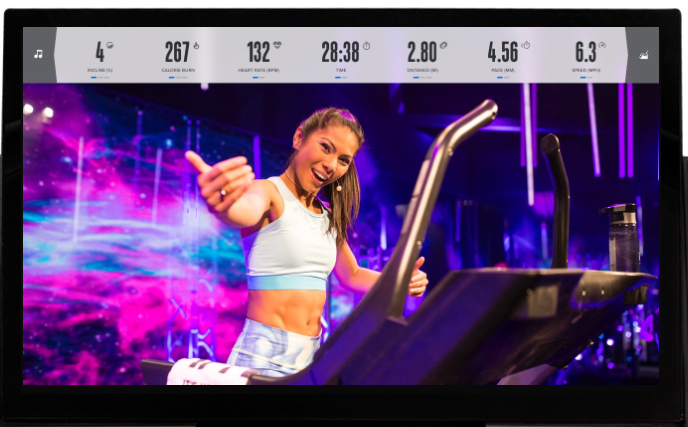 Another remarkable feature on the X22i Incline Trainer is the 22" interactive coaching touchscreen. You can use this screen to navigate through the various treadmill settings as well as enjoy the many workouts available on the X22i. This screen can also lay flat in line with the console's overall lines or be angled up.
From the X22i massive touchscreen, you can access iFit to amp up your workouts. Many workouts available on iFit are led by world-class personal trainers, leading you through studio workouts, exciting running workouts around the world, and engaging in cross-training.
Features Of The NordicTrack X22i Incline Trainer
Generally, you will see that NordicTrack will do model updates on the best treadmills, and the X22i Incline Trainer has been updated for 2018. To ensure you understand the features of the 2018 model of the X22i, review the features below.
Price – $3,299
Display – 22" Interactive Coaching Touchscreen
Exercise program – 44 onboard workouts
Incline range – Decline -5% to Incline 40%
Speed – 0-12 MPH
Max weight user – 300 pounds
iFit capable – Yes, 1 month membership included with purchase
Fans – Multiple speeds, dual AutoBreeze™
Treadmill belt – 60" Long X 22" Wide, noise-reducing tread belt
Machine dimensions – 39" Wide X 81" Long X 76" Tall
Deck cushioning – Reflex™ Cushioning
Heart rate tracking – EKG grips & iFit Bluetooth Chest Strap Included
There are four treadmill series being currently manufactured by NordicTrack and the Incline Trainer series are the top treadmills being produced. These treadmills offer:
High-quality touchscreens
Incredible incline ranges
Well-cushioned treadmill decks
Wireless heart rate monitoring chest straps
Many built-in workouts
iFit On The X22i Incline Trainer
As mentioned earlier, the X22i Incline Trainer can seamlessly sync with iFit. From the giant, 22" touchscreen of this incline trainer treadmill, you can follow trainers on virtual workouts around the world. Many users love the engaging runs which lead them through the Hawaiian islands, or up the winding streets of Paris. Your incline trainer will automatically adjust your speed and incline to match the workout you have chosen as your trainer keeps you energized and focused.
There are also more traditional studio-style workout classes available with the personal trainers through iFit. These studio workouts are regularly recorded so that you can enjoy an ever-evolving list of amazing workouts.
You can also track all your workouts without any effort on your part as iFit comes with an excellent tracking system. Exercises done on the X22i or through a mobile device will be saved to the iFit program, and you can access the program to input personal goals, food intake, sleep, and communicate with other iFit members.
NordicTrack X22i Incline Trainer Warranty & Return Policy
All NordicTrack machines are backed by excellent warranties. For the X22i Incline Trainer, this treadmill carries a warranty which specifies:
10-year warranty on frame
2-year warranty on parts
1-year warranty on labor
You will need to register your purchase if you want to access your warranty benefits. Also, the warranty only will apply to the original purchaser of the X22i Incline Trainer. Any repairs which need to be made under warranty must be pre-authorized through ICON, NordicTrack's parent company. For in-home servicing of your incline trainer, you will need to pay for the travel of the ICON repair representative. Replacement parts can be shipped to service centers, and you will need to pay for the shipping charges.
You are given 30 days to try out the X22i Incline Trainer. If you determine during this time that you want to return the X22i, you will need to call 1-866-896-9777 to arrange a return. The return needs to be set up within the 30-day trial period. To complete a return, you will need to receive a Return Authorization Number
If you received a defective or damaged machine, you can receive a replacement treadmill for no charge or a full refund. Should you choose to return your treadmill, a 10% restocking fee will be taken out of your original payment. The treadmill will need to be in good condition, with all its accessories, paperwork, and parts included. It will need to be packed back into its box and outside for pickup. An additional 10% fee may be assessed if anything is missing or damaged.
NordicTrack Coupon Can Help You Save Buying The X22i
Here at NordicTrack Coupon, we offer five different promo codes and coupons to help people save on their NordicTrack purchases. With the purchase of the X22i Incline Trainer, you can use our top coupon, allowing you the maximum savings. Try out our coupon today and bring the best fitness tool into your home.