If you are looking for a versatile treadmill you will never become bored with, you want to look at the NordicTrack X9i Incline Trainer. This machine is large, powerful, and well-cushioned, as well as being able to accommodate all kinds of users.
Walkers can enjoy intense incline workouts while keeping their pace slow and heart rate high, while joggers and runners can push themselves with the incredible incline range of -6% to 40%. This adaptability makes the X9i a perfect incline trainer for families as well as individuals.
The X9i Incline Trainer also comes with 44 built-in workouts so that you can make the most out of your workouts. Along with these workouts, you can also access iFit Coach, as any X9i bought from NordicTrack comes with a one-year free membership. This membership will give you access to over 12,000 exercise programs, so you can try all sorts of workout routines.
A potential downside to the X9i is the fact that it does not fold up. With the high incline range available, it was more important for the incline trainer to be highly stable than for it to fold. As it is a large machine, you will need to find a dedicated space in your home to accommodate the incline trainer's dimensions.
That minor drawback aside, the X9i is an excellent machine that will complement any home gym it is added to.
Add coupon here
Customer Reviews Of The NordicTrack X9i Incline Trainer
Some people may think the X9i sounds too good to be true. But once this incredible machine is in their home, customers are often surprised how much more amazing this incline trainer really is in person. Read some of the reviews people have left on NordicTrack about the X9i below:
"The X9i is a high quality, well-made machine. My husband, daughter and I have been using it for the past two months and have seen and felt results. Our careers demand a high level of fitness as we are law enforcement and this has brought our fitness to a higher level. The X9i Incline Trainer helps us always be ready. This is a great investment for self and home."
"I love my incline trainer. I will never give it up."
"I was looking for a sturdy and interactive treadmill for the family. This allows us to create our own profiles and track our progress individually. Along with iFit, it provides a wide variety of workouts, sometimes a little too much, but that's better than not enough."
"My wife and I have had several treadmills in the past. They all have had different problems. This is one very solid treadmill and I would say it will most likely last longer than any other treadmill we have had in the past."
"I did a lot of research before choosing the X9i. I knew I would primarily use it for walking and use the steeper incline. This really delivers a great low impact workout, which is exactly what I was looking for. I wasn't expecting to like the iFit workouts as much as I have, but there are some really good workouts in the walking library. I really recommend this to any other folks who are old enough to be the parents of several of the iFit trainers."
If you want to pick up the X9i Incline Trainer at a discounted price and join the ranks of these happy customers, use our NordicTrack promotion codes when you purchase this machine.
The NordicTrack X9i Incline Trainer
The motor on the X9i is located at the base of the incline trainer. With its shift, you can enjoy far more room at the front of the incline trainer without worrying that you will kick the motor hood. Having more space is vital, especially if you are using some of the higher incline levels, as you will want to stay close to the console the steeper you set the incline trainer.
You can pair adjustable dumbbells with your X9i. Several iFit Coach workout programs utilize dumbbells and the weights that come with stands, which have been designed to fit perfectly with NordicTrack treadmills.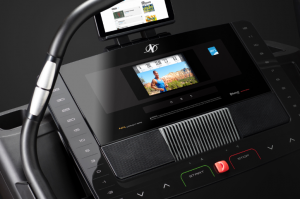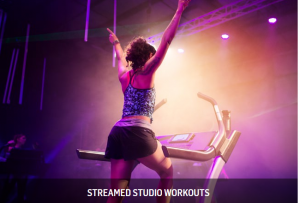 Using the X9i Incline Trainer is easy, thanks to the touchscreen console. With its responsive surface, you can quickly move through workout programs, exercise data, and pause or stop your workout. Also, if you want to have entertainment up while using an iFit Coach program, there is a tablet holder mounted above the console of the X9i.
One of the exciting types of workouts you can access on the X9i is studio classes with iFit Coach personal trainers. These kinds of high-energy workouts can cost hundreds of dollars a month, but you can access it for free from your living room since your X9i comes with a year membership to iFit Coach.
Features Of The NordicTrack X9i Incline Trainer
You will have access to some of the top fitness equipment features when you purchase the X9i Incline Trainer. These features can receive yearly updates as models are improved. To ensure the NordicTrack X9i has the features you are looking for, read through the list below:
Price – $1,699
Display – 7" Smart HD Touchscreen
Exercise program – 44 onboard workouts
Incline range – Decline -6% to Incline 40%
Speed – 0-12 MPH
Max weight user – 300 pounds
iFit Coach capable – Yes, 1-year membership included with purchase
Fans – Multiple speeds, dual AutoBreeze™
Treadmill belt – 60" Long X 22" Wide, noise-reducing tread belt
Machine dimensions – 39.6" Wide X 70.2" Long X 71.6" Tall
Deck cushioning – Reflex™ Cushioning
Heart rate tracking – EKG grips & iFit Bluetooth Chest Strap Included
iFit Coach On The X9i Incline Trainer
While the X9i Incline Trainer has the smallest touchscreen out of the three incline trainers NordicTrack has developed, it has the same ability to sync with iFit Coach. Currently, when you purchase the X9i from NordicTrack, even with our discount, you can receive a year-long iFit Coach membership. This exclusive membership will provide you with:
Access to new workouts every day. These workouts may take place in different locales around the world, allowing you to explore as you exercise.
Studio classes are also available. You don't have to stick to some gym's treading class schedule when you can receive the same help from an iFit Coach personal trainer.
A variety of full-body workouts. Many people struggle to have their meets met by running alone. iFit Coach offers workouts that target the whole body.
Use the iFit Coach dashboard to track your progress. You can log your sleep, food intake, and exercises done off of the X9i since all exercises done on the X9i will be automatically transferred.
By having access to iFit Coach, you can utilize the X9i to the fullest of its abilities.
NordicTrack X9i Incline Trainer Warranty & Return Policy
All NordicTrack machines are backed by excellent warranties. For the X9i, this incline trainer carries a warranty that specifies:
Lifetime warranty on frame and motor
Five-year warranty on parts and electronics
Two-year warranty on labor
You will need to register your purchase if you want to access your warranty benefits. Also, the warranty will only apply to the original purchaser of the NordicTrack X9i. Any repairs that need to be made under warranty must be pre-authorized through ICON, NordicTrack's parent company. For in-home servicing of your incline trainer, you will need to pay for the travel of the ICON repair representative. Replacement parts can be shipped to service centers, and you will need to pay for the shipping charges.
You are given 30 days to try out the X9i Incline Trainer. If you determine during this time that you want to return the X9i, you will need to call 1-866-896-9777 to arrange a return. The return needs to be set up within the 30-day trial period. To complete a return, you will need to receive a Return Authorization Number
If you received a defective or damaged machine, you can receive a replacement treadmill for no charge or get a full refund. Should you choose to return your treadmill, a 10% restocking fee will be taken out of your original payment. The treadmill will need to be in good condition, with all its accessories, paperwork, and parts included. It will need to be packed back into its box and placed outside for pickup. An additional 10% fee may be assessed if anything is missing or damaged.
NordicTrack Coupon Can Help You Save Buying The X9i
By using the promotion codes we provide, you can always be assured of your savings here at NordicTrack Coupon. As long as you select the correct promo code, it will take you to the official shopping site for NordicTrack and allow you to save on every purchase. If you are ready to invest in the X9i Incline Trainer, click on the coupon below and enjoy the savings!
Add coupon here