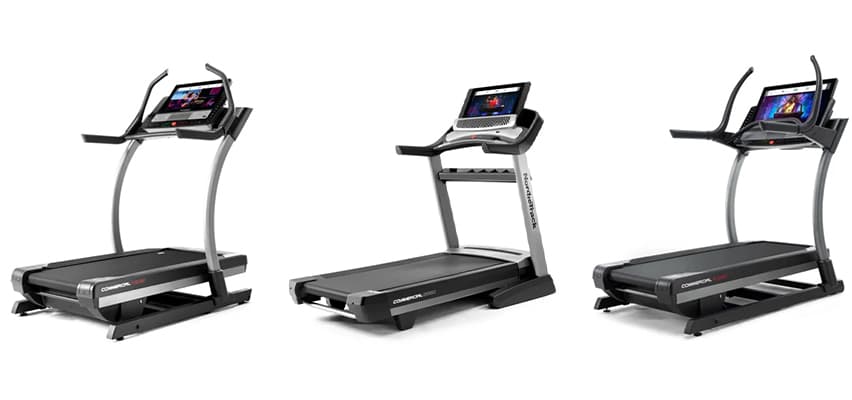 If you're in the market for a treadmill that comes with all the integration, bells, and whistles to optimize your workouts, then you have probably come across Nordictrack treadmills or the Peloton Tread and Tread+. Both brands of exercise equipment come with all the features a treadmill runner would ever want. Yet, the Peloton treadmills can come at a hefty price and may not be as comfortable as other alternatives. Also, for the price you're paying, they may not have everything you're looking for in a treadmill.
If you want all the great specs of the Peloton models without compromising on the quality for significantly less money, consider the equally awesome options offered by NordicTrack: the NordicTrack X32i, X22i, and 2950.
What Does The Peloton Tread+ Offer?
Before we dive into the awesome perks of purchasing a NordicTrack treadmill. Let's first review exactly why Peloton is one of the top-rated treadmills on the market despite its hefty price tag of $4,295. The Tread + comes with some impressive specs like an adjustable 32 HD screen, extra-long and wide belt, a slat belt instead of a traditional belt, a Bluetooth ready 20 Watt soundbar, water bottle holders, and access to an amazing catalog of recorded and live Peloton workouts.
What Does The Peloton Tread Offer?
The Peloton Tread is a less robust option at a significantly lower price point at $2,495 and will be available to purchase in 2021. It has a slightly smaller screen, a conventional belt, and a shorter running deck. Both options come with an additional $39 per month membership and have less than impressive warranties. Offering only a 5-year warranty. The real draw of Peloton is the brand name and fitness community. Now, let's dive into Peloton Tread alternatives.
What Do The Nordictrack Treadmills Offer?
With the long-standing trusted equipment brand NordicTrack, you can literally have all the same great benefits with even more additional bonuses. When you realize that you get all the specs you want for significantly less money, choosing the right NordicTrack model for you is a no brainer. Here are the top comparable model's treadmills like Peloton that you'll love:
NordicTrack X32i Commercial Incline Treadmill
The NordicTrack X32i incline treadmill blows Peloton out of the water with its features at $3,999. It has a strong quiet dual motor, longer running belt, massive capabilities for incline, a 32 inch HD screen, Bluetooth capabilities, access to a workout and fitness community. Plus, all NordicTrack treadmills come with a 10-year warranty. Nordictrack workouts with iFit can even be set so that the fitness instructor automatically controls your speed and incline- something that isn't possible with Peloton.
NordicTrack X22i Commercial Incline Treadmill
At $1,000 dollar less than the X32i, this model has a slightly smaller screen with pretty much the same awesome features. It still has a strong quiet double motor, Bluetooth capabilities, and a treadmill belt only slightly smaller than the Tread+. Plus, it comes with the same great warranty and access to online iFit programming.
NordicTrack 2950 Commercial Treadmill
This commercial treadmill comes with some awesome additional features like adjustable tread cushioning and even a decline to mix up your workouts. It also has an HD touch screen, comes with 1 year of free iFit, and even folds up to save space when you need it. The belt is slightly shorter but it still has a powerful quiet motor and gives you access to iFit. This is a consistently top-rated and reliable treadmill at $2,999.
Which Is Better, Peloton Or Nordictrack Treadmill?
For a Peloton Tread alternative that delivers, NordicTrack is the clear winner here. For treadmills similar to Peloton, and in our opinion better, you truly can't find any better treadmills on the market. These treadmills can offer great workouts, superior fitness programming and overall adaptability without blowing your budget. For all your treadmill needs, NordicTrack has you covered.