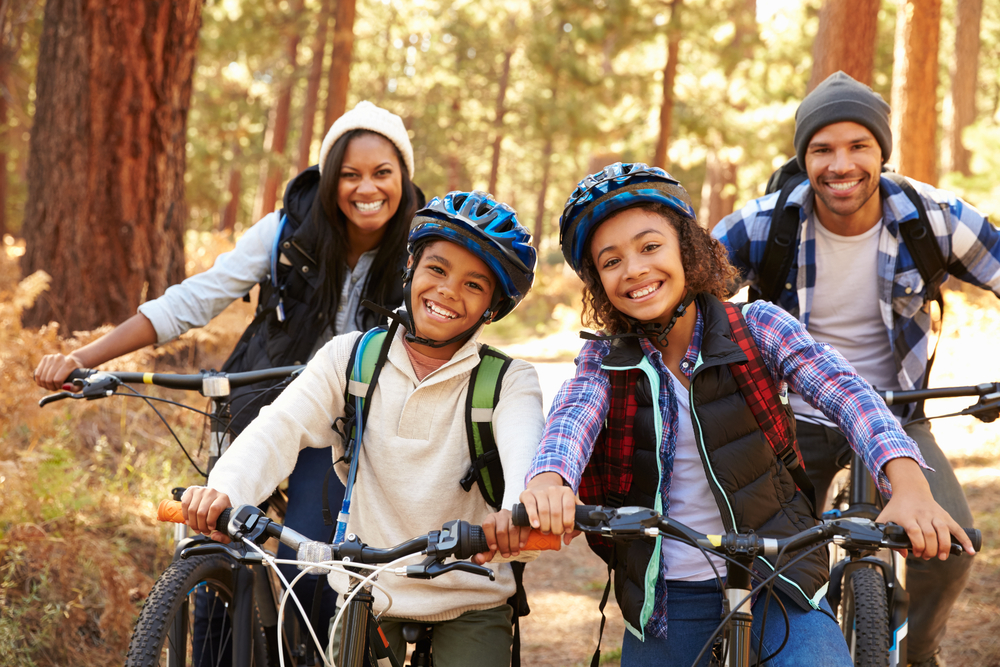 National Family Health & Fitness Day, which falls on September 29 this year, is fast approaching.
The aim of this annual commemoration is to promote family involvement in physical activity.
It represents a great time to assess your family's lifestyle and galvanize your collective efforts to stay fit and healthy.
Here are 5 easy ways to celebrate National Health & Fitness Day.
1. Consider Buying Home Exercise Equipment On Family Health And Fitness Day
If you're considering investing in a piece of home exercise equipment, this is the perfect time to follow through. A quality treadmill can support multiple users, making your purchase equivalent to a family gym membership.
NordicTrack models like the NordicTrack Commercial 1750 are compatible with iFit Coach and currently come with a free year-long membership to this popular app.
It has lots of fun features, including virtual courses that let you run at locales across the globe, on your own or guided by a fitness coach. These bells and whistles will appeal to people of all ages, getting them off the couch and moving.
2. Breakfast on Family Health And Fitness Day
Your family's gastronomic day may well start with a breakfast designed for convenience, like sugary cereal, toaster pastries or a sodium-rich microwavable breakfast sandwich.
Use this chance to recalibrate your busy brood's breakfast. Family Health and Fitness Day falls on a Saturday this year, giving you time to set your table with healthy breakfast food that's just what the doctor ordered.
Consider making a fruit-and-vegetable smoothie or pairing a fruit salad with homemade muffins. Another option is to serve eggs, embellished with vegetables, with whole-grain toast. Avocado toast is another nutritious dish, providing a tasty source of healthy fat. Your morning fare can be accompanied by fresh-squeezed orange juice for a boost of vitamin C.
3. Take a Hike on Family Health And Fitness Day
Hiking is a wonderful way for a family to bond and exercise while immersed in nature. If you don't know where to start, visit a website to find a great trail near you.
Look for a trail with a difficulty level suitable for everyone and make sure you're armed with the necessities. These include sunscreen and hats, insect repellant, snacks and plenty of water.
If you have a kid who whines when the going gets tough, sweeten the pot by hiking a trail that has a fun endpoint like a river, stream, lake or waterfall. You can also foster enthusiasm by encouraging them to take photographs or use binoculars to spot birds and other critters.
4. Get Fitness Trackers On Family Health And Fitness Day
Consider presenting your family with fitness trackers to mark Family Health and Fitness Day. These wristbands track the number of steps you take and miles you travel. These trackers come in an array of colors, allowing you to pick a style that appeals to each family member.
Once you start taking note of how much you're moving, it can be exciting. Your whole family may be surprised just how many steps they're taking, and not just while hiking. Encourage your kids to use their fitness tracker at a variety of venues, like when they're navigating the mall. Notice and celebrate your fitness milestones, however small.
5. Head For Your Local Farmers' Market
There's no better time to visit a local source of organic food with your family, whether it's a farmer's market, specialty grocery store or produce stand. It will encourage everyone to eat more fruit and vegetables and begin the healthy habit of questioning just where your food comes from.
Farmer's markets are especially family-friendly because they often provide entertainment. They're also a great way to mingle with the people, and sometimes the dogs, that make up your community. Put on your fitness trackers, because your open-air shopping provides another way to get in some steps.
We all want our family to be healthy, but sometimes life intrudes and we lose our fitness focus. Family Health and Fitness Day can provide the gentle nudge we need to get back on track.