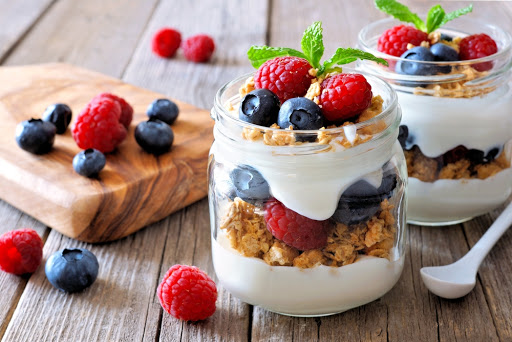 Whether you eat before or after you work out is largely a matter of preference. It also depends on factors like the duration and intensity of your workout. What many people have more trouble determining, however, is what they should eat.
If you're looking for an energy boost rather than a crash-and-burn scenario, don't raid your kid's lunch reserves for fruit gummies and Doritos. We've got your back with 6 healthy snacks to accompany your workouts.
Healthy Snacks To Eat Before Working Out
If you wake up and jump on your treadmill for a 30-minute power walk, it's probably alright to do so without eating first. If you plan to exercise for an hour or longer, however, it's best to eat beforehand. That way, you have the proper nutrients to power your workout, and you can focus on feeling the burn rather than enduring hunger pains.
Avoid foods that are high in fat and fiber, because they can slow down your digestion. Vigorous physical activity can also halt the digestive process, causing bloating, stomach pain or diarrhea—the last thing you want when you're on the move. Try to wait 45 minutes after your snack to start your workout. If you've had a full meal you should hold off even longer, between two and four hours depending on how much you ate.
Your pre-workout snack should be high in carbohydrates, your body's main fuel for activity, and contain a moderate amount of protein for muscle support. Here are 3 healthy pre-workout snacks that fit the bill.
1. Mango Smoothie
In your blender, pulse one cup frozen mangoes with a cup of almond milk. You can kick up the flavor with a dash of turmeric to fight inflammation or a touch of cinnamon, which has been shown to stabilize blood sugar.
2. Peanut Butter And Banana Sandwich
Elvis Presley's favorite food was fried peanut butter and banana sandwiches. You too can eat like a king before you workout, with a few modifications. Sandwich a teaspoon of peanut butter topped with half a banana, sliced, between two brown rice cakes. It should be noted that bananas raise your potassium levels, which can drop after you've worked up a sweat.
3. Healthy Hippie
Toast a slice of Ezekiel bread, a sprouted bread made from grains and legumes. Spread with one-half small avocado and a teaspoon of coconut oil, then season with a sprinkle of sea salt.
Healthy Snacks To Eat After Your Workouts
Exercise takes a lot out of your body. Your body uses your stores of glycogen—carbohydrates stored in the muscle that help maintain your blood sugar levels—and your muscles incur damage in the form of small tears as you work out.
Try to eat a snack or meal within an hour after your workout. During this window of time, your body's ability to use carbs to replenish your glycogen is enhanced. Immediately post-exercise, your body is also in prime shape to use protein to repair your existing muscles and build new ones. Here are 3 healthy post-workout snacks that are both tasty and reparative.
1. Crunchy, Fruity Yogurt Parfait
Make a parfait using a cup of Greek yogurt, a handful of granola and fruit such as blueberries or sliced peaches. Layer the ingredients, alternating between yogurt, fruit, and granola. Top with a sprinkle of ginger, a spice that can help keep your blood pressure down.
2. Nicoise Salad
Mix one can tuna with a boiled egg, peeled and quartered; a small handful of cooked green beans; 4 endive spears (cut in half lengthwise); and 2 baby potatoes, boiled. Add 6 halved cherry tomatoes; 1 chopped red onion; 2 teaspoons black olives; and a teaspoon of capers. Dress with 3 ounces of olive oil, three ounces of red wine vinegar and salt and pepper to taste, then toss gently. Kick up the flavor by adding dijon mustard, basil, oregano and thyme to taste.
3. Hummus and Pita
Pair ¼ cup hummus, with a pita. This snack is just 275 calories and easy-peasy to prepare!
We hope our list offers you food for thought and for a healthy body. With these ideas, you won't forget to fuel the burn as well as feel it.