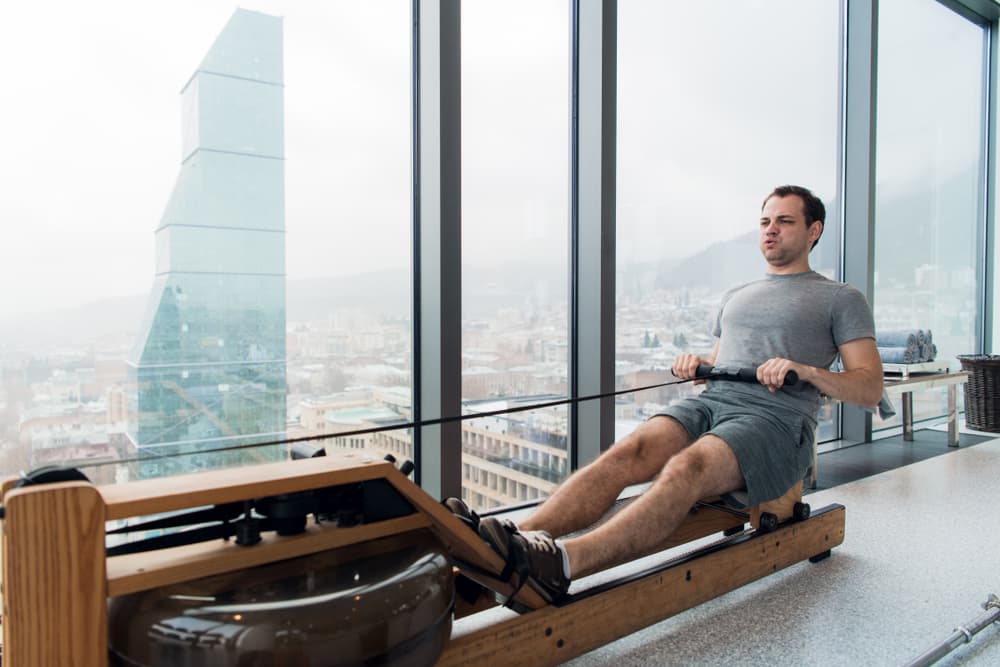 Rowing machines are becoming increasingly popular with the rise of functional fitness, CrossFit, and interval training classes at facilities such as F45. More people opt for this full-body, cardiovascular, and strength-building workout at gyms and at home because rowers tend to have a smaller footprint and can be stored more easily than a treadmill or bike.
There are three main types of rowers, including air rowers, water rowers, and magnetic rowers. Each rower will have similar functionality, as far as technique and muscles used, but there are some differences that each rower has, such as how the machines operate, how they sound, and how much they will cost you. Let's go over the differences between each device.
Air Rowers
Air rowers are the most popular type of rowing machine among the three types of rowers, especially for athletes and fitness enthusiasts. They are sturdy and have the most accurate monitors, so if you're looking to train your rowing fitness levels, these machines will typically be the best option. One of the most popular air rowers is the Concept 2, which can be found in most box gyms and fitness competitions. Air rowers operate with a damper in the flywheel that controls each pull's amount of air resistance. The lower the damper setting, the less air resistance you'll have. The higher the damper is set, the more resistance you will feel. Air rowers provide a wide range of resistance. The faster and harder you pull, the more resistance you will feel.
What we love about air rowers:
– Accurate metrics and monitors
– Easy to store and use
– Best for serious athletes who know how to row and want a dedicated rowing machine
Things to consider before buying an air rower:
– These rowers are louder than the other rowers
Water Rowers
Water rowers are typically a higher-end machine and cost more than the other types of rowers on the market. They're commonly used at home or gyms and require little maintenance, other than occasionally changing out the water. They are sleek and aesthetically pleasing because of their wood components.
They tend to look more like a piece of furniture than fitness equipment, which is a nice touch if you plan on having it sit in your home. Many people love these machines' sounds because they are soothing, relaxing, and sound like rowing on actual water. They are the most realistic rowing machine compared to the others.
Instead of a flywheel that uses air as resistance, these rowers use the resistance from natural water. The faster and harder you pull on the handle, the more resistance you will feel. These rowers are quieter than air rowers but louder than magnetic rowers.
Things we love about water rowers
– Zen-like sound and realistic feel
– Aesthetically pleasing
– Unlimited resistance for a wide range of users and fitness levels
– Quieter than air rowers
Things to consider before buying a water rowing machine
– Higher price point than the other options of rowers
– Heavier than others when filled with water
Magnetic Rowers
The final type of rower is magnetic rowing machines. These machines are the quietest option for rowers and usually the most compact. Many magnetic resistance machines can store upright and even fold in half, making them an excellent alternative for home use.
Their monitors are typically not as accurate as rowing machines, so they're usually best for those who are recreationally rowing and don't care about their statistics. However, they can still provide a great workout. Rather than pulling air or water, these machines work by using a magnetic flywheel with adjustable resistance levels.
They are almost silent and generally very smooth. There are many cost-effective magnetic rowers on the market, with a few higher-end models popping up in the industry, such as the Hydrow.
Things we love about magnetic rowers
– These rowers are the quietest option for those looking to work out at home or in a shared space.
– Cost-effective option for recreational users
– Compact and usually lightweight
Things to consider before buying a magnetic rowing machine
– Most lower-end magnetic rowers do not have as wide a range of resistance levels as the other types.
– Most monitors are not as accurate as air rowers, so they may not be best for serious athletes.
Which Rowing Machine Is Best For You?
If you are searching for a rowing machine, it may be confusing to decide which kind is the best option for you. Each type of rower has similar functionality and will get you a great cardiovascular and strength-building workout. However, you will want to determine the best option for you depending on your budget, where you will be storing the machine, the features you value, and the noise level they make.
Each rower has pros and cons, and we hope this article has helped inform you about the decisions you make when purchasing a rower.