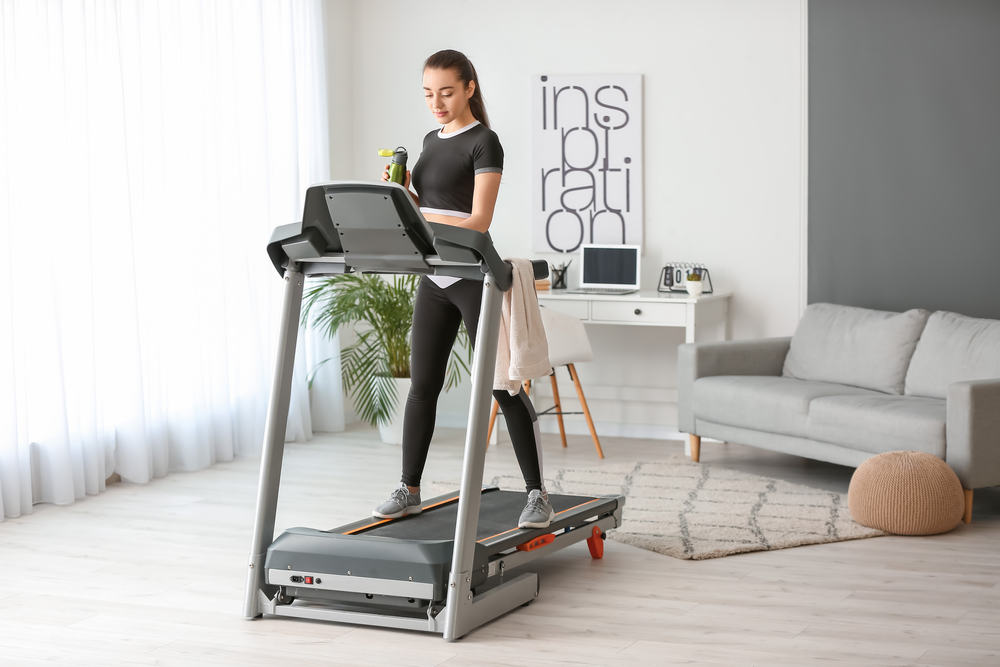 When deciding on a treadmill for your home gym, many factors need to be considered, from price point and horsepower to virtual technology and incline/decline ability. The options can be overwhelming!
One of the most significant factors to consider regarding a treadmill for your home is location – after all, treadmills are large and can take up quite a bit of precious floor space. This can be a downfall, especially if you have a smaller home, apartment, or room to use.
Thankfully, that's where one of the best treadmill options comes into play – and that is the availability to have your treadmill fold in half.
Although these types of treadmills might not be as popular as standard treadmills, they are beneficial when you're trying to utilize space while also wanting to have a machine that will let you accomplish your fitness goals.
How Does a Folding Treadmill Work?
So how does a folding treadmill work? In general, you will need to refer to the guidelines set forth by the treadmill manufacturer since each can be slightly different. However, you can usually find a vertically folding treadmill or a horizontally folding one.
This is where the space issue can come into play again. Would you rather slide your treadmill up against the wall in a corner or fold it flat so it can slide under a bed? Regardless of where you put it, the folding mechanism will usually be hydraulically powered or have the ability to soft-drop.
Either way, it's a breeze to bring out your treadmill when you desired to log some miles!
Features of a Folding Treadmill
Although the folding feature of a treadmill is nice, you won't be sacrificing other vital features just because you can store the treadmill away! Some folding treadmills are manual – meaning that you provide the power actually to get them moving – so be aware of that when searching for a suitable machine for you and your goals.
Of course, all the details will vary from vendor to vendor, but most treadmills will still allow you to adjust incline and decline, speed, and workout programs, and even have the same speakers and fans as non-folding treadmills.
Things to Keep In Mind
We all want a treadmill that is functional and easy to use – and is a bonus if it can be folded up and put away when not in use. However, aside from the space factor, there are a few other things to keep in mind when purchasing a folding treadmill.
For one, ensure that you are getting a treadmill that will fit your stride length. Some folding treadmills have a shorter belt, which can be difficult for those with a longer stride. The motor is another thing to consider. If you run at high speeds, then having a powerful motor is critical! Lastly, think about details like Bluetooth. Do you want to be able to connect virtually while exercising?
Do you want a high-quality touchscreen, or are you okay with the pre-programmed workouts? Think about these features as you browse the selections of folding treadmills to ensure you get the machine you want!
Benefits of a Folding Treadmill
Saving space is a massive benefit of a folding treadmill – and one of the main reasons for their purchase. If you are short on space, folding it in half and rolling it away when not in use is critical.
Another benefit is that you can move it more easily than a stationary treadmill, which is perfect if you need to do your workout in your home office one day and in the living room the next day.
Lastly, cleaning the treadmill and its area is so much easier when you can fold it in half. If you don't want (or don't have) a dedicated space for a stationary treadmill, then cleaning up should be a breeze with a foldable one!