Buying a NordicTrack exercise bike is a hefty financial commitment. Even when you can use our coupon code to save $$$, it's still a big decision! But when you consider popular alternatives like the Peloton, the NordicTrack S22i and S15i are more affordable options without sacrificing any of the bells and whistles. Here is a side-by-side comparison showing the S22i (a great Peloton alternative), the Peloton, and the Echelon – 3 popular home exercise bikes with varying prices and features.
This Review Will Compare The Peloton, The S22i, and The EX3
Peloton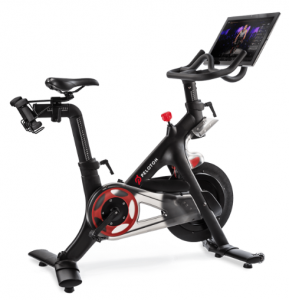 $2,245+
$39/Month
NordicTrack S22i
$1,999+
$15/Month
Echelon EX3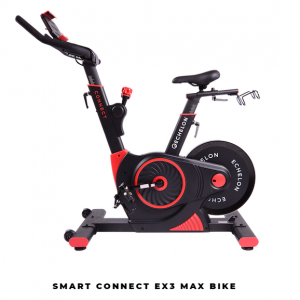 $1,039.98+
$12.99+/Month
Right off the bat, you'll notice the price discrepancy. We're talking about home exercise bikes that range between $1040 and $2245. It's hard to compare equipment with such varying price ranges because you'll typically see the less expensive machine has fewer bells and whistles while the more expensive machine has lots of fun extras. First, let's break down the similarities between these exercise bikes.
Similar Features You'll Find On All 3 Exercise Bikes
The way each of the frames and accessories is constructed are all very similar. The list below includes features of a standard home exercise bike that the NordicTrack, Peloton, and Echelon also have.
An adjustable saddle
Adjustable post height
Adjustable handlebar height
Welded steel construction
Triangular tubing
Waterbottle holders
NordicTrack Studio Bikes (2)
Peloton (2)
Echelon (0)
2 Wheels for easier transportation of the bike
Magnetic resistance
Quiet flywheel
NordicTrack Studio Bikes – Front mounted flywheel
Peloton – Front mounted flywheel
Echelon – Back mounted flywheel
Steel crank arms
Pedals
NordicTrack Studio Bikes – Toe Cage. Reverse side is clipless, cageless, flat.
Peloton – Tri-bolt cleat compatible.
Echelon – Toe Cage. Reverse side is two-bolt cleat (SPD) compatible.
Bluetooth capability for viewing the subscription service
Monthly subscription service
NordicTrack Studio Bikes -iFit $39/month, Free trial for the first 30-days.
Peloton – Peloton Digital $39/month
Echelon – Echelon Fit $39/month
Tilting display (up and down)
Differences Between NordicTrack, Peloton, and Echelon's Features
First, You Need To Know Why The Echelon Cost's $1000 Less
Let's first address the huge gap in cost between the Echelon and the NordicTrack/Peloton. The biggest expense that the Echelon cut to provide a cheaper bike was the HD Touchscreen. You can use your own device with the Echelon EX3 Max to view their subscription service or purchase a tablet from them when you buy your exercise bike.
Here's A List Of All The Features The Echelon DOESN'T Have
HD Touchscreen
Fans
Hand weights
Automatic resistance adjustments
Incline/decline capabilities
Swiveling display (left to right)
Water bottle holders
If any of these features are important to you, you'll find all of them on the NordicTrack S22i (most of them are on the S15i and the Peloton, but not all). The Echelon isn't the best Peloton alternative because it doesn't have an HD touchscreen display and the subscription service isn't as well developed as the Peloton.
Here's The Difference Between The S22i and The Peloton Concerning Physical Features Of Their Bikes
The Peloton and the S22i are both $1000+ more expensive than the Echelon, largely because these bikes are built with an HD Touchscreen attached.
NORDICTRACK
PELOTON
Size

S22i – 22" Touchscreen

Size

21.5" Touchscreen

Responsiveness

Very Responsive

Responsiveness

Very Responsive

Color

Excellent

Color

Excellent

Clarity

Excellent

Clarity

Excellent

Streaming

Good

Streaming

Good

Adjustments

360-degree rotation

Up and down tilt

Adjustments

Up and down tilt
Save Money On Your NordicTrack S22i Purchase With Our Exclusive Promo Code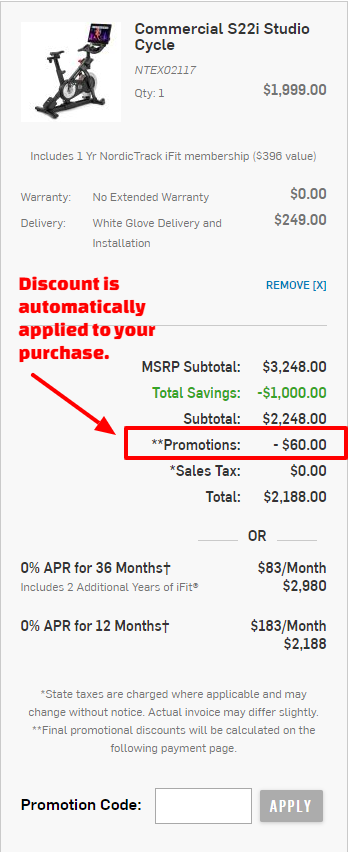 If you're looking for a Peloton alternative, consider the S22i. You can instantly get $60 dollars off your NordicTrack S22i when you use our promo code. Click on the banner to go to NordicTrack.com where you can select the S22i (or any piece of NordicTrack home gym equipment). Add it to your shopping cart and before completing your checkout, you'll see the discount is automatically applied to your purchase. It's that simple.