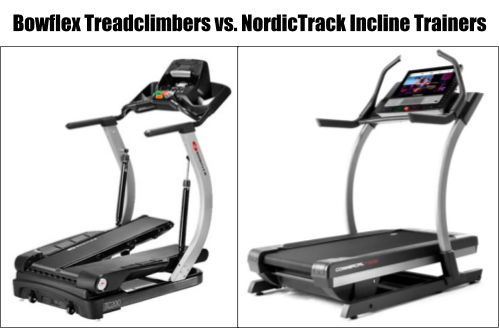 Working out at an incline is known to help burn calories faster. So, if ramping up your calorie burn is one of your health and fitness goals, then it makes sense that your search for an incline machine would bring you to the Bowflex Treadclimbers and NordicTrack Commercial Incline Trainers. But which incline machine is right for your workout needs?
Well, to help you sort through the different factors, we have compared the Treadclimbers to the Incline Trainers in some of the key areas—from price to size of the machine. That way, you can figure out which incline machine suits your needs best.
Prices Of Bowflex Treadclimbers vs. NordicTrack Incline Trainers
Let's start with the pricing of these machines, as that is often a sticking point for many consumers. When it comes to the Bowflex Treadclimbers, there are two machines, the TC100 ($1,888) and the TC200 ($2,499). As for NordicTrack, there are currently three Incline Trainers available—the X11i ($2,249), the X22i ($2,999), and the X32i ($3,999).
All of these machines can be financed if you are approved for it, so you don't have to absorb the entire cost upfront. Either way, as you can see, the Treadclimbers are a bit more affordable than the Incline Trainers. However, before you decide to opt for a Treadclimber on price alone, you should consider other features.
Incline And Speed Ranges Of Treadclimbers vs. Incline Trainers
The speed and incline range on the Bowflex Treadclimbers is very limited. You cannot control the incline level. Instead, the Treadclimber will automatically shift each walking deck up or down for more of a stair-climbing motion than a more natural hiking motion. The speed on a Treadclimber can be controlled, but it is limited to 0.5-4 MPH on the TC100 and 0.5-4.5 MPH on the TC200.
In sharp contrast, the NordicTrack Incline Trainers have a massive incline range you can control, with all of the Incline Trainers able to decline to -6% and incline up to 40%. This incredible incline range is paired with a speed range of 0-12 MPH, though on some of the higher incline levels, the speed will be capped to help prevent injuries.
Construction Of Bowflex Treadclimbers vs. NordicTrack Incline Trainers
Overall and construction of your home workout equipment are important, as you will want your new machine to last for years to come. The TC200 is built along more sturdy lines than the TC100. But neither machine is built with high-impact in mind, which is clear as they can't even reach 5 MPH. Compared to the reinforced steel frames and tough construction of all the Incline Trainer treadmills, it is clear what set of machines are better-constructed.
Also, the warranties that come with each set of machines is telling. For both Treadclimbers, you get a 3-year frame and parts warranty, and a 90-day labor warranty. On the other hand, all the Incline Trainers come with a 10-year frame warranty, 2-year parts warranty, and 1-year labor warranty.
Technology On Treadclimbers vs. Incline Trainers
For those individuals looking for a simple machine, the Treadclimbers are relatively straightforward and easy to use. There are no programs on the TC100 and only five built-in workout programs on the TC200. The backlit display screens show the time elapsed, calories burned, distance, and speed.
Contrast that with the Incline Trainers, packed with fitness technology. All of them come with a 30 day trial to iFit, which allows you to utilize thousands of workout videos, personal training, and more. Along with this access, there are 44 built-in workout programs on the X11i, and 50 built-in workout programs on the X22i and X32i.
Also, the displays on these Incline Trainers are touchscreens. The X11i comes with a 10″ HD touchscreen, the X22i comes with a 22″ HD touchscreen, and the X32i comes with a whopping 32″ HD touchscreen.
Machine Footprint Of Bowflex Treadclimbers vs. NordicTrack Incline Trainers
Size-wise, if you are low on floor space, one of the Treadclimbers would be a better fit for your home than the Incline Trainer treadmills. Neither the Treadclimbers or Incline Trainers are able to fold up, so you will need to have the space to maneuver around the machine when it is both being used and not.
The footprint of the Treadclimers varies, with the TC100 measuring 57″ long, 31.5″ wide, and 59″ tall. As for the TC200, it measures 55″ long, 31.5″ wide, and 62.5″ tall.
As for the footprint of the three Incline Trainers, the X11i measures 71.6" long, 39.6" wide, and 72.2" tall. The X22i measures 70.2" long, 39.6" wide, and 71.6" tall. Largest of all, the X32i measures 76.5" long, 40" wide, and 73" tall.
Should You Buy A Bowflex Treadclimber Or A NordicTrack Incline Trainer
After we have reviewed these machines, we hope it is easier for you to see which one is best for your needs. For sheer utility and quality, we would recommend the NordicTrack Commercial Incline Trainers. However, if you have fairly modest needs when it comes to your exercise equipment, maybe the Treadclimbers are a better choice.
If you end up deciding that a NordicTrack incline trainer is the right machine for your needs, be sure to grab one of our NordicTrack promo codes before you buy it. That way, not only are you getting the best machine for your needs, you are getting the best savings!