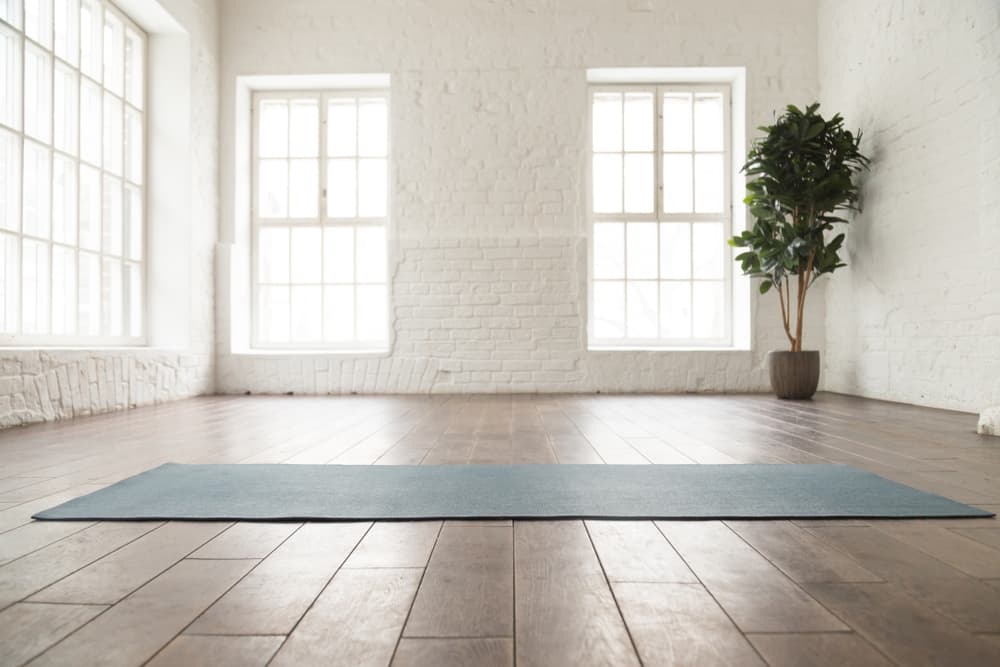 If you have ever been in a gym or local fitness boutique, then you know that many of the pieces of equipment – especially high dollar pieces like treadmills – have mats or carpeting underneath them. The same can be said for equipment like Pilates Reformers and even rowing machines!
However, when you are thinking about getting some fitness equipment for your home, a mat to place underneath the machine might not be the first purchase you think about making in regards to accessories for your new investment, especially if it's an exercise bike that you have just bought! After all, once the handlebars, water bottle holder, pedals, and seat are in place, you probably want to hop on and take your new bike for a spin.
Granted, many of these bikes come pretty much preassembled, so there isn't much work to do in order to get the bike set up and ready to ride. There are some factors to consider though, in correlation with what kind of flooring you have and how efficient you want your clean up to be, particularly after a bunch of sweaty workouts!
First though, let's take a look at the different types of exercise bikes that you can get, and how they work on different types of flooring.
Exercise Bike Options
Thankfully, there are several different exercise bikes to choose from that are out on the market today – which can also be a confusing thing too, if you don't know what to look for or what you specifically want out of your fitness equipment. There are three main options for the style of exercise bike; this includes recumbent bikes, spin bikes, and upright bikes.
Recumbent Bike
A recumbent bike keeps you in a slightly reclined position, giving more support to your back while you ride, and is the perfect choice for beginner and advanced exercisers alike. These bikes are also comfortable for pretty much any shape and size (and can come with a ton of accessories to make your workout even more effective).
Spin Bike
A spin bike looks more like an actual road bike, and keeps you in a forward lean as you ride. The intensity of your ride, along with the handlebars and seat, can all be adjusted – just like they would if you were riding a real bike outdoors!
Upright Exercise Bike
Lastly, an upright bike (otherwise known as a stationary bike) also looks similar to a road bike, but without the higher seat and forward lean. You're sitting up straight with these bikes, and some even come with handlebars that move, so you can get an upper-body workout at the same time.
Exercise Bikes and Your Floor
If you are placing your exercise bike in your home, there are probably several different flooring options that may need protection from your fitness equipment. Granted, an exercise mat is certainly not necessary for you to begin riding and exercising – however, they can help protect your floor from scratches, sweat, and dust/debris/lubricant from your bike!
If you are planning on using your exercise bike in a space such as a garage (where there is concrete flooring) then you might not be as concerned about the condition of the floor; however, if you are planning to place your exercise bike on hardwood floors, tile, or carpet, then investing in an exercise mat can keep those types of floors looking fresh and eliminating any possible scratches that might occur while you're riding.
Aside from protecting your floor from scrapes, dust, and sweat, exercise mats also help to decrease noise from your fitness equipment, as well as provide a bit of supportive cushion for your machine. Regardless of which exercise bike you plan to get, think about where you'll put this piece of machinery, and how you'll protect the floor that it rests on in order to keep your investments properly maintained for years to come!