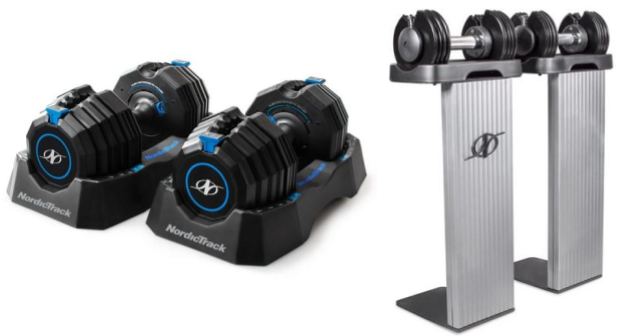 Adjustable dumbbells are an excellent addition to any home gym. Not only do they take up less space overall than other types of free weights, but you also have room to grow with adjustable weights.
At this time, NordicTrack offers two types of adjustable dumbbells—the NordicTrack Select-A-Weight dumbbells, and the NordicTrack SpeedWeight adjustable dumbbells. Both of these adjustable dumbbells have different weights available, and one set may be more suited to your needs than the other.
NordicTrack Select-A-Weight Dumbbells
The NordicTrack Select-A-Weight dumbbells are currently priced at $599. While we have seen them at lower prices, these price drops are irregular, so expect to pay around the current price.
These adjustable weights are the heavier of the available adjustable sets offered by NordicTrack, and they have a lower rack to keep the unused plates secure. The weight range available goes from 10 pounds per dumbbell to 55 pounds per dumbbell.
As for incremental adjustments, you can use the adjustable Select-A-Weight dumbbells in these increments: 10 lbs, 12.5 lbs, 15 lbs, 20 lbs, 22.5 lbs, 25 lbs, 30 lbs, 32.5 lbs, 35 lbs, 40 lbs, 42.5 lbs, 45 lbs, 50 lbs, 52.5 lbs, and 55 lbs.
To change your dumbbell's weight, you have two options. There is a micro-weight increase, where you can opt to add 2.5 or 5 pounds to your base dumbbell. Then, you use the center slider cap to choose your main weight. You need to have your weights in their tray to change the weight on your dumbbell so that the plates are properly aligned.
While using the Select-A-Weight dumbbells, you don't have to worry about them rolling away as you workout. Instead, these adjustable dumbbells are designed with octagonal sides, so they can sit securely while you change workouts.
The Select-A-Weight adjustable dumbbells are best for free weight workouts and aren't the best if you are looking for weights to use with your treadmill.
NordicTrack SpeedWeight Adjustable Dumbbells
For a lighter set of adjustable dumbbells, the NordicTrack SpeedWeight adjustable weights are ideal. These weights are currently priced at $399. Part of what makes the SpeedWeights much more affordable than the Select-A-Weight adjustable weights is that the SpeedWeights are much lighter and have fewer adjustable levels.
The weight range available with the SpeedWeights ranges from 2.5 pounds to 12.5 pounds per dumbbell. As for the incremental adjustments available on the SpeedWeights, here's what you have to choose from: 2.5 lbs, 5 lbs, 7.5 lbs, 10 lbs, and 12.5 lbs.
To adjust these dumbbells, there is a metal center pin that you move depending on the level of weight you want to use. We do recommend you make these weight changes while your adjustable dumbbells are on their storage stand, as the rounded plates can easily roll away. Luckily, your purchase of the SpeedWeights includes a pair of storage racks. These racks are taller than the Select-A-Weight storage racks to make it easy for you to grab your adjustable dumbbells while working out.
These weights are light but designed to complement cardio workouts, such as running on your treadmill or cycling on a stationary bike. Even adding a few extra pounds of resistance to your cardio workout can make a significant intensity impact.
If you need a reliable machine to pair with your adjustable dumbbells, you can always use our NordicTrack promo codes to bring your new fitness equipment home at a discounted price.