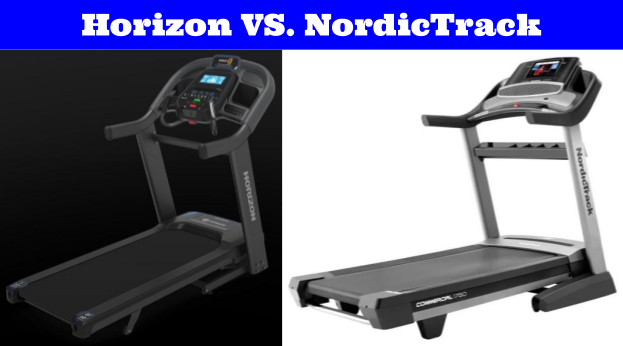 When it comes to the quality and features of NordicTrack treadmills, there aren't many machines that can compete. From the high-quality construction of these treadmills to the engaging features like the large touchscreens and free iFit membership, it is pretty clear why NordicTrack is a household name when it comes to home fitness equipment. But that doesn't mean that NordicTrack isn't the only quality treadmill manufacturer.
Horizon is another major manufacturer of home fitness equipment, and it has a rival lineup of treadmills that directly compete with NordicTrack treadmills. So, if you are looking at bringing home a new treadmill, you may have come down to deciding between these two fitness giants. To help you reach your decision, we are here to help compare the different treadmill series that are similar in pricing.
Horizon Go Series Treadmills vs. NordicTrack T-Series Treadmills
Both NordicTrack and Horizon have their introductory treadmill series. For Horizon, the Go series is their budget treadmills, while NordicTrack has the T-series treadmills. Over the years, NordicTrack's baseline treadmills have improved in quality—and consequently gone up in price—while Horizon's budget treadmills have stayed largely the same. However, that may be what you are looking for when you are searching for a new treadmill.
Below are some key features that may help you quickly sort which treadmill series you want to start investigating.
| Features | Horizon Go | NordicTrack T-Series |
| --- | --- | --- |
| Prices | $599-$999 | $1,299-$2,299 |
| Display | LED Windows-Backlit LCDs | 10″-14″ HD touchscreens |
| Fitness App | Treadmill App Interface | iFit Ready-Free 30-day iFit trial |
| Motor | 2.5 CHP-3.0 CHP | 2.6 CHP-3.6 CHP |
| Weight Limit | 300-325 lbs | 300lbs |
As you can see, there is a significant price gap between the Go series and the T-series, which leads to a features gap. Another thing to remember is that, for the most part, the Horizon budget treadmills are designed as walking treadmills with some ability to jog on them, while the NordicTrack T-series treadmills can accommodate both walkers and joggers easily.
NordicTrack Commercial Series vs. Horizon Studio Series
The disparity between these treadmill brands is even more apparent as we compare the Commercial series to the Studio series. While Horizon has improved on the treadmills in this series, they aren't the kinds of light commercial offerings that can compete with the NordicTrack Commercial treadmills.
Below are some key features that may help you quickly sort which treadmill series you want to start investigating.
| Features | Horizon Studio | NordicTrack Commercial |
| --- | --- | --- |
| Prices | $999-$1,799 | $1,799-$2,999 |
| Display | 7″-9.3″ Backlit LCDs | 10″-22″ HD touchscreens |
| Fitness App | Treadmill App Interface | Free 30 days of iFit |
| Motor | 3.0 CHP-4.0 CHP | 3.75 CHP-4.25 CHP |
| Weight Limit | 325-350 lbs | 300lbs |
From the way we've arranged the features, you can easily see that the Studio 7.8 AT treadmill from Horizon can't even touch the type of feature available on the Commercial 1750, and these treadmills are the same price. One of the few areas that Horizon can out-do NordicTrack treadmills is in the max weight capacity.
Uncontested NordicTrack Commercial Incline Trainers
Lastly, if you are looking for a heavy-duty, features-packed treadmill, you may want to check out the NordicTrack Commercial incline trainer treadmills. Prices generally range from $2,299 to $3,999. There is no Horizon analog to compare against, as these treadmills are a class of their own.
For one thing, your high-definition touchscreens start at 10″ and get up to 32″. Of course, you also receive a free 30 day trial of iFit membership, giving you access to the thousands of iFit workouts.
Another standout feature is the incline range, which goes from -6% to 40% incline, which is unbeaten by any other residential treadmill currently available. Motor sizes range from 3.75 CHP and go up to 4.25 CHP. There are many more excellent features included if you are interested in one of these incline trainer treadmills.
Should you decide that a NordicTrack treadmill is the right machine for your needs, you can always use one of our NordicTrack coupons or promo codes to help you save on your new treadmill!