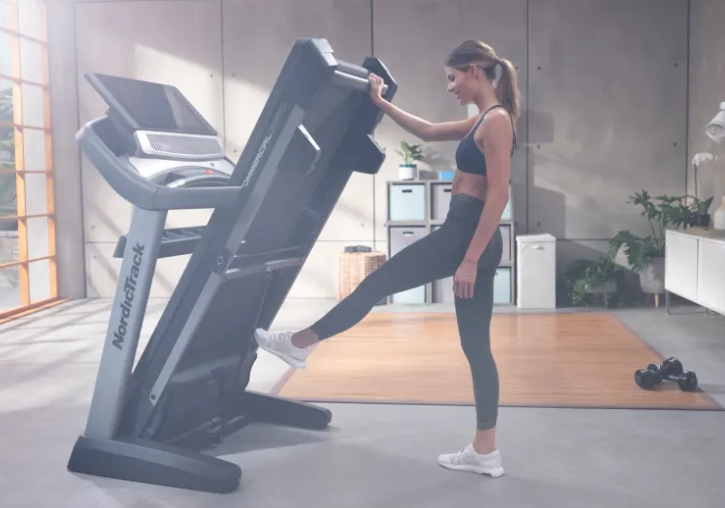 NordicTrack treadmills are some of the most popular treadmills on the home fitness equipment market nowadays. And with their widespread popularity, there are plenty of questions on how to take care of and use these excellent treadmills.
One question in particular that we often are asked here at NordicTrack Coupon is how to unfold a NordicTrack treadmill. But before we can tell you how to unfold a NordicTrack treadmill, we need to talk about NordicTrack's hydraulic folding system.
NordicTrack Treadmills' Hydraulic Folding System
If you have an older NordicTrack treadmill, you may have gotten used to the spring-loaded pin folding system. To use this older folding system, you would need to pull back on the spring-loaded pin with one hand while the other braced the deck. Then, when you lowered the deck past the point of being caught by the pin, you could release the pin and finish setting the treadmill deck down on the floor.
While that wasn't a bad system, it was a little cumbersome, and there was room for injury if the deck slipped from your hands and dropped down on its own. But now, all the treadmills currently available on NordicTrack come equipped with a hydraulic folding system called the EasyLift Assist.
This hydraulic folding system is a simple combination of an air plunger and locking mechanism. When the deck is raised high enough, this system will engage on its own. Also, thanks to the slowing hydraulics, you can allow the deck to descend to the floor completely hands-free after you have released the locking mechanism.
Steps To Unfold A NordicTrack Treadmill
Okay, so with all that build-up, let's talk about just how to unfold a NordicTrack treadmill. To help you follow along with our explanation, let's say you have the NordicTrack Commercial 1750 treadmill, which is the most popular treadmill NordicTrack produces.
1. Lift Deck Slightly
First, check to make sure there is nothing in the way of your treadmill when you unfold. Once everything is clear, lift the deck slightly. You should feel the deck lift off of the hydraulic system that it is resting on, but don't push so hard that you lift the main body of the treadmill.
2. Press Locking Mechanism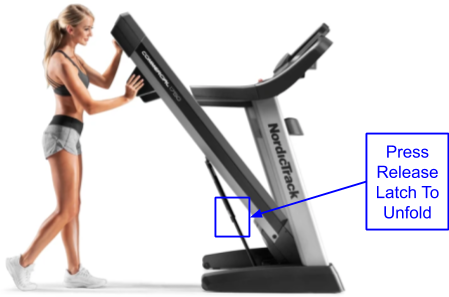 After you have it slightly lifted, use your foot to press the release latch. This latch should be at the mid-point of the hydraulic folding system and should have a simple image to help illustrate what you should do.
3. Step Back and Release Deck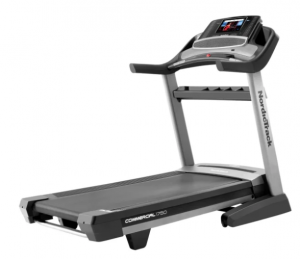 Thanks to the hydraulic folding system, once you release the latch, you can step back and let go of the treadmill deck. The deck of the treadmill will descend slowly and land gently on your floor without your intervention.
Not All NordicTrack Treadmills Fold Up
There is one caveat we want to make. Not all of the NordicTrack treadmills fold up. Namely, the NordicTrack Incline Trainer Treadmills are unable to be folded up, and these treadmills take up some serious space, so you should be aware of that before you purchase one.
Also, there may be some NordicTrack treadmills through third-party dealers that come with the old spring-loaded pin locking mechanism, so you will want to check for that if you aren't shopping directly from NordicTrack.
If you are interested in bringing a new NordicTrack treadmill home now that you are sure how the folding system works, be sure to use one of our NordicTrack promo codes to help you land a discount on your dream treadmill!