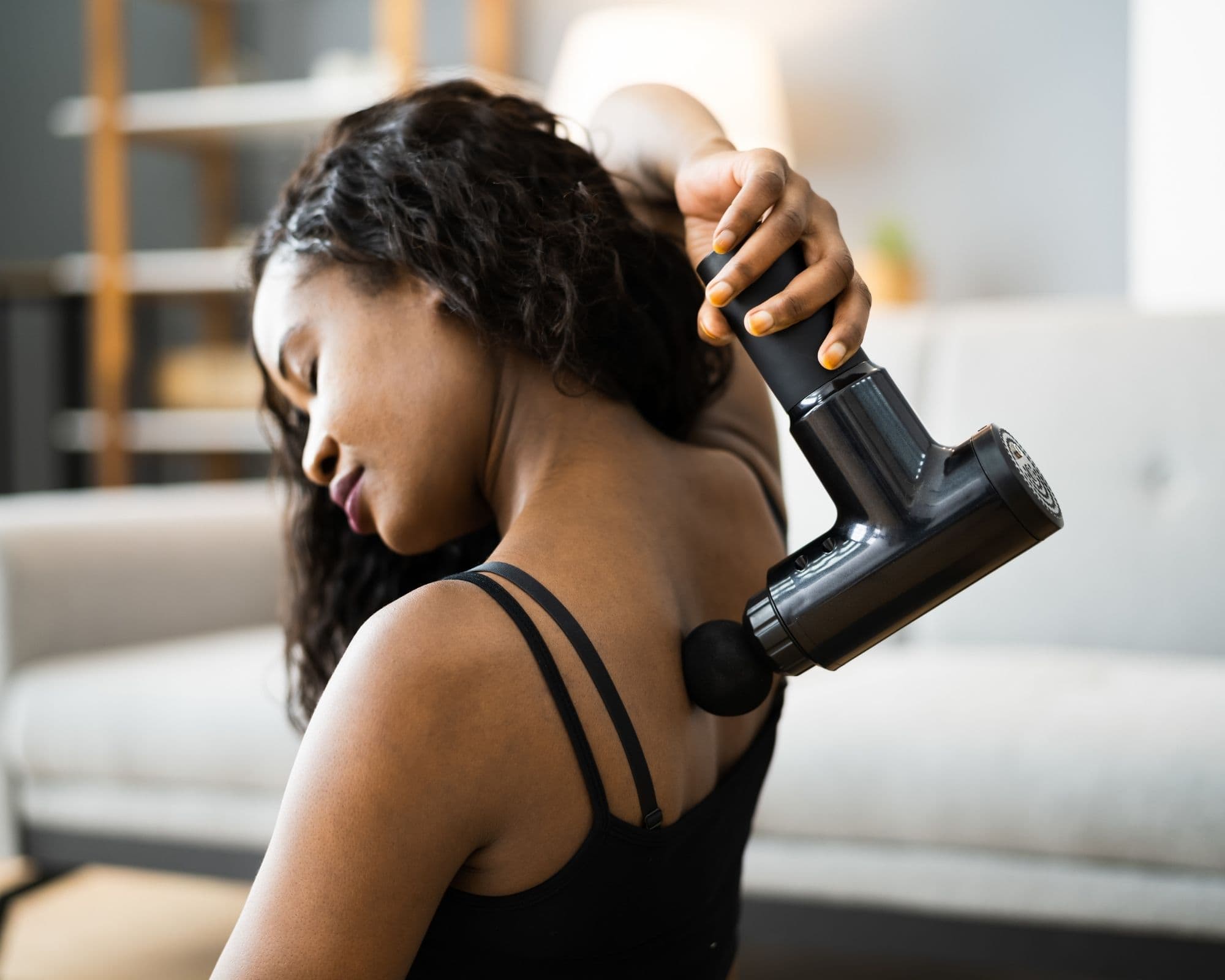 There's no doubt that a good massage feels terrific. But did you know that massages can also help your recovery after a workout?
This blog post will teach you how to use a massage gun for recovery. We'll also discuss the benefits of using a massage gun after a workout and what not to do after a workout!
What is a Massage Gun?
A massage gun is a handheld device that uses vibration and percussion to massage your muscles. It's a popular tool for athletes and people who experience muscle soreness, as it can help to release tension and knots.
There are many different types of massage guns on the market, but they all work in the same way – by using rapid pulses of pressure to massage your muscles.
How to Use a Massage Gun for Recovery
There are two main ways to use a massage gun for recovery: immediately after a workout or delayed onset muscle soreness (DOMS). Let's take a closer look at each of these:
Immediately After a Workout
If you want to use a massage gun immediately after a workout, it's essential to focus on your muscles that are most likely to be sore. For example, if you've just completed a leg workout, you'll want to target the muscles you just worked, like your quads, hamstrings, and glutes.
To use the massage gun, start by turning it on to a low setting. Slowly move the massage head over your muscle, using light pressure. As you move the gun over your muscle, you should feel the tension release. Once you've found a particularly tight spot, you can hold the gun in place for a few extra seconds to work out the knot.
If you tolerate the pressure well, you can experiment with more pressure. The key is to use enough force to optimize blood flow and relaxation for recovery while avoiding increasing pain.
For Pain Associated with DOMS
DOMS is expected with high intensity (or new) workouts. It usually sets in 24-48 hours after a workout. If you're looking to use a massage gun for DOMS, it's essential to focus on the sorest muscles. For example, if your quads feel particularly tight, start by massaging that area.
As with immediate post-workout recovery, starting with a low setting and increasing pressure as tolerated is important. Since your muscles are probably more sensitive than usual, light pressure is typically all that is tolerated until your pain starts to dissipate.
Are you thinking of getting a massage gun? Check out some easy ways to save on a high-quality one here!
Benefits of Using a Massage Gun After a Workout
There are many benefits of using a massage gun after a workout, including:
Reduced muscle soreness and pain relief
Improved blood circulation to promote tissue healing and reduce pain
Reduced inflammation
Faster recovery
Increased range of motion (thanks to less stiffness)

These benefits apply whether you are a seasoned athlete or a beginner. Since soreness is a typical (and expected) part of working out, utilizing a few tools can help you feel your best while working on your fitness goals.
What Not to Do With Your Massage Gun
Now that we've gone over how to use a massage gun for recovery let's talk about what not to do.
Avoid using the massage gun on any areas that are injured or inflamed. This includes open wounds, sprains, broken bones, bruises, rashes, and cuts.
Be careful not to overuse the massage gun on any one area of the body. This can lead to bruising, swelling, or even nerve damage. (If you're using the massage gun more frequently on one site than others, it's good to see a doctor or physical therapist to check for any underlying issues.)
Do not use the massage gun on bony areas of your body, such as your spine, knees, and elbows. Bone does not respond to massage pressure like muscle does!
If you have severe or unexplained pain, wait to talk to a medical professional before using a massage gun.
Overall, it's essential to follow the instructions with your massage gun for recommended time restrictions and other usage guidelines. Always talk to your doctor or physical therapist if you have any doubts!
A Massage Gun is Great for Your Recovery Toolbox
If you're looking for an effective way to reduce muscle soreness, promote healing, and speed up your recovery time, a massage gun is a great tool to have in your toolbox.
It has gained popularity in recent years since it can be done quickly and easily at home without always having to go to a massage therapist (or beg your significant other for a rub down!). It perfectly complements other recovery options like heat, stretching, and active recovery like low-intensity walking or swimming.
If you're interested in purchasing a massage gun for your home recovery plan, NordicTrack offers a great option at a discount that you'll love.