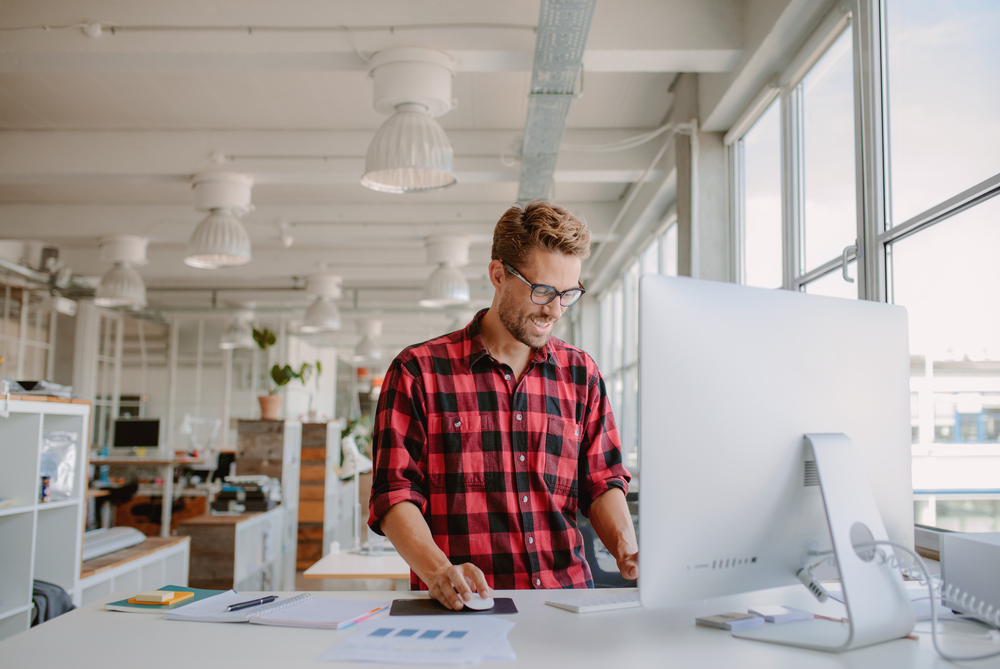 If you're one of the many Americans that work a desk job from 9 am-5 pm, then you know how long you can be sitting down all day – especially if you aren't vigilant about taking breaks to get up and move or stretch during the day. From backaches and neck pain to carpal tunnel and even obesity on the line for the workers with a desk job, sitting down during the day can definitely wreak havoc on your health.
The Mayo Clinic suggests that sitting at your computer for four or more hours a day can increase the risk of dying – from multiple different factors – by 50%! The chances of developing cardiovascular disease increase by more than double that statistic as well, which can be a shocking realization, especially once you break down how much you're sitting at your job all day long.
Let's say that you go to the gym after work every day, does working a desk job hinder your health goals? Let's take a look at some of the ways you can boost your health while you're out of the gym!
How Can You Stay Fit with A Desk Job?
Just because you're sitting at a desk all day doesn't mean that your fitness and wellness goals should get put on the back burner – it's just a matter of prioritizing your health while you're at work. And there are a few things you can do to boost your fitness with a desk job!
Bring A Water Bottle To Work
For one, focus on staying hydrated. Bring a good water bottle with you to work, and sip throughout the day. Guidelines aim for half of your body weight in ounces of water each day, so start before you get to work and stay hydrated throughout the day.
Bring Healthy Snacks To Work
Another idea is to keep healthy snacks at your desk. This seems simple enough, but it can help when a coworker brings in cake or donuts and you want to nosh on something more nutritious (and typically lower in calories).
Get Up And Move
Third, get up and move around. We spend so much of our time sitting and we get lazy. If you have a standing desk, switch from sitting to standing throughout the day. Take that extra time to go to the copy machine instead of asking someone to bring it to you. You can even organize a walking group that goes on walks around the office or around the building during the day. Anything that gets you up and moving helps.
How Much Should You Exercise If You Sit All Day?
A meta-analysis was done on over a million men and women ages 45+ that worked desk jobs; with combined data from over 15 different studies, it was shown that there is a benefit to exercise, even if you're sitting at a desk 8 hours a day. Recommendations for exercise (based on information from the studies) conclude that an hour of exercise each day is beneficial for those sitting 8 hours, and if you're sitting 6 or less, half an hour of exercise is beneficial. This exercise doesn't have to be consecutive; you could walk for a half-hour at lunch, and then do yoga for half an hour after work – or whatever combination of exercises you'd like to do. The goal is to just get in 30-60 minutes of movement each day!
How Can I Move More At A Desk Job?
Aside from the options of treadmill desks and under-the-desk bicycles, there are other options out there you can utilize to help you move during the day while you're at work. For one, you can try a standing desk – not only do these desks help boost concentration, but they also help with focus as well. Another option to keep you moving around the office is to walk around; this can be for meetings, for delivering a message to a coworker instead of using email, and for conference calls. Not only will you be more alert, but you'll stay moving, and keep the blood flowing!
Lastly, adding in a stretching break every hour or so is beneficial, even if you can't really get up from your desk during the day. Try and set an alarm to mobilize your chest, shoulders, neck, and even your lower back and legs every hour to keep things loose and flexible.