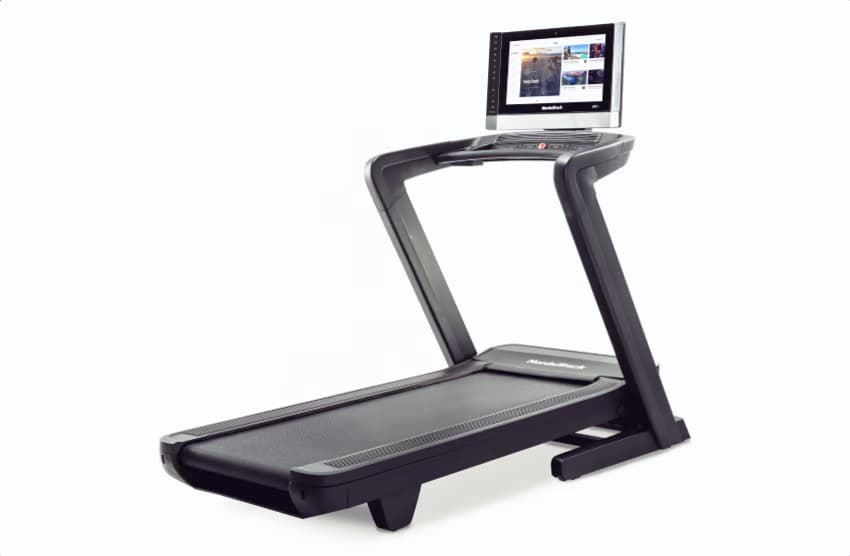 If you are looking for a quality treadmill to help you stay in shape, two brands stand out above the rest: NordicTrack and Peloton. Both brands offer high-quality treadmills with various features, but which one is right for you?
In this article, we will compare the NordicTrack 2450 and Peloton Tread specs so that you can make an informed decision about which treadmill is best for your needs.
The NordicTrack 2450: A Review
Nordictrack is known for making high-quality, durable treadmills. The 2450 is no exception. This treadmill has a sturdy frame and a powerful motor that can reach speeds up to 12 mph.
Let's review all of the specs:
A treadmill that adjusts to your optimal heart rate zone with ActivePule Cardio Cruise Control
22-inch rotating HD screen to use on and off the treadmill
Auto-Adjusting Speed and Incline with workouts
Stats tracking to keep track of your goals
Bluetooth headphone and heart rate connectivity
iFit compatible- streaming and on-demand workouts worldwide (free for 30 days, then $39 per month for a family membership)
Premium sound quality
15% incline to -3 decline control
One-touch controls for easy adjustments during your workouts
300 lb weight capacity
AutoBreeze Fan
Space Saver Easy Lift Assist
22 x 60 tread belt- great for longer strides
Cost: $2,299
The Peloton Tread: A Review
Peloton is known for its Peloton Bike, but they also offer a high-quality treadmill called the Tread. This treadmill has a sleek, modern design and a powerful motor that can reach speeds up to 12 mph.
The Tread also has some great features, including:
59″ tread length- great for most stride lengths
Easy knobs for intuitive adjusting
Track heart rate with a monitor or Apple Watch
23.8″ HD touch screen with tilting and rotating capabilities
Studio-quality speakers
Tracking to keep up with all of your fitness goals
Integrated with the peloton fitness app ($44/month)- access to thousands of award-winning live and on-demand classes
Cost: $3,495
Key Similarities and Differences
Now that we have reviewed the specs of each treadmill let's compare and contrast the two. Both treadmills have a lot of similarities. These include sound quality, easy adjustments, heart rate monitoring, tracking, and access to an online fitness community.
The key differences that set these apart are what make the NordicTrack 2450 Treadmill the best option:
Only NordicTrack has patented auto-adjusting technology for completely seamless workouts
The 2450's space-saving technology makes these machines great for any room
NordicTrack keeps your comfort in mind with built-in fans
There is an $800 difference between these two treadmills- plus, you can access additional coupons for NordicTrack equipment.
The Easy Winner: NordicTrack
While Peloton is a top consumer choice because of their well-known Peloton Bike, NordicTrack is the better choice for a quality treadmill. When looking at their specs, there is no ambiguity.
After comparing each treadmill, it is clear that the NordicTrack 2450 Treadmill is the better option. With its auto-adjusting technology, space-saving design, and built-in fans, this treadmill will make your workouts more comfortable and efficient.
Not to mention, the $800 price difference makes the NordicTrack 2450 Treadmill a more budget-friendly option. If you are looking for a quality treadmill with all the bells and whistles, the NordicTrack 2450 Treadmill is the right choice.