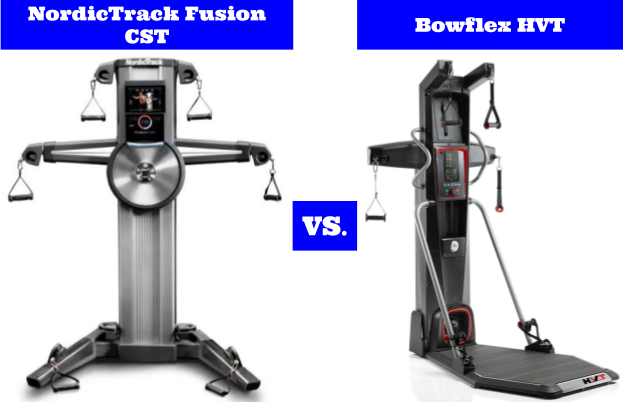 Often, when NordicTrack comes out with a successful and innovative new piece of equipment, other fitness equipment manufacturers quickly try to produce their own version. One apparent example of this cycle is with the NordicTrack Fusion CST and the Bowflex HVT. Both of these machines aimed to combine cardio workouts with strength training to maximize workout time.
So, how does the Bowflex HVT strength training machine stack up to the Fusion CST? We here at NordicTrack Coupon found six clear points of comparison that may help you decide which strength equipment is right for you.
Displays On Fusion CST vs. Bowflex HVT
Having a good display on your workout equipment can make more of a difference than you think. Take the display on the Fusion CST. With the base display, you have a heart rate and watts LED display. It allows you to quickly assess how your exercise is going, and if you need to step up your exertion. But, on top of this basic display, you also receive a 10″ portal 10i tablet.
This tablet can be placed in either the tablet holder just above the LED display or on the independent stand that is also included with the Fusion CST. That way, no matter what direction you are exercising, you can move the tablet and follow your workout.
Contrast that with the simple display on the Bowflex HVT. A small LED screen is embedded into the console, and it is the main focal point for your workouts. On this screen, you can rotate between total workout time, total calories burned, total power exerted, and your resistance level. It is fairly simple, but that may appeal to some users. You can sync up a smart device to add a touchscreen to your workouts, and there is a sliding clip to secure your device. However, it is all on you to supply this part.
Resistance Levels Bowflex HVT vs. Fusion CST
There is a decent amount of resistance built into the Bowflex HVT. Using a knob on the front of the console, you can easily adjust between the 16 levels of resistance. A fan at the base of the HVT also contributes to the resistance of the cables as you work out. That resistance may not be enough if you work out regularly or are already a weight lifter. Instead, the HVT is best if you are looking to combine cardio and light strength training.
The same can be said of the Fusion CST. It isn't really a machine for the serious weight lifter, though it does offer 20 different resistance levels, which gives the Fusion CST a slight leg up on the HVT. Also, the Fusion CST comes with a smooth action flywheel, which helps facilitate your workouts and allow for rapid resistance adjustment.
Pulleys And Cables On Fusion CST vs. Bowflex HVT
On the Fusion CST, there are 95″ of independent cable for you to utilize as you exercise. If you are over 6'2″, the cable length may feel a little restrictive for your full wingspan, but not too constricted. There are also four sets of pulleys—two overhead pulleys, two mid-to-shoulder high pulleys, two floor pulleys, and two squat pulleys.
The addition of the squat pulleys allow you to do more targeted lower body exercises, and there are two ankle strap accessories you can swap in for more effective leg workouts. You also have three sets of ergonomic removable handles to use as you exercise with the Fusion CST.
We haven't been able to determine the exact length of the cables of the Bowflex HVT, but they seem to be very similar to the Fusion CST. The removable grip handles on HVT have two different connection lengths, so you do have a bit of wiggle room when setting up this machine for a workout.
As for the pulleys, the HVT has three sets—two overhead pulleys, two mid-to-shoulder high pulleys, and two floor pulleys. There are no squat pulleys or alternative attachments that come with the HVT.
Workout Apps On Bowflex HVT vs. Fusion CST
Bowflex has been a little slow to produce their own personal training app, but they do have the HVT app that you can pair with your cable machine. This app provides you with fifty free workout videos, coaching you through your workout on the HVT. While that may sound good, it gets blown out of the water by the personal training app that comes with the Fusion CST.
With your purchase of the Fusion CST, you receive a free 30 day trial subscription to iFit. This subscription provides you with full membership, unlocking the thousands of workouts available through iFit, from engaging workout videos with personal trainers in beautiful locations to high-energy recorded studio workouts. There are specific workouts for the Fusion CST targeting different exercise goals, as well as workouts you can do off-machine.
Along with the exercise program benefits, there is a social community within iFit, allowing you to connect with others who are working toward better fitness.
Footprint Of The Fusion CST vs. Bowflex HVT
While the Fusion CST won't take up as much space as a treadmill or an elliptical, it is still a hefty machine. This cable machine measures 41.5″ long, by 59.4″ wide, and 73.7″ tall. The Fusion CST has an open V-style base, which helps provide excellent stability without impeding your workout.
As for the Bowflex HVT, it is a little different as there is a raised pad attached to the base of this cable machine. It measures 65.6″ long, by 46″ wide, and 83″ tall, making the HVT wider and taller than the Fusion CST. The reduction in width is stabilized by the raised pad. However, the pad may not be comfortable for heavier users, as it is not overly large. Also, the HVT unusually has a weight limit, maxing out at 300 pounds. There is no max weight limit for the Fusion CST.
Likely, reading through this comparison of the Bowflex HVT vs. the NordicTrack Fusion CST has led you to decide that the superior option is the Fusion CST. So, if you have decided that the Fusion CST is for you, there is one more thing you need to do—grab our NordicTrack Fusion CST promo code! Armed with this discount, you can bring home the Fusion CST at a discounted price.