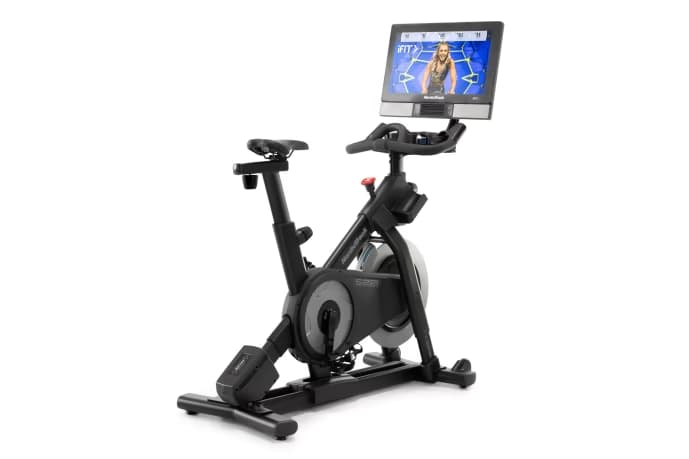 You may consider purchasing a stationary bike if you want a great workout. The NordicTrack S22i and the Freebeat Fit LIT Bike are two great options on the market. But which one is right for you?
In this blog post, we will compare the two machines and help you decide which one is the best fit for your needs.
The NordicTrack S22i Bike
This is a top-of-the-line stationary bike from the trusted NordicTrack brand.
Let's review all the excellent specs that come with this bike:
22-inch HD screen with 360-degree rotating capabilities for use on and off the bike
Updated 30-watt sound system for an immersive experience
Auto-adjusting technology for hands-free workouts that kick your butt
Access to on-demand trainings worldwide with Google Maps and iFit
Hybrid bike pedal clip to fit any style of shoes (clip-in or regular shoe)
Padded ergonomic saddle
Exclusive access to incline and decline technology for the most realistic ride around
Magnetic resistance for a quiet ride
30 days of free access to iFit, then $39 per month after that
One-touch controls and easily adjustable frame for getting in the perfect ride
350 lb weight limit

Overall, the S22i is an impressive piece of machinery that will give you a great workout at just under $2,000 (for an additional discount, get access to a NordicTrack coupon).
The Freebeat Fit LIT Bike
The Freebeat Fit LIT Bike is a good option for a sleek aesthetic design and unique features.
Let's review all the specs:
Auto-adjustable resistance based on instructor instructions
Swiss designed with high quality and sleek materials
A unique wooden flywheel that keeps your ride smooth and silent
Easy to adjust handles, pedals, and seat
Smart saddle detection to track your rides
21.5-inch screen with 180 degrees of rotation
45 days of free access to Freebeat gamified classes- then $36 per month after that
300 lb weight limit

The biggest difference between these two bikes is the types of classes you have access to. Freebeat offers a new biking experience for anyone who would like to treat their workouts like games. This can help keep them engaging and motivating for some types of bike users. Plus, it costs a bit less at $1,199.
Which Bike is Best for You?
Now that we've gone over the features and benefits of each bike, let's help you decide which one is best for you.
If you are looking for a top-of-the-line stationary bike with all the bells and whistles, the NordicTrack S22i is an excellent option. You'll have access to a large variety of on-demand workouts (on and off the bike), a rotating screen, and all the features that make using this bike super intuitive and easy. And the weight limit is 50 pounds heavier.
The Freebeat Fit LIT Bike is a great option if you want something more unique and fun. The classes offered by Freebeat are unlike anything else on the market, and the sleek design and silent flywheel are impressive.
This bike is also an option if you're on a tighter budget.
Making a Choice
These bikes are great options that will give you a fantastic workout. It comes down to your personal preferences regarding features, budget, and what you're looking for in a workout.
Ultimately, choose the bike that you can afford and gives you access to classes you will enjoy. That way, you will stay motivated to get back on the saddle daily to crush your fitness goals for this year and beyond.