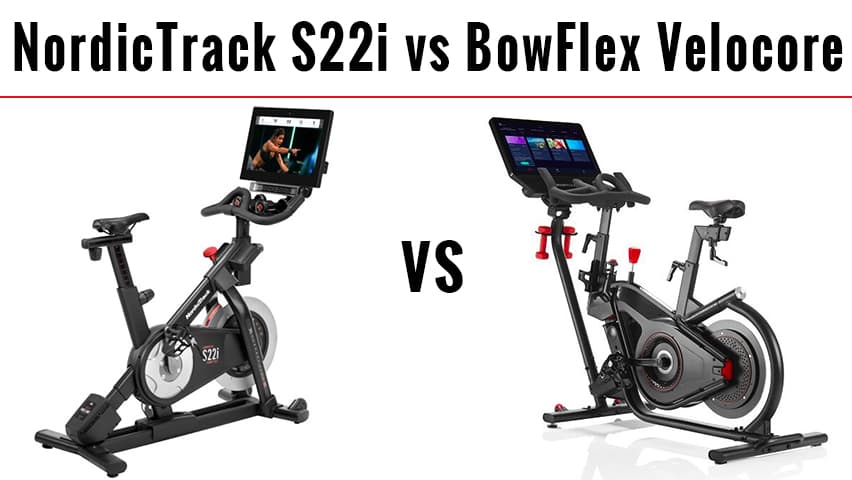 Whether it's bad weather or the global pandemic that forces you to move your cycling efforts indoors, the time has never been better to buy an exercise bike. Luckily, modern advancements have been made that make indoor cycling one of the most convenient and most exciting forms of indoor exercise.
This mainly comes at the heels of revolutionary virtual platforms that transport cyclists to a new road without having to leave their apartment. Two of the newest additions to this category include the NordicTrack S22i and the Bowflex VeloCore Bike. Both of these bikes utilize top-of-the-line technology to help riders personalize the workout experience that is right for them.
Whether you are looking for a 20-minute fat burn exercise or to take on the Tour De France, there is something in this collection of home exercise bikes for you.
Similarities Between The NordicTrak S22i & Bowflex Velocore
Both bikes feature many similar features that put them at the forefront of modern cycling technology. Some of these features include an adjustable saddle and post height, welded steel construction, magnetic resistance, a quiet flywheel, Bluetooth capability, and a tilting display.
Both bikes include interactive 22" touch screens, live interaction and training, and multiple tracking metrics. As an added bonus, both include three-pound dumbbells that can help you get an upper body workout while riding.
Also, both bikes offer a monthly subscription service and Bluetooth capabilities for that service. NordicTrack Studio Bikes – iFit is $39 a month, but free for the first 30-days. Bowflex JRNY is $19.99 a month, or $149.99 for the year.
Bowflex Velocore vs NordicTrack S22i Differences
While both bikes offer a lot of features to be desired, there are also some key differences between the Bowflex VeloCore and the NordicTrack S22i.
One of the key differences of the NordicTrack s22i vs the Bowflex Velocore comes in the fine print of the warranty. While both bikes include a 2-year parts warranty and 1-year labor warranty, the NordicTrack S22i also includes a 10-year frame warranty.
Another key difference between the two is the price. With savings, the NordicTrack S22i is available starting at $1,999.99. The Bowflex Velocore 22" model is more expensive, pricing in at $2,199.99.
Some key differences between the two bikes in terms of features include an adjustable digital resistance on the NordicTrack S22i that is not available on the Bowflex Velocore. Also, the NordicTrack S22i contains a Powergrade Incline & Decline Drive System that is also not available on the Velocore. The NordicTrack S22i also contains an AutoBreeze™ Workout Fan to help cool the rider during an intense workout.
The Bowflex Velocore contains 100 digital resistance levels for the bike, while NordicTrack S22i provides only 22. The Velocore also contains a unique leaning ability which lets riders move and sway with the bike as they pedal. This also serves to exercise the user's upper body and core as they ride. The Velocore also comes with a Bluetooth HR armband which can track metrics such as heart rate.
Now more than ever, people around the world are looking for a safe and convenient way to stay fit. While these bikes may contain many differences, it is clear that both are on the forefront of home workout technology.
Both of these bikes transport users around the world, letting them bike roads and trails they wouldn't normally have access to. The utilization of this technology is both relevant and beneficial, and the applications are endless.
For those looking to purchase a NordicTrack S22i, many coupons are available to help ease the burden of the price. In this age of a global pandemic, it is important to secure reliable workout equipment that fits within the safety requirements of the modern era. For now, look no further than these two fine machines.