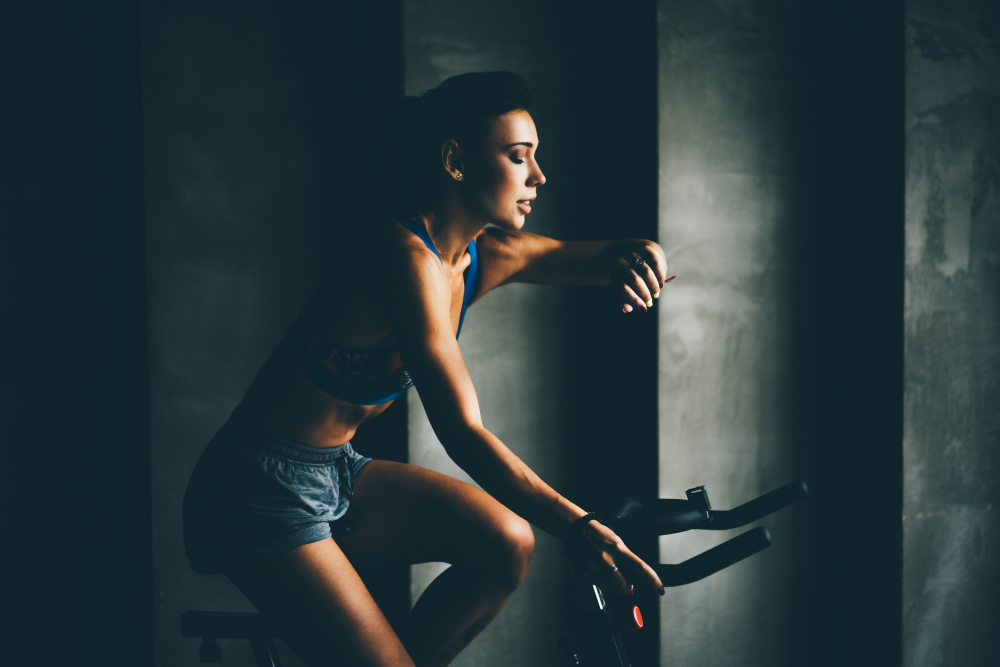 If you aim to strengthen your lower body while also increasing cardiovascular endurance, look no further than a stationary bike. When coupled with a strength training program and/or flexibility and mobility, you will notice that not only are you stronger, but you are also boosting the health of your heart and lungs – all with minimal impact on your joints.
Aside from the toning and strengthening benefits, you will also notice that a stationary bike has mental impacts as well! Not only can you see a decrease in anxiety and depression, but regular exercise on a stationary bike can also have you sleeping better at nighttime.
So now that you know some primary benefits of a stationary bike – how do you know which one to choose? Today, we'll be looking at the NordicTrack S22i and comparing it to the EX-5s from Echelon. From there, you can determine which one might better suit your budget and fitness goals.
NordicTrack S22i
Currently priced at $1,899, the S22i from NordicTrack includes a 30-day iFit membership for your entire family. After the month is up, the membership can resume at $39 per month – perfect for integrating everyone in your household on one fitness platform. With iFit, you will experience virtual workouts and trainers – all from the comfort of your own home. These workouts can be seen live and can have you see different parts of the world….essentially riding through hillsides or speeding down country roads from your stationary bike! The virtual trainers can chat with you in real-time if desired, and if you are competitive, you can watch your progress on the workout leaderboard.
Your cycling experience can be viewed from the 22" high definition touchscreen that can swivel and rotate, and the ability to connect your Bluetooth headphones ensures that you can hear your trainers without disturbing your family members. The faster dual Wi-Fi connectivity lets you have a more reliable programming connection – and will ensure that you won't miss a moment of those virtual trainers bumping up your resistance!
The decline and incline range from -10% to 20% and the 24 levels of resistance allow any level of exercise to be done appropriately. With a weight capacity of 350 pounds, the NordicTrack S22i is the perfect machine for everyone in your family!
Echelon EX-5s
Priced at $1,499.99, the Echelon EX-5s gives you 24/7 access to workout classes and virtual trainers from around the world, all from the workout space of your choice! The Echelon community allows you to keep track of your exercise progress over time, ensuring that you promptly hit the goals you want. Memberships are available monthly, annually, and biannually. With Echelon, you don't just get classes geared explicitly toward biking – you can also experience live studio classes and integrate yoga and strength training into your overall fitness routine.
These workouts are viewed on a 22" high definition screen that can rotate, while the two available power ports allow you to charge your phone or iPad if needed while you're torching calories. The toe cage on the pedals is adjustable, as is the seat and handlebars – making it a perfect fit for each family member!
The resistance levels on the Echelon go up to 32, and paired with a holder for a set of dumbbells; you're sure to get a well-rounded workout. With a weight capacity of 300 pounds, the Echelon EX-5s can give you all you need in a stationary bike, plus some!
The Bottom Line
Both bikes offer an excellent way of getting a low-pact but high-intensity cardio workout at home. We like both bikes, but we really love the decline/incline feature of the NordicTrack s22i for getting in more realistic training.
NordicTrack also has an excellent reputation for high-quality and great customer service. However, both are solid choices.