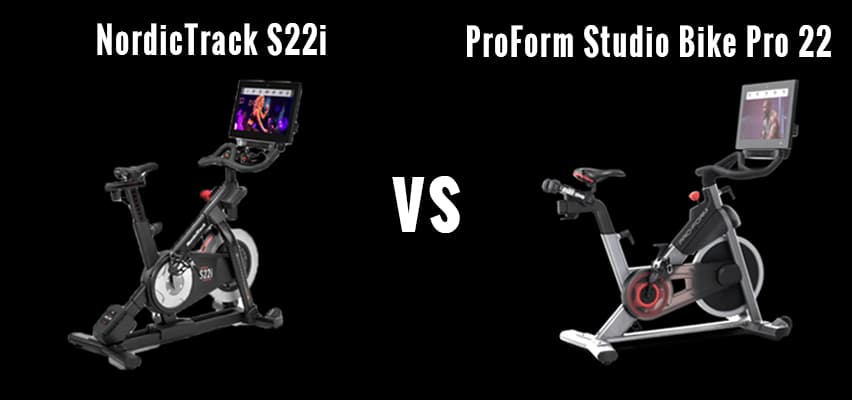 Riding a stationary exercise bike in the comfort of your own home has been a possibility for decades with the help of home cardio equipment. However, in more recent years the possibilities that an exercise bike can provide have increased exponentially. This is mostly thanks to the advancements in technology that allow a cyclist to be connected to the outside world virtually without having to actually go anywhere. This is perfect for bad weather, tight schedules, or even a pandemic.
There are many great stationary bike models on the market these days. Today, we will dive into the pros and cons of the Nordictrack s22i vs Proform Studio Bike Pro 22. Both have great features, but in the end we think you'll agree there is a clear winner.
The Nordictrack S22i vs Proform Studio Bike Pro 22
There are always new exercise bike models hitting the market. Two of the most recent releases are the Nordictrack s22i and Proform Studio Bike Pro 22. They both offer awesome benefits. Each piece of equipment comes with unique features and price points that can help you decide which option is best for you.
Similarities
Both models are built for a superb user experience under the $2,000 price point (many high-quality bikes cost more than this, such as the Peleton). Here are some of the best components that both bikes offer:
A quiet flywheel with magnetic resistance instead of a chain makes for a smooth ride
The adjustability of the seat post and handlebars
Digital resistance for more precise tracking and adjustability
Tracking metric capabilities for heart rate, distance, and more (heart rate monitor not included in either option)
LED Wi-fi capable screen for access to iFit workouts. Both bikes come with access to interactive workout programs that keep you motivated and fit.
Built-in 3-pound arm weights to boost arm strength during workouts
Automatic resistance control when you choose a workout program
Differences
When looking at the differences between the Nordictrack s22i vs Proform Studio Bike Pro 22, this is where the Nordictrack model starts to stand out for it's amazing features. These include:
Bluetooth headphone capabilities versus an audio plugin port for the Proform
A larger 22" screen with an adjustable swivel. Proform offers a swivel but a significantly smaller screen (10"). This allows for better workout screen usability whether you're on your bike or on the floor.
A free iFit membership with purchase for the first 30 days and then $39 per month after that. Proform is also iFit compatible.
Excellent warranty guarantees. Nordictrack is the only exercise equipment company that offers a 10-year frame warranty on top of the 2 year parts and 1-year labor warranty.
A power grade incline and decline system that simulates real hills for a unique stationary bike experience.
When you start to feel sweaty and overheated- Nordictrack offers a built in AutoBreeze workout fan.
A Clear Winner
After reading through the similarities and differences, there is a pretty clear option here. If you want all the bells and whistles at a similar price point, the obvious choice is the Nordictrack s22i. While the Proform Studio Bike Pro 22 offers everything you need for a comfortable ride, the s22i goes above and beyond to boost both comfort and the fun factor.
Choosing Equipment for Your Home Workout
If you enjoy biking, but don't have the time or outdoor space to do it regularly, a stationary bike is a must-have item. The online memberships and fitness programs that come with these bikes make them very versatile. You can get in a great home workout no matter what you're in the mood for or your current fitness goals are. They may seem expensive at first glance, but when you add up your monthly gym fees, gas, and time restraints, it will become clear that the investment is low for what the benefits truly are.
Nowadays, with unpredictable schedules and shutdowns, it is a perfect time to have the flexibility to work out in the comfort of your own home. If you are considering the Nordictrack s22i there are coupons available to be able to purchase it at an even more affordable price. By choosing to invest in a stationary bike, you are saying yes to your health and sanity no matter what this year may bring.