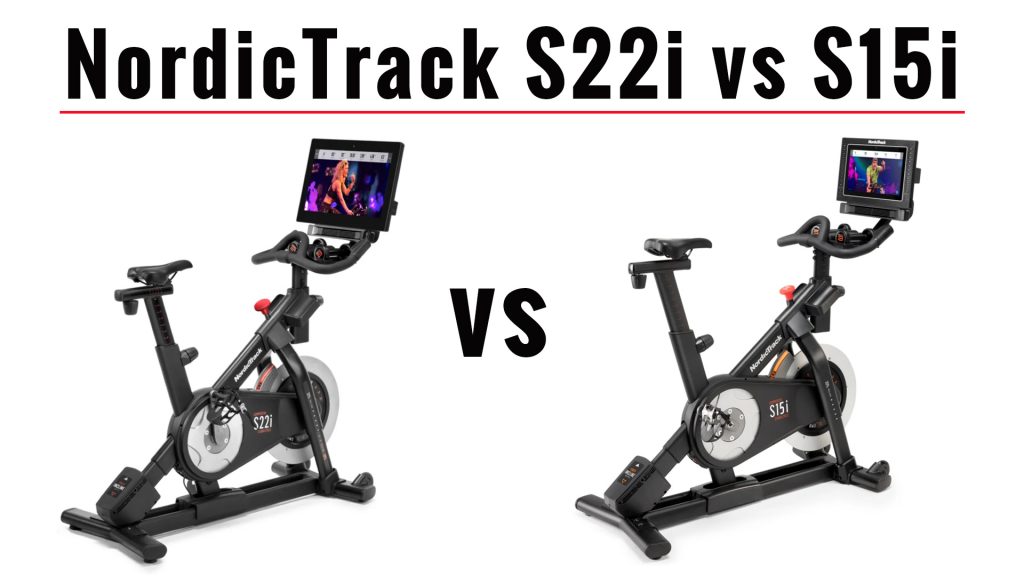 Riding a bike has multiple health benefits – from enhancing your cardiovascular endurance to weight loss and lower body strengthening, pedaling a bike is a fabulous aerobic workout. There's also an added bonus, this can be either with a road bike or a stationary bike! However, if you're looking to bring your workout indoors (and subsequently stay out of adverse weather conditions), then stationary bikes are the way to go. But how do you know which one is best for you? Let's take a look at the S22i and the S15i NordicTrack studio bikes for a bit of a comparison between the two, and you can decide which would be best for you and your home fitness studio!
NordicTrack S22i vs NordicTrack S15i Similarities
NordicTrack makes a wide variety of exercise bikes; not only are they affordable, but the quality is high, and some of them even come with an iFit membership – including the S22i and the S15i! This membership allows you access to iFit, and you're able to see and use all of the workouts offered. Outside of the technical enhancements that you're able to use on both of these bikes, there are some other similarities between the two as well; they both have racing style handlebars, and they both have large touch screens that can swivel if you're working out off the bike.
Both the S22i and the S15i are both capable of incorporating decline and incline settings to add various levels of training to your program (after all, you would most likely be experiencing a downhill drop at some point if you were cycling on the road), and both have a set of three-pound weights that are stored on the bike so that you can integrate upper body workouts into your routine as well!
S22i vs S15i Differences
Even though these two studio bikes are quite similar, there are a couple of brief differences that should be noted. For one, there is a slight price difference between the two; the S22i is going to be a bit more expensive than the S15i, but this is most likely due to the fact that the S22i also comes with a larger touchscreen than the S15i. There are also two more resistance levels on the S22i (24 in total), whereas the S15i has 22 levels. Granted, these differences are minor, and it will come down to personal preference with price, screen size, and how many levels of resistance you want on your home studio bike.
NordicTrack S22i vs S15i Console
The console in and of itself on both of these bikes is the biggest difference when deciding between the two for many people; the S22i screen measures 22 inches, while the S15i screen is 14 inches. Both bikes offer full-color high-definition touchscreens, almost giving the impression that you're in the same room or outdoor workout with your trainer or group exercise instructor! These screens can also swivel 180 degrees, so you can still see it, even if you're off your bike and working out in another part of your fitness studio.
Bottom Line
When it comes down to it, the decision between these two studio bikes will be based on preference – after all, some people just want a bigger screen, so the S22i would be the way to go. On the other hand, the S15i is more budget friendly, albeit with a smaller screen. Between having the iFit membership included with both bikes, along with incline/decline options, heavy duty construction, a touchscreen, and the ability to switch your gear from road bike to stationary bike and back again, you'll really just have to determine what your budget is, and what kind of screen you want in order to complete your workouts.