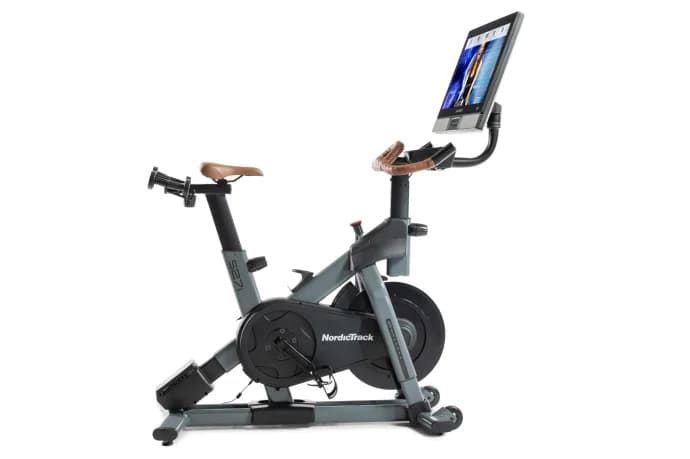 Are you looking for a quality NordicTrack studio bike but don't know which one to choose between the S27i and S22i? In this article, we will compare these two bikes and help you decide which one is the best for you. Both bikes are excellent choices, but some key differences may make one model a better fit for your needs than the other. Keep reading to learn more!
The NordicTrack S27i
There's a lot to love about the NordicTrack S27i. Let's review.
Top Specs
27" Rotating & Tilting Smart HD Touchscreen
All the tech, from Bluetooth headphones and heart rate monitoring to Google Maps workouts and premium audio.
iFit enabled (30-day trial included with purchase)
AutoAdjust™ Technology and OneTouch controls for a seamless workout
Comfortable, easy to adjust the seat, handles, and pedals (compatible with standard road bike pedals or saddle)
Stay cool and hydrated with a built-in fan and water bottle holders
Two 3 lb. dumbells included
A quiet ride with magnetic resistance and quiet incline technology
-10% decline to 20% incline for authentic indoor hill training
High quality steel construction made to look sleek in any room of your house
Weight capacity: 350 lbs.
57" L x 28" W x 65" H Footprint
Price: $2,499 or $65 per month for 39 months
The NordicTrack S22i
Now, let's review NordicTrack's other highly rated bike. Since the S27i has more features than the NordicTrack S22i, let's focus on what is different.
A smaller 22" 360° Rotating Smart HD Touchscreen
Access to similar technology, except for Bluetooth heart rate monitoring
Easy to adjust the comfortable seat and hybrid double-sided pedals, but does not include the enhanced instantly adjust handlebars
The same silent resistance with easy and smart auto-adjust technology
Same features like a fan, water bottle holders, and dumbbells
High-quality, sturdy steel construction
Weight capacity: 350 lbs.
61" L x 22" W x 58" H Footprint
Price: $1, 899 or $49 for 39 months
Key Similarities
These two NordicTrack bikes are very similar. They are made with high-quality materials and designed to help you amp up your indoor bike rides. Plus, they come with one of the best warranties in the industry: 10-year frame, 2-year parts, and 1-year labor.
Key Differences
The S27i offers a riding experience and immersion in your workouts that is the best of the best. It has features like a bigger screen and heart rate monitoring, and it is now easier than ever to adjust the handlebars. Plus, its sleek black design is an excellent complement to any room. These top-notch features make this bike a little more expensive than the S22i.
The S22i offers practically the same great features that all new NordicTrack bikes provide, such as AutoAdjust and a quiet ride, at a lower price tag. While its design might not be quite as sleek, it is an affordable option that allows you to take advantage of all these bikes offer.
How to Choose a Bike
There are a few primary factors to consider when choosing a stationary bike. These include:
Your budget
Design
The size of the bike and the ability to tuck it away
The features that are most important to you
What tracking features you'd like access to (i.e., heart rate monitoring)
After considering all of these factors, it should be relatively easy to pick a bike for purchase.
Choose the Bike You'll Use
Both the NordicTrack S27i and S22i are excellent choices for a stationary bike. But depending on your needs, one model might be better suited for you. Consider all of the factors listed above to ensure you're getting the best possible bike for indoor workouts. Choose one that you'll be happy to use consistently for years to come!