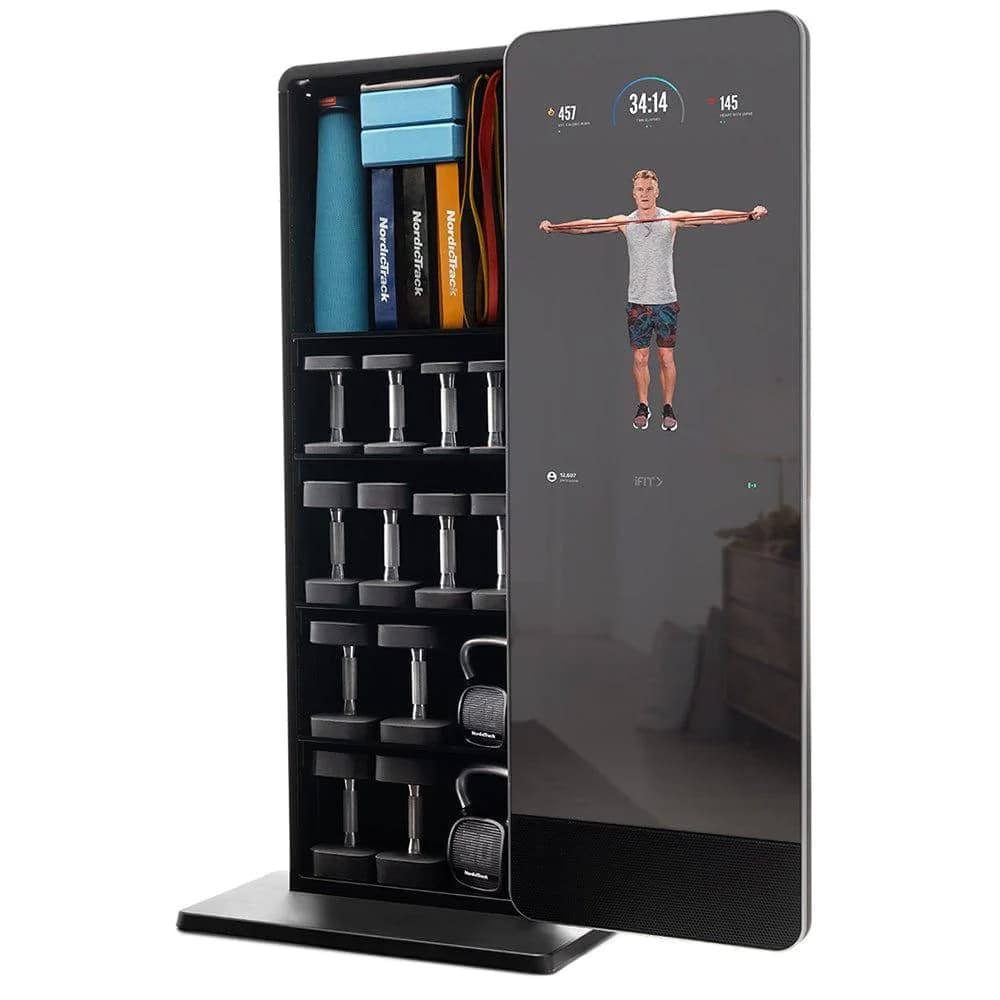 It can be hard to choose the right home gym for your needs. With all the different brands and models available, it can be difficult to know which is right for you.
In this article, we will compare two of the most popular home gyms on the market: NordicTrack Vault and Fusion CST Studio. We will discuss the key features of each model, as well as how to decide which one is best for you. Let's get started!
The NordicTrack Vault
The sleek setup of the NordicTrack Vault is designed to bring a complete gym experience to your home without the need for bulky weights. Its top features include:
Sleek mirrored design that looks great in any room
A 61.5″ reflective mirror offers real-time feedback on exercise form
Carbon steel frame
Vertical storage behind the mirror to keep your home gym uncluttered
The all-inclusive option comes with a complete set of dumbbells, kettlebells, a yoga mat, yoga blocks, and a variety of resistance bands
360-degree rotation
It does not need to be mounted to a wall like some mirror technology
Extra-large touch screen that is iFit compatible
Access to all of your favorite workouts- from strength training to yoga and beyond
The Fusion CST Studio
The Fusion CST Studio is a complete home gym that offers everything you need to get a great workout. Instead of different home gym accessories, this all-in-one machine offers cable resistance. Key features of this home gym include:
Versatile and adjustably cable resistance that can be used to target practically any muscle in the body
20 easily adjustable digital levels of resistance
Intertia enhanced flywheel and silent magnetic resistance for a smooth pull
iFit is compatible with a 10″ tablet that is included
Auto-adjustability when utilizing iFit workouts- let your trainer adjust your weight!
Use this machine for strengthening, cardio, or a combo of the two with a variety of workout options
Free standing machine
Which NordicTrack Gym is Right for You?
Both these options have a lot of cool features. However, even with a glance, it's easy to see that these machines are quite different. Let's review the key differences and similarities to help you decide:
Price. Both options are the same price at $1,999. If you want to get the Vault without any home accessories- you can get this option for $500 less at $1,499.
Functionality. The Vault is designed to give you a complete gym experience at home. It has a sleek design, can be used for a variety of workouts, and even has storage for all of your equipment. The Fusion CST Studio is also very versatile but with a focus on strength training. This machine uses cables instead of weights and offers 20 levels of resistance.
Types of weights. The Vault comes with a set of dumbbells, kettlebells, and resistance bands. The Fusion CST Studio offers cable resistance with an inertia-enhanced flywheel. There are benefits to each type of resistance depending on your fitness goals. Ultimately, regular resistance training (rather than none) is most important!
Aesthetics. The Vault has a sleek, modern design with a reflective mirror and vertical storage. The Fusion CST Studio is also very stylish but with a more industrial feel.
Space. Both offer sleek designs. The Vault is the smallest option, with a footprint of 73 inches high, 24 inches wide, and 14 inches deep. The Fusion is a fair amount bigger at 73.5 inches high, 60.5 wide, and 41.5 inches deep.
Access to iFit technology. Both options come with a free month of iFit. iFit offers thousands of on-demand and live workouts that you can do from home. You also have access to personal trainers who will help design workout plans and even adjust the weight for you as you work out!
Investing in a Home Gym
In conclusion, the NordicTrack Vault and Fusion CST Studio are great options for a home gym. They offer different features that will appeal to different people. Ultimately, the best decision is to choose the one that fits your needs and budget the best while keeping you motivated to exercise consistently!