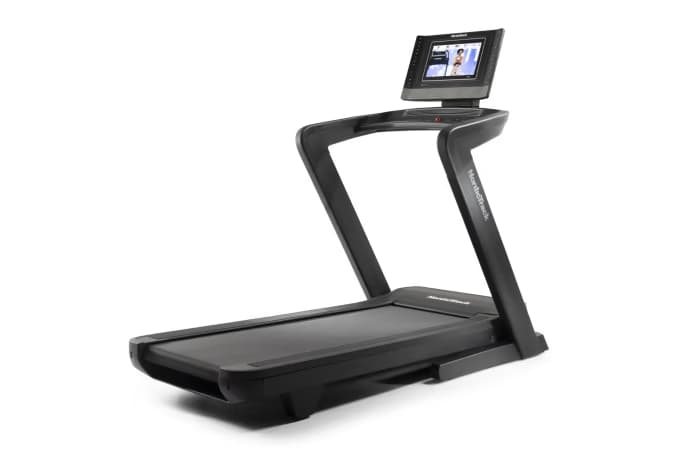 When it's time to buy a treadmill, the choices can be overwhelming. Two of the most popular brands are NordicTrack and Matrix. So, how do you decide which one is right for you?
This article will compare the two brands and help you decide which one is best for your needs.
Matrix Treadmills
Matrix treadmills are lesser known than some treadmill brands. Yet, they provide quality construction and innovative features. They offer a wide range of models to choose from, so you can find one that fits your budget and needs.
This brand focuses on offering sturdy treadmills for gyms, but are also available for home gyms upon request.
Let's review top features that you can expect with Matrix
Excellent construction and sturdy designs: Matrix's treadmills have been designed with reinforced frames to ensure club-quality durability. Depending on the model, these heavy-duty frames support user weight limits of up to 400lbs- and some can even fold for tighter spaces.
Quality motors: Matrix offers high-end (and quiet) motors and some of the best warranties in the market. Plus, the engine is strong enough to give you all the great features that keeps you running.
High-end bet cushioning: Most belts on the market are one-ply, but Matrix offers a two-ply design with industrial-grade cushioning to provide more comfort with each step.
Incline options: Matrix treadmill can reach an incline of up to 15 percent- either manually or automatically during a virtual workout.
Console variety: You can choose the console and price point that fits your fitness needs.
Workout options: A set of pre-designed workout routines may help you get more out of your workouts. Each model offers 5-11 programs that can assist you in achieving your objectives. Plus, Matrix also offers customized virtual programs compatible with your unique needs.
Other bonus features: Bluetooth connectivity, WiFi, energy-saving mode, and heart rate monitoring.
The Top 3 Models That Customers Love include:
1. Matrix Fitness TF50 Treadmill
2. Matrix TF30 Treadmill
3. Matrix Fitness T50 Treadmill
NordicTrack Treadmills
NordicTrack is a leading treadmill brand that has been around for decades. It's known for its quality, durability, and innovative features. With a wide range of models to choose from, you're sure to find one that fits your fitness goals and pocketbook.
Here are some of the top features you can expect with NordicTrack:
Sturdy design: All NordicTrack treadmills are designed with a strong steel frame to support users of all sizes. Some models can even accommodate user weights of up to 400lbs. Plus, some options can fold with an easy lift system.
Flexible cushioning: With NordicTrack, some models allow you to adjust the amount of cushioning on the belt (others offer patented built-in impact absorption) to protect your joints as you walk or run. This is an excellent feature for people with joint issues.
Incline and decline: Some models offer an incline/decline range of up to -12 percent, which is great for HIIT workouts and hill training.
Console variety: The latest models all offer an HD console. You can choose from the degree of swivel and size to fit your needs and budget. They are enabled with built-in workouts and access to iFit.
Workout options: All models come with pre-loaded workouts designed by certified personal trainers. You can also customize your workout or choose one of the 16,000 on-demand workouts available with an iFit subscription for a monthly fee.
Additional features: Some models offer other features such as a fan to keep you cool, Bluetooth connectivity, heart rate monitors, heart rate adjustability, patented auto adjustability, Google Maps, and a water bottle holder.
The Top 3 Models of NordicTrack Include:
1. The Commercial 1750
2. NordicTrack Elite Series
3. NordicTrack X32i
Which Treadmill Brand is Best?
Overall, NordicTrack treadmills are less expensive than Matrix's, but Matrix boasts a superior running belt and structure. Customer service is comparable for both brands.
Perhaps the biggest differentiator is the access to live stream and on-demand workouts since NordicTrack treadmills are specifically designed to keep you engaged and motivated. (Get a discount for NordicTrack here.)
Ultimately, you can get a great treadmill from either brand. Simply pick the one you'll be inspired to use consistently.