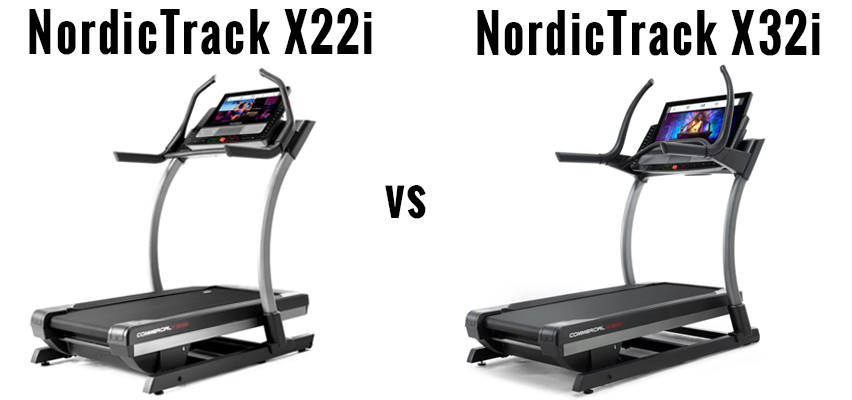 If you're a NordicTrack customer, then you know they bring a plethora of cardiovascular equipment to the table. The choices are vast when determining what type of equipment you might want for a home gym: stationary bikes and ellipticals to skiers and rowing machines. NordicTrack also produces incline trainers, which might look just like regular treadmills from an initial glance.
However, incline trainers have a unique feature….and that's that they can incline much higher than a standard treadmill. The higher incline will have you burning more calories and increasing leg strength faster!
Let's look at the NordicTrack X22i and the NordicTrack x32i and determine the differences between these two popular machines and which might be better for you.
Pros And Cons Of The NordicTrack X22i
The NordicTrack x22i has a price tag of $2,999 and includes a 30 day membership to iFit that is good for the entire family. iFit workouts can be viewed on the 22" high definition touchscreen, which gives you the perfect outlet for interactive training.
iFit allows you access to workouts from all over the world. You can also text your trainers and compete against other people with a live view of a leaderboard during classes, keeping you motivated and engaged.
iFit also allows your trainer to change the incline and speed of your treadmill virtually, moving you through the 40% incline availability (and 6% decline) as well as speeds up to 12 mph.
With an upgraded and faster connection to WiFi, you can see amazing graphics on the screen, track your progress and individual workout stats, and even use Google Maps to do your runs anywhere in the world that you would like. Access to Netflix is also available on the touchscreen, so you can catch up on your shows as you walk or run if desired. The x22i has a weight capacity of 300 pounds and a 70" L x 39" W footprint, so it's able to accommodate everyone in your family with ease!
Pros And Cons Of The NordicTrack X32i
The NordicTrack x32i comes in at $3,799 and includes a 30 day trial membership to iFit for everyone in your family. These virtual workouts are viewed on the upgraded 32" high definition touchscreen, which is terrific for interacting with those global workouts.
The on-demand workouts from iFit allow a virtual trainer to have access to your treadmill, letting them have control over the 40% incline as well as the 6% decline. With speeds ranging from 0-12 mph, you're sure to find a workout that matches your fitness goals.
A fast connection to WiFi and improved graphics on the touchscreen allows you to be more engaged with your trainers and virtual classes, which can also be accessed through the iFit mobile app! Bluetooth headphones can also be easily paired with the treadmill, making it simple to listen to your trainers or your favorite music as you scale hills and run trails.
Netflix is available through the interactive touchscreen, so you can watch whatever you like while using the incline trainer if you don't want to utilize an on-demand workout. The x32i has a weight capacity of 300 pounds and a footprint of 76" L x 40" W, giving you the ability to easily place it in a convenient location in your home for every family member to use!