NordicTrack has added the Studio Cycle series to their lineup of home exercise bikes in response to the popular Peloton. These bikes are more cost-effective and even come with accessories and features you'll have to pay extra for with a Peloton bike. As a long-time home exercise equipment manufacturer, NordicTrack has developed a reliable reputation for durable and dependable home exercise machines.
The S22i Studio Cycle Bike Is The Best Peloton Alternative
The S22i is priced similarly to the Peloton bike but it actually can save you money because it comes with the hand weights and toe-cage pedals, unlike the Peloton. The purchase price of the Peloton doesn't include the hand weights. Additionally, you'll need cycling shoes for anyone who wishes to use the Peloton bike which can add up quickly ($150+).
The S22i also has more training tools built-in including the Google Maps feature. You can map out an outdoor ride on the S22i using the Google Maps tool. As you ride, the bike automatically adjusts the incline (a feature the Peloton doesn't have) to mimic the actual terrain of your route.
Another great feature that no one talks about (you'll thank us later) on the S22i is the built-in cooling fan.
Similar to the Peloton bike, the S22i has a monthly subscription service that gives you access to a variety of fitness tools and a massive library of on-demand workout videos for your bike and off your bike. Only, the subscription service for the S22i is free for the first 30-days and cheaper to maintain afterward.
The S15i Studio Cycle Bike Is Also A Good Peloton Alternative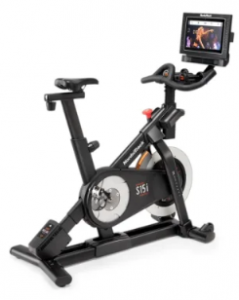 The S15i has many of the same features found on the S22i including a -10% to 20% incline range, access to iFit (free 30-day trial included), the Google Maps tool, a higher weight capacity of 350 pounds, and two 3 lb dumbbells included with the bike. It comes with a downgraded HD touchscreen display (14 inches instead of 22) which explains the lower price tag. But it's every bit as sturdy and dependable as the S22i and makes another great Peloton alternative.
NordicTrack Promo Codes Can Save You $$$ On A Great Peloton Alternative
If you're considering one of these smart Peloton alternatives, you can save even more on your final purchase with a NordicTrack Promo Codes coupon. Our deal gets you $40-$60 off your total purchase price and is simple to use. Clicking the coupon banner will redirect you to NordicTrack.com where you can browse products and add purchases to your shopping cart. Our discount is automatically applied at checkout.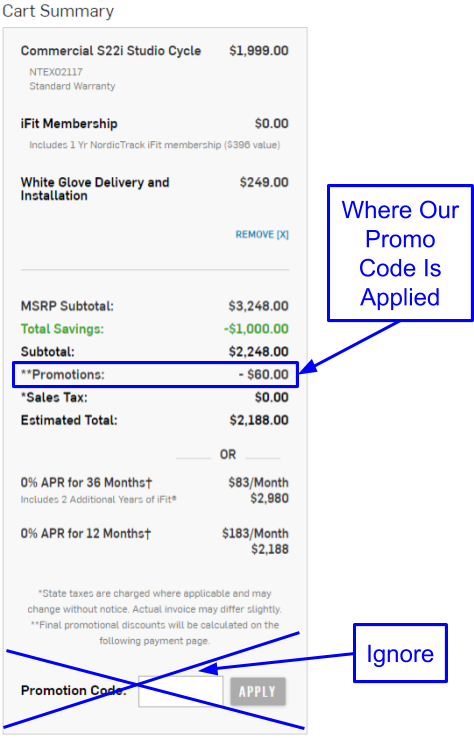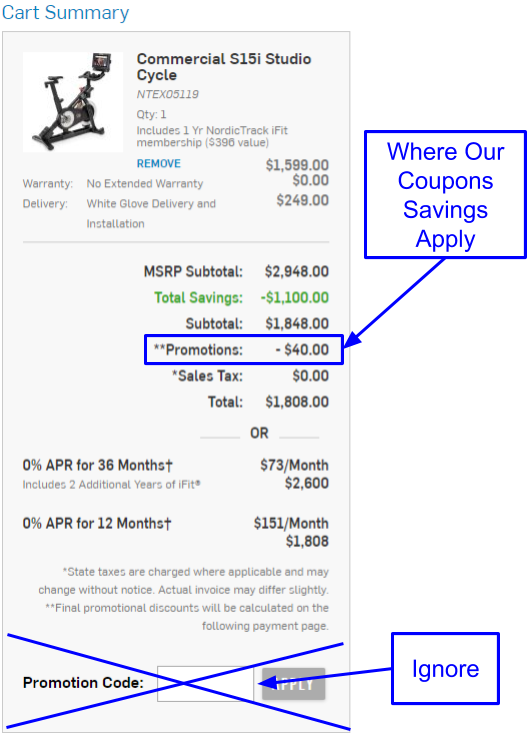 Looking for more Peloton alternatives? Consider a different form of Cardio
NordicTrack Commercial 1750 Treadmill
NordicTrack X11i Incline Trainer
NordicTrack FS7i Freestrider