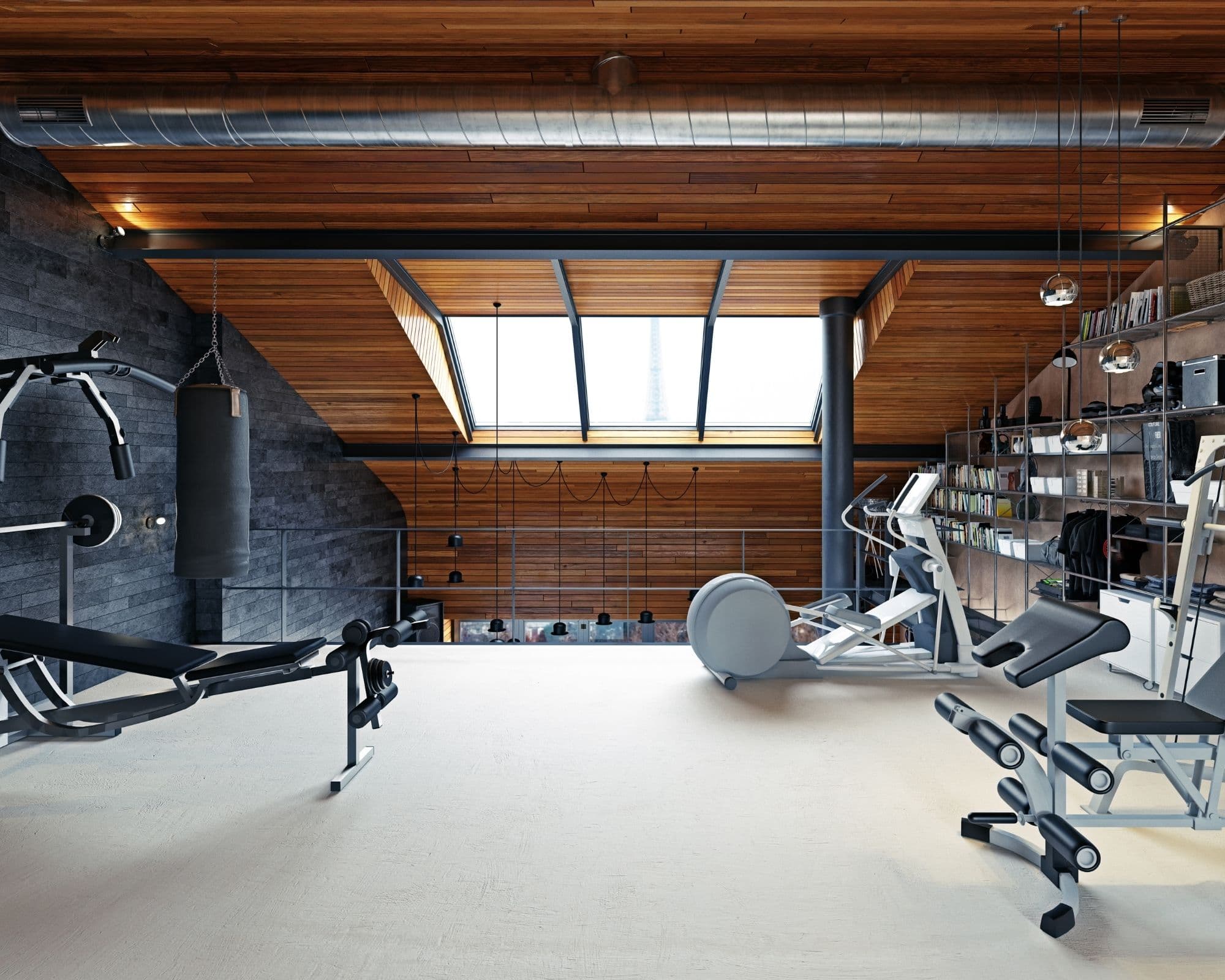 If you're in the throes of deciding if you want to build a home gym, that's excellent! A home gym can provide easy access to your favorite workout equipment, decreases the travel time back and forth to a fitness center, and gives you the privacy to work toward your health and wellness goals.
Benefits of a Home Gym
Aside from having a workout area all to yourself, a home gym has other benefits as well. It allows you a bit more flexibility within your schedule, since you don't have to consider the time it takes to actually get your gym bag packed and ready, travel to the gym, check-in, and even wait for specific machines to open, depending on what equipment you want to use and how crowded the facility is.
The ability to walk into your spare room – or even your living room – and knock out a workout is very motivating for many people and can save a ton of time and expense in the long run.
The Flip Side of a Home Gym
While a home gym can certainly motivate some people, it might not be the best fit for others. If you have a smaller home or apartment (or just don't have the usable space for a home gym), then depending on the equipment you need or want, it might take up necessary space.
The same can also be said if you like to use a variety of equipment – a barbell rack, lots of dumbbells, medicine balls, and even kettlebells can begin to take up space, and can put a hurting on the wallet as well.
Lastly, the social factor comes into play. If you like to work out solo and don't need others around to motivate you, excellent! However, the gym is a social place for many people, which factors in a lot of enjoyment when it comes to workouts.
Not only can group exercise classes and fitness specialists be motivating, but working out with other people can be encouraging as well – not only for exercise performance but also in ensuring your form and technique are correct.
There are some factors that need to be considered before building a home gym for yourself – let's take a look at a few of the primary considerations that should be thought through before investing your time, energy, and expenses into a home gym!
3 Questions to Consider
What kind of equipment do I need?
-This particular question will have answers that vary from person to person, and this is because everyone will have different goals in terms of their fitness and wellness. Some might want to lose weight. Some might want to build muscle, improve functional movement, improve mobility, etc.
Regardless of the goals, you will need to consider what type of equipment you may or may not need for your home gym. This could include dumbbells, medicine balls, resistance bands, a bench, a treadmill, or even an all-inclusive machine.
Do you like solo workouts or a community scene?
-Knowing the answer will help determine if a home gym is right for you; after all, no need to spend money on your own equipment and workout space if you know you want a community atmosphere and a gym membership.
Conversely, maybe you like working out by yourself – in that case, a home gym and the corresponding space and equipment needs will be worth it!
What is your budget?
The price of gym memberships will vary, as will the cost of having a home gym. However, a home gym can be much less. You might not need anything other than a workout mat and some music to knock out a workout! Again, this will be goal-dependent, but knowing your budget for fitness equipment and a home gym setup can be helpful in the long run.
Having a home gym can undoubtedly be beneficial. With your workout space right within your own home, you save on travel time, gas, and a gym membership. Just make sure that if you decide to go the home gym route, you can still stay on track to achieve your health and wellness goals – and with the proper form and technique!