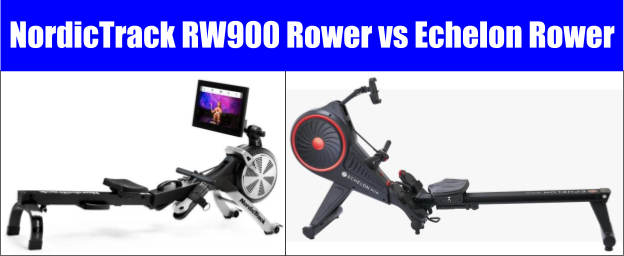 Rowing machines are excellent for targeted upper body and core strengthening. However, not all rowers are made equal. Instead of taking a risk on an unknown brand of rower, you can easily narrow down your choices between a NordicTrack rowing machine or an Echelon rowing machine.
To help you narrow down your choices, we have compared the Echelon Smart Rower to the NordicTrack RW900 rower. As these machines are in similar price ranges, it makes the most sense to compare them. That way, you can see an overview of the key features of both rowing machines so that your decision can be easier.
Display On NordicTrack RW900 vs. Echelon Smart Rower
The display is one of the first things that stands out on the NordicTrack RW900 rower, as it is a huge, 22″ smart HD touchscreen. With this large display, you can enjoy immersive exercise videos and stay engaged in your rowing workout. This touchscreen is very responsive, even if your hands are a bit wet with sweat, and it is water- and dust-resistant.
Despite what you may see advertised in images, the Echelon rower does not come with a display. This lack of console or display is common with Echelon, as the stationary bikes this brand also produces lack displays, except for the EX5S exercise bike. Instead, you will need to supply your own smart device to have any sort of display on this rowing machine. There is a mounted tablet holder where you can place your smart device.
Resistance Levels Echelon Rower vs. RW900 Rower
When it comes to resistance, the Echelon rower offers 32 resistance levels. You can pack in a good upper body and core workout with that amount of resistance. Also, as this rower uses magnetic resistance, your rower exercise can be nearly silent. There are also resistance level adjustment buttons on the rower handlebar to make for fast and easy resistance changes.
On the RW900 rower, there are 26 digital resistance levels. Along with the digital resistance, you can also up your resistance by utilizing the manual air resistance control, which is controlled by a lever on the flywheel casing. With 10 levels of air flow resistance on top of the 26 digital resistance levels, you can get more out of the NordicTrack RW900 rower. Also, this rower uses Silent Magnetic Resistance, allowing for quiet workouts.
Fitness Apps On NordicTrack RW900 vs. Echelon Smart Rower
Both of these rowing machines come with associated fitness apps. However, the NordicTrack RW900 rower comes with a free 30-day trial subscription to iFit so that you can get a good feel for what the exercise program works before you have to pay, after which you can pay $15 per month. With the Echelon rower, you need to pay for its fitness app from the get-go if you want to try the associated video workouts, and the basic level costs $19 per month.
With iFit on the RW900, you get access to thousands of workout programs, ranging from video workouts with personal trainers to scenic rowing videos that really allow you to immerse yourself. There are also off-machine workouts, from yoga classes to kickboxing.
For the Echelon rower, you have the Echelon FitPass. To access not only the workout library but also the live classes, you will need to pay $39 a month (the $19 is for the workout library only). With the Echelon FitPass subscription, you can enjoy studio rowing workouts as well as rowing workouts taking place in the real world. There are also off-rower exercise classes that you can utilize, from strength-building classes to pilates.
Warranty Coverage NordicTrack RW900 vs. Echelon Smart Rower
When you purchase the RW900 rower, you receive a pretty good warranty with your machine. The frame warranty covers 10 years of ownership, and you receive 2 years of coverage on parts as well as 1 year of warranty coverage on labor.
For the Echelon Smart Rower, you receive a simple 1 year overall warranty. That is a bit brief for the cost of this rower and may not provide you with the confidence to buy this rowing machine.
Both machines come with a 30-day money-back guarantee. However, there can be associated restocking fees, and in most cases, you need to repack your rower for shipping, so you should hang onto the packaging your rowing machine came in, just in case.
Should You Bring Home The Echelon Rower Or The NordicTrack RW900 Rower
Overall, we think that the NordicTrack RW900 rower offers more than the Echelon Smart Rower, especially considering there are hidden price tags when it comes to buying the Echelon rowing machine.
Should you decide that between these two rowers that the RW900 is the right machine for you, NordicTrack Coupon has your back. We provide a number of NordicTrack promo codes that can help you save on your purchase of the RW900 rower so that you can net a good deal on your new rowing machine!