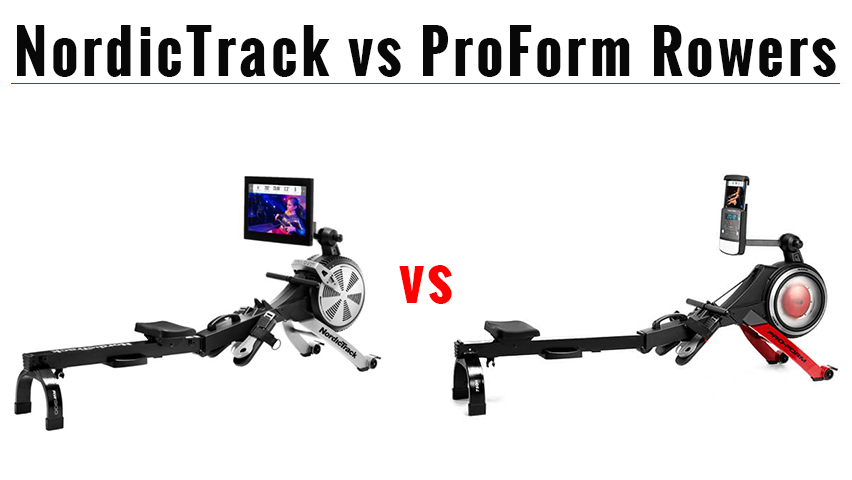 If you're in the market for a rowing machine, you're in luck – there are plenty to choose from! Whether utilizing one for your home gym or trying out different brands in your local fitness facility, it can certainly be overwhelming to find a brand of rower that works for you and your specific needs. Regardless of what type of rower you come across, you can be sure to reap multiple benefits of aerobic work! An increase in cardiovascular endurance and improved muscular strength are just two of the many benefits of using this low impact, full-body machine for a workout. Even though there are many rowers to choose from, we're going to focus on the specs, price ranges, and pros and cons of both the NordicTrack RW900 and the ProForm 750R rowing machines – that way, you can have the information that you need to make an educated decision on two of the top rowers that are out on the market today!
NordicTrack And ProForm Rowing Machine Specs
NordicTrack RW900 Rower Specs
The NordicTrack RW900 is a highly sought-after rower that brings a personal training experience right into your living room! This rower comes with a 22" HD touchscreen and two speakers, so you can delve fully into the available iFit classes and feel like you're right there with the group. Coming in just over 7' long, the design of this rower with the transport wheels on the front make it easy to put away and store when necessary. The RW900 has a weight capacity of 250 pounds, and comes with pedals that are easily adjustable for even the most powerful of workouts. With silent magnetic resistance, 26 levels of intensity on the wheel, and the ability to have your trainer adjust your resistance automatically, this rower gives you plenty of opportunities to vary your workouts so that you're hitting your goals appropriately.
ProForm 750R Rowing Machine Specs
The ProForm 750R is bursting with versatility! This rowing machine comes with an iFit subscription for three years, which is perfect if you're looking for a personalized training experience. This rower has a 5" high contrast screen and a tablet holder built-in, so you can keep your electronics from moving all over as you work out. With a length just over 7', this rower is also ideal for saving space; with transport wheels located on the front, this machine can fold in half to save space when not in use.
The ProForm 750R has a weight capacity of 250 pounds, and comes with adjustable foot straps that help keep your feet stable as you're rowing. The silent magnetic resistance ensures that you can have a quiet workout, while still burning calories and working up a sweat! iFit personal trainers can also remotely change the resistance on your rower while you're working out, and you can track your progress and record each rowing workout so that you stay on track to meet goals.
NordicTrack vs ProForm Rowers Price Comparison
The NordicTrack RW900 comes in right around $1699 (plus $199 for delivery), and includes a one-year subscription to iFit (priced at $468). This one-year subscription also allows for up to four adults to participate, so the whole family can be involved!
The ProForm 750R is essentially free, but with the price of a three-year iFit membership. Equaling out to $39 dollars a month ($1404 total after three years), this iFit subscription also allows the entire family to join as well!
Pros & Cons ProForm 750R vs NordicTrack RW900
Both of these rowers will provide multiple benefits – from increasing cardiovascular endurance and strengthening lower leg muscles to decreasing stress and improving coordination, rowing is a fabulous aerobic workout! With less than a $300 price difference between the two rowers (not including delivery fees), you'll have to determine if you want the iFit subscription for 30 days or three years, and this will fully depend on your personal health and fitness goals, and if you want the interaction and motivation that comes with the subscription! The NordicTrack RW900 definitely has a bigger screen (coming in with an extra 17" over the ProForm), while the ProForm 750R has plenty of space available for electronic gadgets. With both rowers utilizing a silent magnetic resistance, you're sure to have a quiet workout regardless of how intensely you're exercising. Either way, both rowers will get you in shape and aid in a healthy lifestyle!