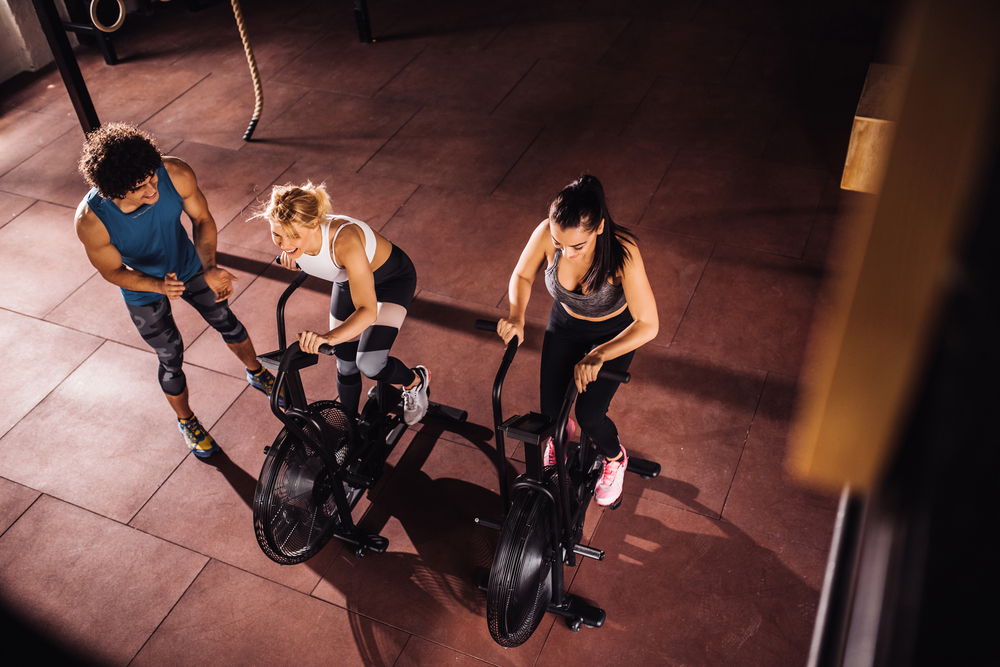 Exercise bikes are a fantastic way to get a heart-pumping workout – which is probably why they are so popular for the home, office, and even local fitness centers. Exercise bikes are the perfect form of low-impact exercise and can be a good alternative for those looking to ride but who might be wary of being out on the main road.
Exercise bikes are also ideal machines for just about anyone looking to build lower body strength and improve cardiovascular functioning; these bikes are highly adaptable to those brand new to exercise and seasoned athletes.
With that being said, there are several different types of exercise bikes out on the market. Spin bikes and Air bikes are two of the most popular. It can be challenging to determine which type of bike will fit your needs, though – so let's compare the details of both a Spin bike as well as an Air bike, and then you can make your own decision.
Spin Bike
If you have ever been on an actual bike, then a Spin bike will feel very similar. Spin bikes are also used in Spin classes, so if you have ever done one of these group exercise classes at a local fitness studio, that's what you were riding.
These bikes are very similar to those used for cycling competitions and have an exciting design. The flywheel in the front is large (no back wheel), and you are seated on the bike like you would be for regular cycling – with the handlebars down low, bringing you into a hinged position. Spin bikes have a dial that you turn in to add/remove tension on the flywheel, although there is the option of a silent magnetic resistance system on some bikes.
There are adjustable knobs for the handlebars, seat height, and bringing the seat forward and back, making Spin bikes adaptable to anyone. One of the downsides of Spin bikes is the fact that you are hunched over to reach the handlebars, which some people might find uncomfortable, especially if they are new to the motion and position.
Air Bike
An Air bike is significantly different from a Spin bike. For one, there is a massive fan in the front wheel of this type of bike, which produces resistance when pedaling. Also, unlike a Spin bike, there is no manual resistance knob on an Air bike – the resistance is increased in correlation with how fast you pedal.
This type of bike has you sitting in more of an upright position, eliminating the forward hinge that might be uncomfortable for some. The handlebars are higher on an Air bike and allow movement so you can pedal with your legs and push/pull the handlebars with your arms, giving you a workout that targets the whole body!
Bottom Line
If you're torn between a Spin bike and an Air bike, first consider the biomechanics of how you'll be riding. Are you okay with being in a position like a cyclist on a regular bike? Or, would you prefer to be more upright with less pressure off of your lower back on an Air bike?
Do you want your legs to do most of the work with a Spin bike, or are you looking for total body engagement and the ability also to use your arms with an Air bike? Keep in mind the resistance aspect as well – the Spin bikes use a manual knob with pressure on the flywheel for resistance, while you control the level of resistance with how fast or slow you pedal with an Air bike.
Some other factors to keep in mind include the pedals and noise. Air bikes typically don't have straps on the pedals, while Spin bikes do. Noise-wise, the Spin bikes will be quiet as you pedal, while the Air bikes will make noise due to the air rushing through the fan blades at each pedal stroke.
Whichever bike you choose, know that you'll be getting a heart-pumping, muscle strengthening workout – you just have to determine which bike would suit your needs the best!