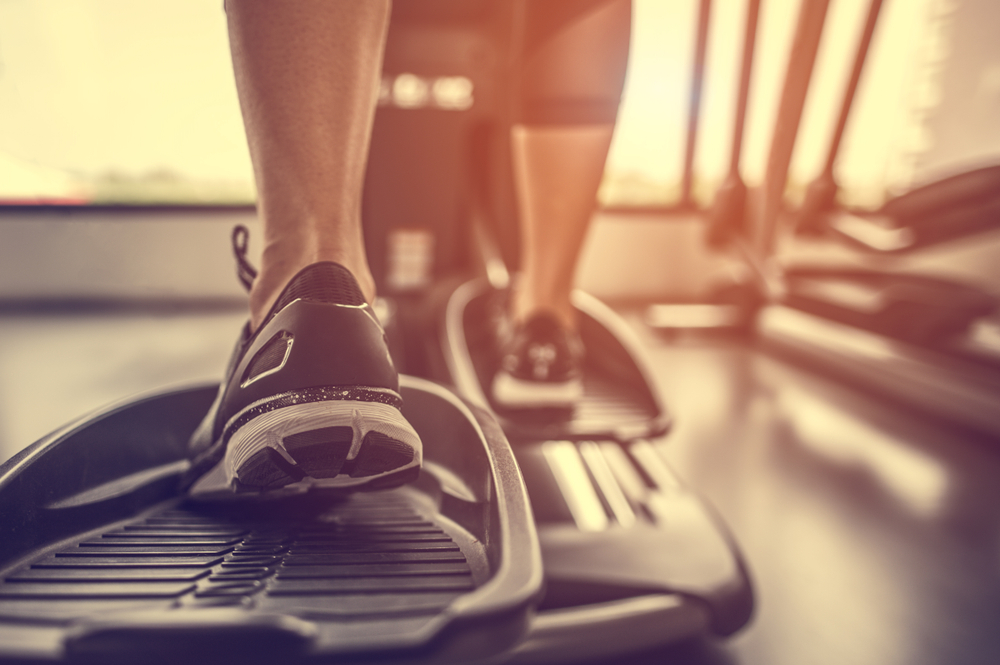 Regularly getting your heart rate up is an essential part of any well-rounded workout routine. No matter where you are in your fitness journey, you have various options to choose from when deciding how to get in an excellent cardiovascular workout in.
While the most accessible choices are getting outside or on a treadmill to walk or run, you can also choose from various workout machines at your local gym or even in the comfort of your own home.
Today, we will dive into the benefits and differences specifically between a Stairmaster and an elliptical. That way, you can determine which is a better workout for you when planning your weekly workout plan.
Elliptical Features
An elliptical is a versatile machine that is an excellent option for basically all fitness levels and goals. It has a relatively low learning curve for getting set up and started. Most people simply choose a workout program from the screen menu, designate a specific amount of time, and away they go.
Additionally, it is considered low impact since your feet never leave the footplates while moving. Thus, it can be used even if you suffer from joint pain and balance issues, such as back pain, knee pain, or a history of falling.
Finally, ellipticals are also a great tool for multi-tasking. If you want to read, watch TV, or even get some work done, you can most likely do so safely without fear of falling off due to distraction. If you enjoy hopping on an elliptical, it is a great way to get the entire body moving (even the arms!) and heart pumping.
There are only a few minor downsides to the use of an elliptical. Firstly, it lacks adjustability, which means you are pretty limited in varying your stride length (this may be particularly hard for shorter or taller people). Plus, while lower impact exercise is good for minimizing joint issues, there is also an advantage to regular higher impact movement- like walking or jogging- for adequate bone health. If an elliptical is your primary choice of exercise, make sure to mix it up on occasion with other cardio options and regular balance exercises too.
StairMaster Features
Many features of a Stairmaster are similar to an elliptical, especially since they both involve standing on surfaces that the feet never leave. It's important to note that a Stairmaster machine is on a vertical chain that simulates climbing stairs. In contrast, stairmill machines involve an actual loop of stairs that you climb continuously (requiring lifting the foot). Thus, Stairmasters are relatively low impact while having the added benefit of boosting lower leg strength- explicitly targeting the quads, glutes, and hamstrings. Overall, climbing stairs is a great way to burn calories quickly, even if you are short on time.
There are a few downsides to keep in mind when considering a Stairmaster as well. Primarily, climbing stairs can be hard to tolerate for anyone experiencing back pain, lower leg pain, or if they generally have low endurance. Just like the elliptical, it's essential to add a variety of other exercises that challenge your balance and core during the week as well, such as strength training, HIIT mat training, yoga, and running or walking on a treadmill.
Which is a Better Workout?
When it comes to choosing the suitable mode of workout, there is no absolute answer. Instead, you need to consider your unique preferences and fitness goals. Both workout machines can be great for reaching the recommended 150 minutes or more of moderate-intensity exercise each week.
Since both are relatively similar in pricing (starting at $500 for a basic model) and are low impact, the choice comes down to what machine you will hop on consistently. The only big differentiator between the two is the calorie burn. The Stairmaster burns more calories due to its higher intensity and demand on the leg muscles. Thus, if weight loss is your ultimate goal, you may regularly consider interval-style training on the Stairmaster.
Variety is the Key
Ultimately, it's important not to pigeonhole yourself into just one mode of exercising. Variety is indeed the spice of life that will help you stay motivated and engaged in your workouts every week.
While you can choose one bigger piece of equipment like an elliptical or Stairmaster (at home or in the gym) that you enjoy helping you reach your goal, mixing it up regularly has many advantages for your overall health. You will experience more balanced full-body strength, have fewer plateaus, and reach your fitness goals sooner when you choose various options that work toward your fitness goals.
Which is a better workout? Thestair mill one you will enjoy and keep up with for the foreseeable future.