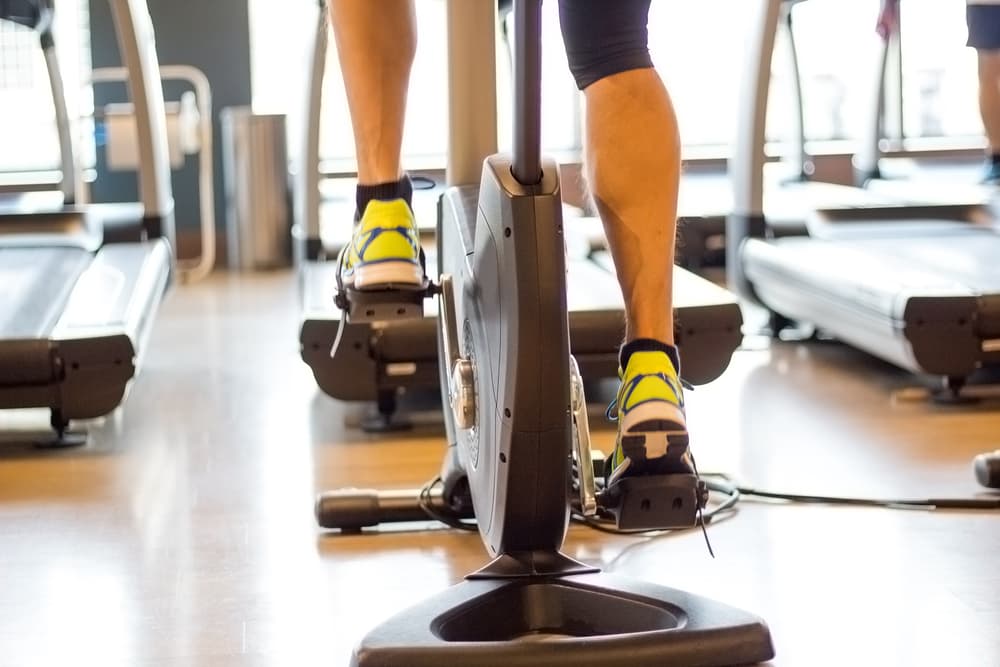 Can you switch out the pedals and seat on an exercise bike? The short, general answer is yes. There may be exceptions to this based on your specific model, year, or brand, so check with your manufacturer to be sure. Assuming the answer is yes, the following questions may be: What can they be switched out to? Why would I switch them out? We'll touch on all the types of seats and pedals and how they can benefit your workouts.
Seats on Exercise Bikes
There are three popular types of exercise bikes -Spin bikes, upright bikes, and recumbent bikes. Each cycle has different kinds of seats and has a different feel and functionality. Which is the best for you?
Spin Bike Seats
Spin bike seats are known for having the most narrow and firm seats. This is because they are meant to mimic an outdoor road bike intended to go fast. The smaller the seat, the more efficient and robust your pedaling will be. Cyclists like their seat narrow so that it doesn't get in the way of their quads or hamstring muscles. Plus, your weight should be distributed evenly across the lower and upper body, so there is less pressure on the sit bones.
Upright Bike Seats
Upright bikes are what is typically found in most gyms. They usually have a broader and more comfortable seat. They are generally padded with memory foam or cushioning that can withstand most of your bodyweight since most of your weight will be on the seat in the upright position.
Recumbent Bike Seats
Recumbent bike seats are different from the others because they are most similar to an office chair. They have a wide, chair-like bottom and full back and lumbar support. These seats are the most comfortable because they put you in a comfortable seated position.
Should I switch my seat out for something else?
There are many different types of spin, upright and recumbent seats. There are different fabrics, textures, cushioning, and inserts available on the market, so the answer is to do what is best for you. If the bike you are using feels uncomfortable, search for the same type of seat that's more cushioned. It is all about comfort.
It wouldn't hurt to try out a few different options, such as leather vs. fabric or memory foam. After all, if you're dreading getting on your bike, you probably won't use it as often.
Types of Pedals On Exercise Bikes
There are three main types of pedals found on most exercise bikes: Clip-ins, flat, and hybrid clips. Read below to find out the differences.
Clip-Ins
Clip-in pedals are commonly found on spin bikes because they're used by many cyclists on the road or indoors. They're not needed for most upright bikes nor recumbent bikes. There are different types of clip-ins, so if you have a pair of clip-in shoes that you love and your bike doesn't match, you may opt to switch out the pedals rather than your shoes.
Flat
The most common type of pedal, especially for upright and recumbent bikes, is flat pedals. The bottom of the pedal is flat for any athletic shoe and is usually made from steel or plastic. Most flat pedals have a toe cage adjustable strap or just a plastic strap that wraps around the top of the foot to stay securely in place.
Hybrid Pedals
Hybrid pedals are those that have both a clip-in option and a flat option. They are typically two-sided, and the most convenient option is the best option for cross-trainers or those who want the option to clip in or use your regular shoes.
Should I Switch My Pedals Out?
While switching the seat comes down to comfort, switching the pedals comes down to personal preference and training. If you are a cyclist or wanting to get the most efficient and fast workout on your spin bike, clip-ins or hybrid are the best options. If you're a recreational user using an upright bike or recumbent bike, flat pedals with adjustable straps are your best bet.
Conclusion
There are many different types and variations of pedals and seats for exercise bikes. If you don't like how the seat feels, consider shopping around for more comfortable options, so you're more likely to use your bike. If you are training for something specific and want to get the most out of your spinning workout, consider clip-ins or hybrid pedals. However, if you are recreationally biking, flat pedals work just fine. It's all a matter of personal preference.