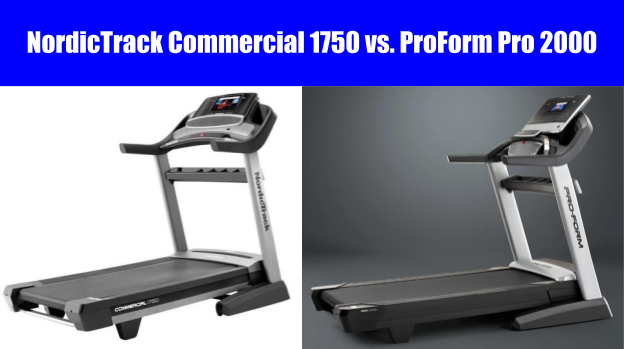 Finding the right treadmill doesn't have to be tough, especially when you are looking at a ProForm or NordicTrack machine. Both of these treadmill manufacturers produce high-quality machines, and for their price, you can bring high-end fitness home.
Two of the most popular machines are the NordicTrack Commercial 1750 and the ProForm Pro 2000. Runners, joggers, and walkers love the features that come with these machines. Also, they are affordably priced, with the NordicTrack 1750 usually priced at $1,799 and the ProForm 2000 priced at $1,499.
To help you sort through whether you want the Commercial 1750 or the Pro 2000, below is a comparison between the key features on these treadmills. With this side-by-side, hopefully, your choice will be more clear.
Console On NordicTrack 1750 vs. ProForm 2000
The console on the NordicTrack Commercial 1750 is easy to use and well-laid out. For example, the speed and incline quick set buttons are on either side of the console for easy access, and incremental change arrows are located at the bottom of the console itself.
You get a large, high-definition 10″ touchscreen display to help you track your workout data, scroll through workouts, and enjoy engaging exercise programs. The touchscreen can be tilted to adjust to different heights, and with the thousands of workout programs you can access with your complimentary year of iFit membership, you can beat any treadmill boredom.
As ProForm is a sister company to NordicTrack, the Pro 2000 also comes with a free year of iFit membership. This membership allows for you to enjoy the same thousands of video workouts, personal training, and cross-training exercise programs that those who chose the 1750 can use.
When it comes to the console itself, you receive a 7″ high-definition touchscreen with the ProForm 2000, which can be a bit small as you watch your workout videos. The touchscreen does tilt, which helps users of different heights use the Pro 2000 more easily. However, the incline control buttons are right above the speed control buttons, which can lead to pressing the wrong button. Not a fun experience if you were trying to incline to 8% but accidentally hit 8 MPH!
Treadmill Motor On Pro 2000 vs. Commercial 1750
The treadmill motor is another area of difference between the Pro 2000 and the Commercial 1750. On the ProForm Pro 2000, you get a 3.5 CHP Mach Z Commercial Pro motor. As for the NordicTrack Commercial 1750, you will have a 3.75 CHP DurX Commercial Plus motor.
Both treadmills' motors operate smoothly, and there is little noise beyond a background hum. Also, it is important to keep in mind that these motors have been tested in commercial settings and likely will not reach the same continuous power in a residential setting.
Fans Of The NordicTrack 1750 vs. ProForm 2000
You may not think much about the treadmill fan when you are shopping, but you may regret that during your first workout. Using a treadmill indoors, even if you are just walking, can create a lot of heat and stale air can make you sweaty. Having a built-in treadmill fan, like the dual fan built into the Commercial 1750, can make a significant difference in keeping the air fresh and moving.
Also, the NordicTrack 1750 fan can be set to autobreeze, which means it will automatically adjust to the intensity of your workout. If you want to manually control your fan, you can also choose from multiple fan speeds.
The fan on the ProForm 2000 is well-positioned to cool off your core, while the NordicTrack 1750 is angled more toward your upper body and face. However, the Pro 2000 CoolAire fan only has two speeds, which may not be as much control as you want. Also, the fan on the ProForm 2000 is completely manually-operated.
Cushioning On Pro 2000 vs. Commercial 1750
On the ProForm Pro 2000, you get the same cushioning on this treadmill as you do with all ProForm treadmills, which is the patented ProShox cushioning. With ProShox cushioning, the treadmill deck is cushioned throughout the entire deck. So, whether you are prone toward running at the front, middle, or back of your treadmill, the Pro 2000 provides joint-protecting cushioning.
With the NordicTrack 1750, you also have a cushioned deck. The NordicTrack Commercial series treadmills come with Runners Flex cushioning, giving the deck a springy and cushioned feel. However, one of the biggest benefits of the Runners Flex cushioning is that you can adjust the cushion level to your preference.
Should You Pick NordicTrack Commercial 1750 or ProForm Pro 2000
As you can see, the differences between these two treadmills are small, but still might be enough to help you lean more toward one than the other. However, with their differences, these treadmills do have a good number of features in common, which is why they are often compared.
Features that both the Commercial 1750 and Pro 2000 have in common are:
One free year of iFit membership
Treadmill belt that measures 22″ wide by 60″ long
300-pound weight capacity
Dual, 3″ Bluetooth speakers
Incline range of -3% to 15%
Speed range from 0.5 to 12 MPH
10-year frame coverage, 2-year parts warranty, and 1-year labor coverage
If you end up deciding that a NordicTrack machine is best for you, you can use our NordicTrack treadmill coupons to help you save on your next equipment purchase. Whether you go with the Commercial 1750 or any other NordicTrack treadmill, we have a promo code you can use.