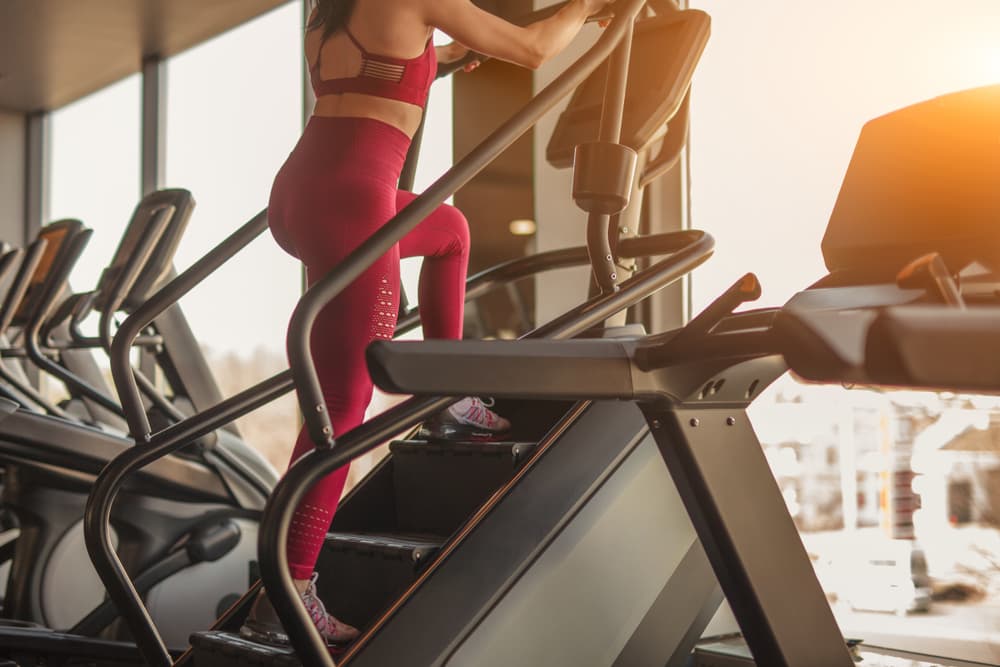 Regular exercise is an integral part of a healthy lifestyle. In fact, the U.S. Department of Health recommends a minimum of 150 to 300 minutes of moderate exercise or 75 to 150 minutes of vigorous activity. Whether you're new to regular exercise or looking to increase your workout intensity, you may be wondering what type of workout machine is best for your fitness goals. Today, we will dive into the benefits of the stairmaster vs. treadmill.
The Stairmaster vs. Treadmill
A stairmaster is as simple as it sounds, you descend stairs at a pace and time that you set. There are two different machine options: either stepping up literal stairs on a revolving chain or marching upward on two-step plates that stimulate the motion of going upstairs.
A treadmill comes with one basic design: a belt that you can walk or run on. You can then adjust the speed and incline for your fitness needs. More advanced treadmill models may include training programs (such as hills), LED screens, and more features for boosting your workout experience.
The Pros and Cons of Each Machine
Choosing to get in a regular workout of any kind is beneficial for your health. Both options provide a great calorie burn and cardiovascular workout- dependent on the pace and amount of time you choose. Yet, in general, running burns more calories than steps. Let's review some of the specific benefits and drawbacks of each piece of workout equipment.
Stairmaster Pros
You know that burn you feel in your legs after going up a flight of stairs? If you want a combination of leg strengthening and cardio then a stairmaster might be your choice. A stair stepper is a great way to mix up your workouts and cross-train to reduce injury risk from constant running or jumping workouts. Plus, if you want a stairmaster for a home it usually takes up less space than a treadmill would.
Stairmaster Cons
If you suffer from knee or hip pain you may have a hard time tolerating a stair workout. Additionally, a stairmaster tends to require a higher level of coordination to prevent tripping or slouching over the machine. Lastly, stairmasters do tend to be more expensive than treadmills unless you choose a very basic model.
Treadmill Pros
If you enjoy running or you're training for a run it is best to, well, run. Since running is one of the easiest ways to boost your fitness the treadmill is a classic and versatile machine that requires little skill to get started. They are generally considered low cost if you want a treadmill at home and are found at most gyms. Additionally, if you consider an incline treadmill vs stairmaster, you can get a lot of the same features of a stairmaster by ramping up the incline for some hill climbing.
Treadmill Cons
The drawback with running is the constant impact it has on your joints. If you've suffered an injury or are older, consistent walking or running may not be a good option for you. Additionally, running on a treadmill can get boring and requires some creativity to stay motivated.
How to Choose a Treadmill vs. Stair Stepper
Ultimately, which option is best for you depends on your preferences and fitness goals. Here are a few last things to consider:
1. Are you working out at home or at the gym? If you're at home you may want a more versatile option like a treadmill. Otherwise, at a gym, you can mix it up between the two.
2. Can you tolerate high impact activities due to pain, injury, and age?
3. What do you enjoy for a consistent workout? Choose the option that will keep you the most motivated.
4. Do you have weight loss goals? Running tends to burn calories, but of course, any exercise is better than nothing if you have a preference.
5. What is your budget? There is a wide range of price options for both.
The Bottom Line
If you have access to both workout machines, a mix of cross-training is best to prevent burnout. Plus, both are great options for your overall health to build strength, endurance, and bone health, and lose weight. If you're still feeling unsure of which option is best for you, simply go to your local gym and try out your options.