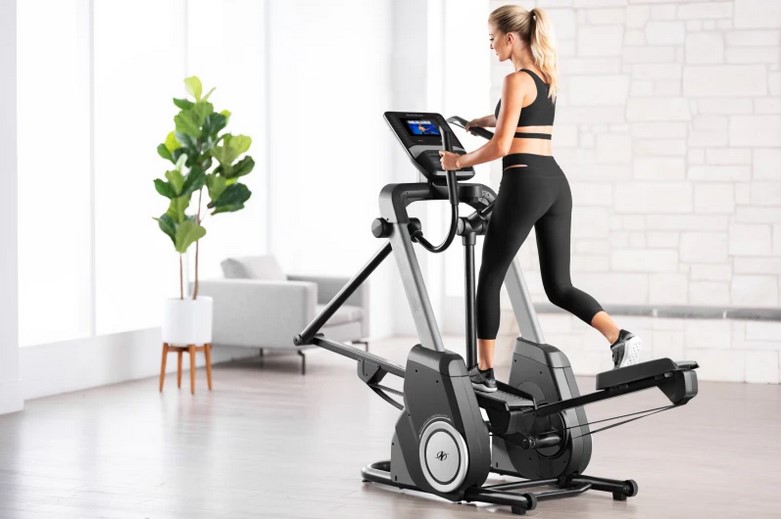 Ellipticals are a great way to pack in a low-impact cardio workout. Not only can you go from a low-intensity workout to high-intensity while still low-impact, but the smooth gliding motion is ideal to help protect your joints and for injury-recovery. But, if you are looking for a new home elliptical, what one is best for you?
NordicTrack is one of the most established names in home fitness equipment. From their start in offering a cross-country skiing machine to their standout treadmills, NordicTrack has plenty to offer—including an excellent lineup of treadmills. Even better, you can use a NordicTrack coupon code to make your new elliptical even more affordable.
Are NordicTrack Ellipticals Good
Let's start with the most basic question—are NordicTrack ellipticals even any good? We would say the answer is a resounding and enthusiastic yes!
Much like NordicTrack's highly rated treadmill, the quality of NordicTrack ellipticals is equally high. A great deal of attention has been put into their construction, from the commercial-grade steel that makes up the frames of these ellipticals to the specialized features, such as the ability to incline, touchscreens, variety of drive types, and more.
In fact, we would not be hesitant to say that all of the NordicTrack ellipticals are not only good but are a great addition to any home gyms. The real question when it comes to the best NordicTrack elliptical is what your goals are and what you need from your new elliptical.
Which Elliptical Drive Type Is Best
One way to narrow down which of the NordicTrack ellipticals is the best for you is to start by looking at the three drive types available on NordicTrack. The drive type of your new elliptical will control what kind of movement you can expect.
Rear-Drive
There are two rear-drive ellipticals available on NordicTrack, the SpaceSaver series. With a rear-drive elliptical, the flywheel is placed at the back of the machine. The stride is the traditional smooth rolling movement you expect from ellipticals; however, the stride length is a little restricted. Both machines have a stride length of 18″, which can be tough on taller users. On the other hand, the rear-drive NordicTrack SpaceSaver ellipticals are the only ones that fold up.
Front-Drive
Four front-drive ellipticals are available on NordicTrack, simply called the Front Drive series. These ellipticals are designed with the flywheel in the front of the machine and have the traditional gliding elliptical motion. However, they can incline higher than the rear-drive ellipticals, ranging from 0-20% incline. Also, their stride length is longer, going from 19″ to 20″ in stride length, depending on the machine.
Center-Drive
Most versatile in their movement are the center-drive FreeStride Trainer ellipticals from NordicTrack. These ellipticals can move in the expected gliding motion, but by altering your stride, you can switch to a more treadmill-like run, or move into a stair-stepping motion. This movement variability is because the flywheel is located at the center of this elliptical. Also, it is ideal for taller users who need more stride length, as all of the center-drive ellipticals have a 32″ stride length.
Out of these three types of ellipticals, we have selected the best of each category, balancing price and features so that you can get the most bang for your buck.
Best NordicTrack Center-Drive Elliptical: FS7i
Out of the three center-drive ellipticals, the NordicTrack FreeStride Trainer FS7i is the most balanced when it comes to price and features. You can enjoy things like the 35 built-in workout programs, incline range of 0-10%, the generous 32″ auto-adjustable stride length, and 24 digital resistance levels. Also, the 7″ smart HD touchscreen helps you be more immersed in your workouts, particularly when you use the included free year access to iFit.
With this elliptical, users who weigh up to 375 pounds can use it safely, making it one of the highest weight ratings a NordicTrack machine has received.
Best NordicTrack Front-Drive Elliptical: Commercial 12.9
When it comes to the front-drive ellipticals, the standout machine is the NordicTrack Commercial 12.9. This elliptical comes with even more features, such as the smart 10″ HD touchscreen, an incline range of 0-20%, Bluetooth audio, and a 20″ auto-adjusting stride.
The Commercial 12.9 elliptical can accommodate a user who weighs up to 350 pounds and comes with a free year of iFit Coach access.
Best NordicTrack Folding Elliptical: SpaceSaver SE9i
Out of the rear-drive ellipticals, the NordicTrack SpaceSaver SE9i is the best. Not only does this elliptical fold up, but you can also enjoy up to 30 built-in workout programs, a free year of iFit Coach, a smart 7″ HD touchscreen, and 24 digital resistance levels to keep your workouts challenging. Also, you will have an incline range of 0-10% to work with as you exercise.
This elliptical has a weight capacity of 325 pounds, and also includes a Bluetooth heart rate monitoring chest strap. So, if you are looking for a folding elliptical for your health and fitness journey, this machine is the one for you.
So, no matter which of the best NordicTrack ellipticals you choose, be sure to pair one of our NordicTrack promo codes with your purchase to lock in the best price!