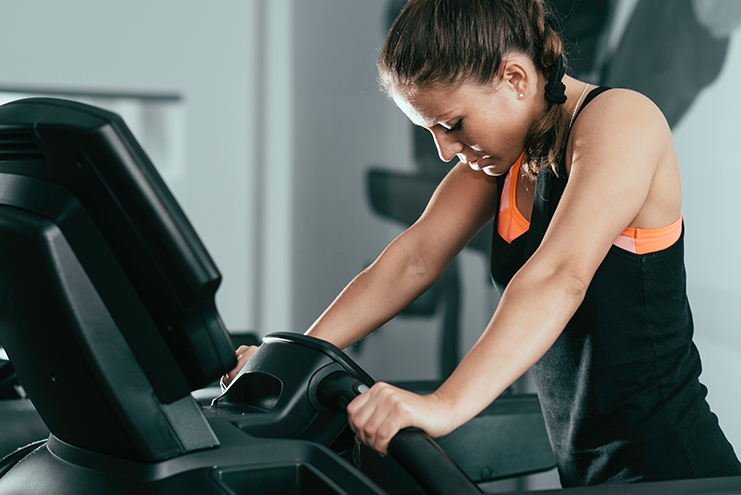 Your running shoes can take a beating, whether you're pounding the pavement or speeding on the treadmill. But that moment when you realize your fitness footwear has given up the ghost, it can almost feel like a victory. Those savaged soles are a badge of honor, proving you've been exercising regularly.
Now it's time to buy new shoes.
The Wrong Running Shoes Can Lead To Wear And Even Injury
Most people wear the same running shoes whether they're exercising outdoors or indoors. They may be unaware that there's a distinct difference between the pressure we put on shoes when running on a treadmill.
While there's plenty of vertical displacement, running on your home exercise equipment doesn't involve forward movement. Because of this, treadmill runners put more pressure on the heels of their shoes. The balls of your feet also absorb significant impact.
You may be wearing running shoes that fail to provide proper support while you're "on deck." These are liable to wear out pretty quickly.  What's more, you run a greater risk of strain or injury.
The Right Running Shoes Can Support Your Treadmill Workout
A number of shoe companies have taken note of the growing treadmill trend, innovating fitness footwear made especially for an indoor work out.
Running shoes compatible with treadmill use feature extra cushioning, especially in the heels. Often this is provided by gel, which reduces impact but doesn't make your shoes feel Frankenstein-heavy.
Treadmill-compatible running shoes are also flexible enough to reduce the risk of shin splints, bending at the ball of the foot but not the arch. Many feature upper mesh, allowing for moisture wicking. This helps keep your feet dry and your shoes odor-free, a perk everyone in your household can applaud.
Popular Shoes For Treadmill Running
A number of fitness experts have given the following running shoe models top marks for use with on a treadmill:
Adidas NEO Lite Racer

A LEADER Mesh Sport

Asics GEL-Treadmill

Brooks Ghost 9

Newluhu Athletic Knit

Nike (Nike RN Flyknit Zoom Equalon, Air Max Moto)

Reebok (Trinity Kinetic Fit System, Cushioning IV, Ultra KFS)

Saucony Ride 10

Tesla T330
For best results, consider heading to a good shoe store to get your feet measured and properly fitted.
Preparing for your treadmill workout involves more than stretching and placing water and your favorite media at the ready.
Stop waiting for "the other shoe to drop" and foot pain to set in. Buy a running shoe made to support exercisers engaged in the running mechanics unique to treadmills. Your feet will thank you.