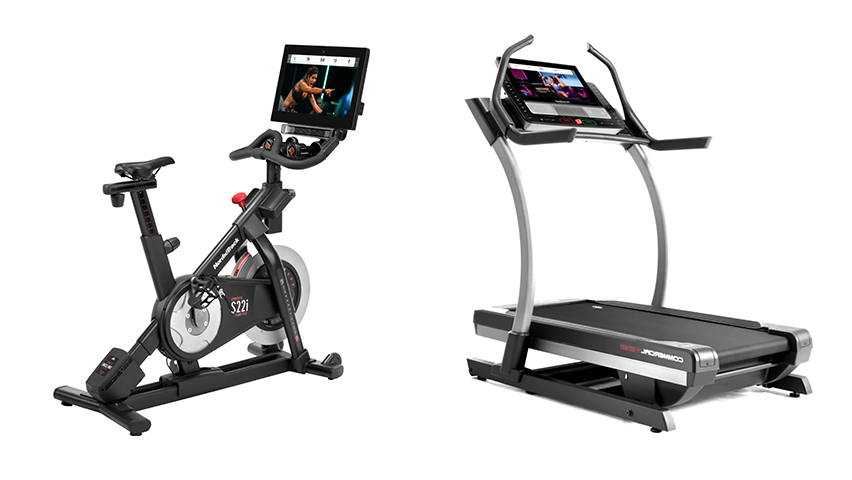 When you're in the market for a piece of cardio equipment, many of the designs across major competitors are essentially the same. However, there is one specific part of cardio equipment that people focus on, and that is the screen size. From watching your favorite television show to having your virtual trainer upfront and center, the screen size on a treadmill, bike, or elliptical is an important option! Granted, there are some people that don't enjoy a large screen while they're logging miles, and that's perfectly fine. On the flip side though, for those that want the biggest and best in treadmill screen size, how do you know which to pick?
We're going to take a look at some of NordicTrack's machines, and see which ones have the largest screens available on the market today!
NordicTrack Machines With The Biggest Screens
NordicTrack X32i Incline Treadmill
This treadmill comes with a massive 32" touchscreen, which clearly displays data like heart rate, incline, speed, calories burned, pace, distance, and time. You'll be able to see in real time the trainers that are taking you through your workout, almost like you're right there in a personal training session with them! The touchscreen also allows you to view multiple locations for your training sessions, all in perfect color.
NordicTrack S22i Studio Cycle Exercise Bike
The 22" interactive touchscreen on this bike is definitely going to help keep you on track during your workouts; with a display that shows watts, incline, cadence, and time elapsed, you'll be cycling your way through different parts of the world on a high definition screen that makes it feel like you're rolling through the mountains and riding along the oceans!
NordicTrack RW900 Rowing Machine
This rowing machine has a 22" interactive touchscreen, making it easy to access information such as distance, watts, calories burned, strokes, and time elapsed. iFit trainers on the screen make it seem like they are right there rowing in your home with you, and the ability to explore global rivers, streams, and lakes makes this screen size perfect for your daily rowing adventures!
NordicTrack X22i Incline Treadmill
This treadmill, named after the 22" touchscreen, is the next level down from the NT X32i – and sparing no expense, giving you the same high-quality display! This screen also displays the same data as the X32i (speed, distance, pace, etc.), just in a smaller package. You still get high-resolution pictures, and the on-demand training sessions in different locales around the world are clear on your screen as you run or walk!
NordicTrack Commercial 2950 Treadmill
This high definition touchscreen is 22", so when you're logging those treadmill miles, you can clearly see your workout stats live and in person. The display also allows you to interact digitally with your trainers through iFit, and you can perform your runs globally with crystal clear viewing!
Things To Consider
When it comes to deciding what touchscreen size you want on your exercise equipment, it's important to keep some things in mind. For one, you want the screen to be the perfect size for you personally – after all, you don't want one with a screen too small where you can't see the data, or the buttons are so small that you miss them. Second, you'll need to think about where your equipment is going to be placed. If the screen is in direct sunlight, it can cause damage to the internal and external parts over time. The screen will also eventually accumulate dirt and sweat, so you'll need to find a proper cleaning product in order to keep your screen clean and tidy. On the flip side, these touchscreens are very user friendly and can be navigated easily when searching for workout data or switching up your virtual workout location. And, the screens come in multiple sizes, so you can determine what works best for you and your workout needs!