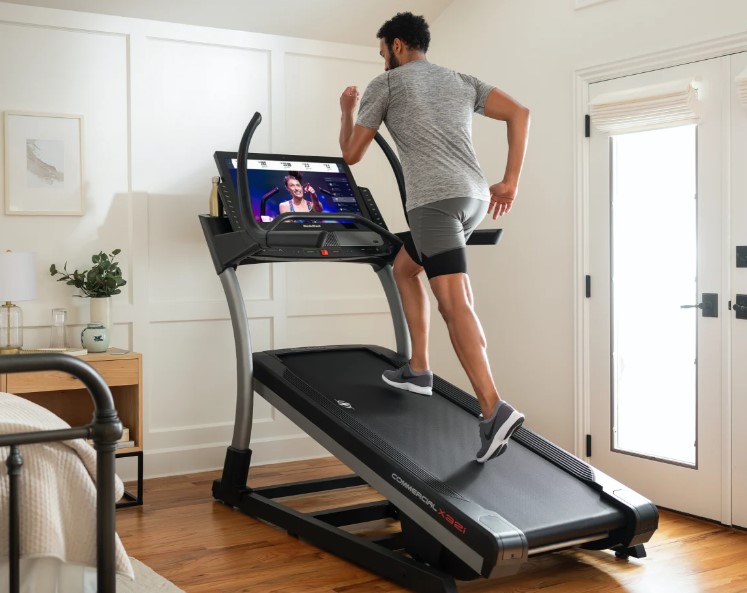 Starting about a year ago, NordicTrack started to produce home fitness equipment that came with a small camera embedded into their touchscreens. These cameras are most noticeable on the NordicTrack treadmills, though you can see them in pretty much any NordicTrack machine that comes with a touchscreen now.
So, why the camera? Well, while there is no official answer from NordicTrack, there are some pretty solid reasons why there is a camera on your workout equipment.
Potential Reasons Why Your NordicTrack Machine Has A Camera
When it comes to why your NordicTrack machine has a camera, there are a lot of theories. Some of them have a little more basis in reality than others, but we'll let you be the ultimate judge of which theory best fits.
The camera is just there, nothing special – Some individuals have speculated that NordicTrack simply bought tablets that came with cameras and installed them into their machines.
This answer is pretty lacking, as it is likely cheaper to buy tablet units that do not have cameras, rather than specifically purchasing tablets with a built-in camera. So, this guess is likely off the mark.
You're supposed to unlock the touchscreen – A handful of users discovered that you could unlock your NordicTrack touchscreen tablet, and they assume that is what the camera is for.
The problem with this theory is that you aren't supposed to unlock your tablet, as it can lead to issues with your workouts. Also, you might void your warranty, so we recommend you skip unlocking your touchscreen.
It's part of future developments for iFit – When asking a NordicTrack customer service representative about the presence of the camera, they mention that it is part of the future development of iFit.
As iFit is the personal training program that is compatible with almost all NordicTrack machines, this answer makes the most sense. How exactly the camera will be used to do future group workouts is unknown, but we look forward to seeing how it all works out.
Should You Cover The Touchscreen Camera
Now, while you may not subscribe to the theory that NordicTrack or hackers unknown are spying on you through your camera, many tech gurus recommend covering laptops, webcams, and other internet-connected cameras when not in use. There is the possibility of your camera being activated, and you might not even notice.
In the end, whether you cover the camera of your NordicTrack equipment is a matter of preference. If you do end up covering it, we recommend you use something easy to remove that won't damage your machine.
Save On Your Next High-Tech NordicTrack Machine
The camera in the tablet of NordicTrack machines is just one small feature in these technology-packed machines. From the latest designs to quality builds, NordicTrack remains a top name in home fitness equipment, and whether you are looking for a treadmill, exercise bike, elliptical or more, you can find it on NordicTrack.
If you are ready to save on your next NordicTrack machine, be sure to use our NordicTrack coupon codes to bring your machine home at a discounted price.