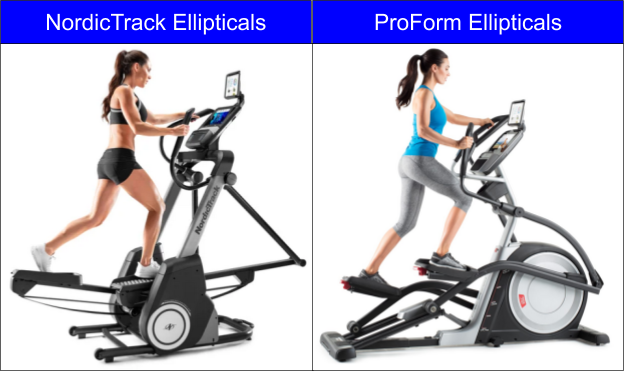 When you are looking for the best home gym elliptical to bring home, NordicTrack is often the first name that comes to mind. Not only can you find good NordicTrack elliptical promo codes, but you also can pick up a highly-rated piece of workout equipment.
However, ProForm is a pretty equally respected name in the residential fitness equipment industry. In fact, many people find their elliptical search narrows down between NordicTrack versus ProForm. To help you want to know if you should go with a ProForm or NordicTrack elliptical, we have compared the key aspects of these machines so that you can make an informed decision.
Prices Of NordicTrack vs. ProForm Ellipticals
Since ProForm and NordicTrack are both owned by ICON Health and Fitness, their pricing is fairly similar. Also, the pricing is similar as both fitness manufacturers offer high-quality machines. However, ProForm is often where you can find lower-priced machines.
For example, ProForm ellipticals currently range in price from $379 to $1,599. For the lower-priced machines, they are better for those on a restricted budget and low exercise needs. But if you are looking to push your fitness to the next level, one of the ProForm machines under $500 isn't likely to be the right machine for you, as they are not designed to offer that level of durability.
When you look at NordicTrack elliptical prices, the starting price current is $899 and goes up to $2,499. That is significantly different than ProForm elliptical prices. Most of that difference comes down to the construction and features available on NordicTrack ellipticals when compared to ProForm ellipticals, which we will go into more below. But, you also get higher-end ellipticals with NordicTrack, as these machines cater to the fitness beginners and veterans alike.
Construction Of ProForm vs. NordicTrack Ellipticals
As sister companies, much of the construction quality is the same between NordicTrack and ProForm machines. Obviously, the more budget-friendly machines on ProForm are not built with the same commercial-gauge, solid steel materials used on the NordicTrack and higher-end ProForm machines. So, if one of those machines is your preference, then just know that the construction quality is more aligned with you getting a few years of solid use, rather than a long-term investment.
For a more equivocal comparison, let's compare the NordicTrack Commercial 14.9 and the ProForm Pro 16.9 ellipticals. These machines are close in price, with the Commercial 14.9 currently costing $1,449 and the Pro 16.9 priced at $1,599. As they are within the same price range, it is expected that their quality of construction will be similar.
Both of these ellipticals are built with commercial-gauge solid steel for a tougher machine to workout on. Almost all of their features are the same, and the warranty coverage for both machines is a 10-years on the frame, 2-years parts, and 1-year labor. With the same warranty length, the expectation is that these machines will last a similar amount of time.
With so many similarities in the construction of these two machines, what it really comes down to is the overall price. Not only does the NordicTrack Commercial 14.9 cost $100 less than the ProForm Pro 16.9, but by using one of our NordicTrack promo codes, you can save even more, making the Commercial 14.9 the more cost-effective option for the same quality.
Features Range On These Ellipticals
So, let's carry our example machines a little further and compare their features. NordicTrack is known as a pioneer of fitness technology, and ProForm has been catching up in recent years. While they aren't quite equal in their features offering, the higher-end ProForm machines are pretty close.
Consoles
When it comes to the consoles on the Commercial 14.9 and the Pro 16.9, both of these ellipticals come with a 10" smart, high-definition touchscreen. With a touchscreen, you can easily navigate your workouts, see in-depth workout information, and access iFit workout videos with ease.
However, not all ProForm ellipticals have a touchscreen console. In fact, over half of the available ProForm ellipticals don't come with touchscreens, while only 2 out of the 8 NordicTrack ellipticals lack a touchscreen. So, if having a responsive touchscreen is important for your workouts, then you will want to look carefully before buying a ProForm elliptical.
iFit
With a value of over $300, you can get a free 30 day trial of iFit with your purchase of an applicable NordicTrack or ProForm elliptical. By having iFit on your elliptical, you can have access to the 12,000+ library of workouts members have available.
These workouts include videos with iFit trainers who can guide and encourage you through your workout. They can also control your machine, increasing and decreasing resistance and incline to give you a more challenging and engaging workout. You can also choose workouts based on Google Maps and enjoy immersive exercise that way.
While not all ProForm and NordicTrack ellipticals come with free iFit, if it is something you are looking for, there is an easy way to identify which ones do include membership. If the elliptical has a touchscreen, it will almost always include a free 30 days of iFit.
Available Drive Types
Both ProForm and NordicTrack have at least front drive and rear drive ellipticals. Depending on what drive type an elliptical has built-in, you may have to push a bit more—like with front-drive ellipticals—or have a little easier workout on a rear-drive elliptical. So, if you are looking to push your fitness, a front drive elliptical is a good option.
However, NordicTrack has a third option that ProForm lacks. With NordicTrack, you can find center drive ellipticals like the FreeStride Trainer Series.
Incline/Decline Range
For a more calorie-intensive workout, using the incline and decline feature on your elliptical can help, even without increasing your resistance level. Only one NordicTrack elliptical lacks the ability to incline, while two ProForm ellipticals can incline.
One standout feature that NordicTrack ellipticals have over ProForm is the ability to decline. Using the decline feature can be especially helpful if you use your elliptical for cross-training purposes.
Multi-Function Ellipticals
There are two specifically hybrid ellipticals offered by ProForm. These machines can be formatted to work as a recumbent stationary bike or an elliptical. However, they are both budget machines and are best for those looking for gentle exercise with few people to use them.
NordicTrack's FreeStride Trainer series of ellipticals offer a greater freedom of movement, thanks to their center drive. You can use them like a regular elliptical or stride out like you would on a treadmill. There is also the option to shorten your stride, and the elliptical becomes a stair stepper. Unlike the ProForm multi-function ellipticals, the FreeStride Trainer ellipticals are high-end machines that are built to last.
Choose The Best NordicTrack Ellipticals
At this point, if you are leaning more towards picking up a NordicTrack elliptical, then you may want to consider one of the best NordicTrack ellipticals, which we have listed below.
If you want to bring one of these ellipticals or a different NordicTrack elliptical home while saving money, NordicTrack Coupon has you covered. We offer several promotion codes and coupons to help you save on a great NordicTrack machine so that you can finally reach your fitness goals.