As one of the major selling points of NordicTrack equipment is iFit Coach, it is natural that there are a lot of questions around iFit and whether all NordicTrack machines need this fitness program.
The short answer is, yes, your NordicTrack equipment can work without iFit Coach. However, if you want a more in-depth answer or you have other iFit questions, then keep reading!
Can I Use NordicTrack Machines Without iFit?
You likely have noticed that most NordicTrack machines—from their treadmills to the rowers—can access iFit. The machines were designed with this access in mind to help individuals use their new fitness equipment.
As you may know, it can be tough to use something like a treadmill day after day. Sometimes nicknamed the "dreadmill", trying to plod through another manual workout can often result in your treadmill turning into a dusty coat rack.
But with iFit, you can choose from thousands of exciting workout programs, some with energizing trainers while others follow Google Maps to help you engage. Suddenly, your NordicTrack equipment is so much more than a heavy machine taking up room in your living room or basement.
However, even though the machines are designed with iFit Coach usage in mind, you don't have to use it. There is a manual setting that allows you to control your workouts, and most of NordicTrack's machines come with a library of built-in workouts. So, if iFit Coach isn't for you, or you don't want to purchase a subscription after your trial ends, you aren't required to do it to use your workout equipment.
Is The iFit Coach Year Trial Really Free?
Speaking of the free iFit subscription, here at NordicTrack Coupon, we are often asked what the catch is with the subscription. Considering that the value of the free year iFit Coach subscription is valued at over $300, it surprises many people that many NordicTrack machines come with a free subscription. But there is no catch.
As long as the machine you are considering shows that it has a free year of iFit Coach included, then you will get that free membership year. It really is that easy.
Here's an example to help you know where to look to check if a machine comes with a free iFit subscription. Say you are interested in the NordicTrack Commercial 1750. To check if this treadmill comes with a free year, go ahead and click on the machine to go to its sale page.
Under the current pricing, you should see a spot mentioning that it includes membership, like in the image below.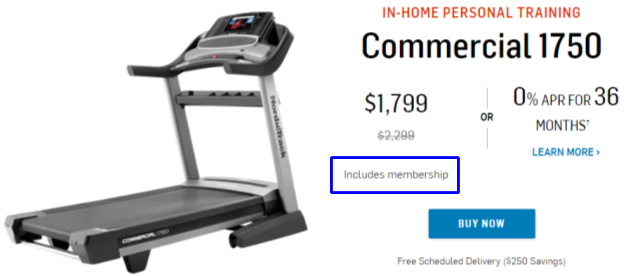 If there is no included membership to iFit Coach, then it should say that it is either membership ready or membership optional. You may have to scroll down to the performance specs to find this information.
Why Should I Buy An iFit Coach Subscription?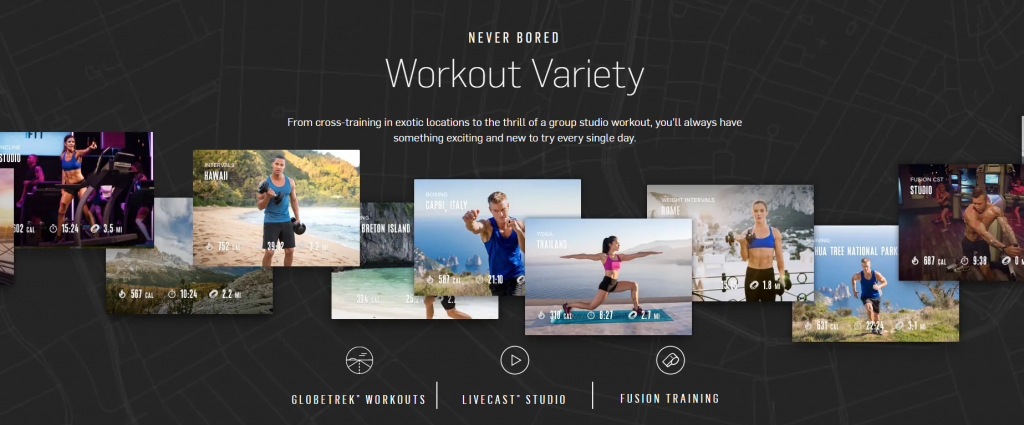 Another major question is, why should you even bother buying an iFit subscription after yours ends? After all, you will still have access to a limited amount of workouts, and your treadmill or whatever machine you have will continue to run. But that isn't always enough to get you on your fitness equipment.
With an iFit Coach subscription, you have access to an ever-growing library of exercise programs. The workout variety is not restricted to the fitness equipment you have either. You can enjoy a variety of workouts that are recorded around the world with energetic personal trainers at iFit. Or, you can choose studio workouts and enjoy that high-energy atmosphere from the comfort of your own home.
There is also the ability to design your own workouts and save them for later. You can program the speed, incline, distance, and more when it comes to your created exercise program. Also, you can join in with the rest of the iFit community and share workouts as well as participate in challenges.
Will My NordicTrack Equipment Stop Working Without iFit?
So, say that you use the free iFit membership, and you like it, but don't feel like purchasing a subscription when your trial period expires. That is perfectly fine.
While your access to some of the iFit features such as the daily workouts and other premium content, you can still access your iFit profile, see your past data, and use your NordicTrack machine. There are still built-in workouts and the manual workout function, so you can still enjoy your NordicTrack equipment without iFit.
Do NordicTrack Coupons Combine With The Free iFit Subscription?
Lastly, a concern we are often asked about is whether or not our NordicTrack coupons will interfere with the free year subscription offer that comes with most NordicTrack equipment purchases. And rest assured, you are good to use one of our NordicTrack promo codes!
Our coupons and promo codes can stack onto any sale occurring on NordicTrack, as well as allowing you to still access the free year trial access to iFit Coach.
So, if you are ready to use a NordicTrack discount code to help you buy your new fitness equipment, feel free to use one of ours before you go shopping!